fancy mac and we have a winner!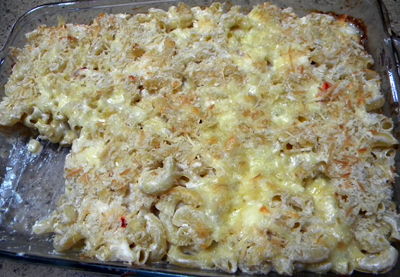 Marissa used her impartial hand to pick the name out of the salad bowl and … the winner of the Paradise Bakery gift card is… Sharon Cereska. Congratulations, Sharon! I shall send out your gift card in the mail today. OK, in all honesty, it will be tomorrow. A big thank you to all who commented on Wednesday's post and thank you for sharing your favorite sandwich with me, all of them sounded terrific!
I have a new addiction. It's called One Kings Lane and it is an online deep discount sales sight. New items go up every day at 11 AM Eastern Daylight Time and things go fast. That's 8 AM Arizona time, so I have an alarm set on the cell that alerts me to get online and see what is offered. Last month, they began putting up food items on Sundays. On one glorious Sunday they had live lobsters and lobster tails… needless to say, had to have some. Four gigantic tails (a whopping 20 ounces each!) arrived two days later in all their dry-ice-packed glory. Since there are only three of us at home currently, one of the tails was steamed and cut up for this decadent dish. If you are local, I did notice that Fry's has lobster tails on sale through tomorrow, so if you're tempted, go get one and enjoy! It is rather difficult to find 20-ounce lobster tails (at least here in the desert, it is), so I have you using two 10-ounce tails. Basically, the rule of thumb is to steam tails 1 minute per ounce. For this recipe, it is important to undercook them a bit since they will cook further when baking in the macaroni. Be sure and keep that in mind if your tails are a little lighter or heavier.
Five Cheese Lobster Macaroni and Cheese
7 tablespoons unsalted butter, divided
4 tablespoons flour
2 cups half and half
3/4 teaspoon salt, plus additional pasta water
1/4 teaspoon freshly ground black pepper
1/4 teaspoon Tabasco
1 cup grated parmesan, divided
Two 10-ounce lobster tails
1 pound elbow macaroni
2 garlic cloves, peeled and finely minced
1 cup grated white cheddar cheese
1 cup grated Fontina cheese
1 cup grated Gruyere cheese
1 cup cubes of Brie cheese, rind removed
1/4 cup Panko bread crumbs
In a heavy, medium saucepan melt 4 tablespoons of the butter over low heat. Add the flour and stir to combine. Cook, whisking constantly, for 3 minutes. (It is extremely important to cook the flour for these three minutes to cook out the raw flour taste before adding the liquid, otherwise – yuck!) Increase the heat to medium and whisk in the half and half, a little at a time at first, and then in a steady stream. Cook until thickened, about 5 minutes, stirring frequently. Remove from heat, season with the salt, pepper, hot sauce and 1/2 cup of the grated Parmesan. Stir until cheese is melted and sauce is smooth. Cover and set aside the béchamel sauce.
Preheat the oven to 350 degrees.
Fill a large pot halfway with water and bring to a boil over high heat. Place the lobster tail in a steamer and steam over the boiling water for 8 minutes. The lobster will be slightly undercooked, which is important for this recipe since it cooks further when it is baked in the macaroni. Remove from heat and cool slightly. Cut open the backside of the tail with kitchen shears and pull out the meat. Chop lobster meat into 1/4-inch pieces.
Add 1 tablespoon of salt to the remaining water in the pot (and more water if needed) bring back to a boil, then add the macaroni. Return to a full boil and cook for about 6 minutes, or until macaroni is al dente. Drain in a colander and return the macaroni to the empty pot it was cooked in. Add 2 tablespoons of the butter and the garlic to the pasta and stir to combine. Stir the chopped lobster into the béchamel sauce and then stir the sauce into the macaroni until well combined.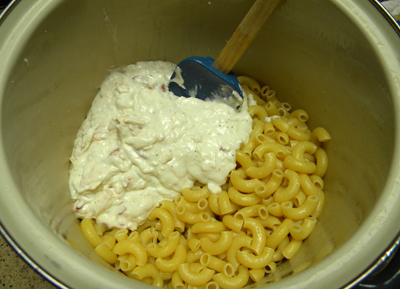 Butter a 3-quart baking dish or casserole with the remaining tablespoon of butter.
In a large bowl combine the cheddar, Fontina, Gruyere, and Brie cheeses. Toss to combine.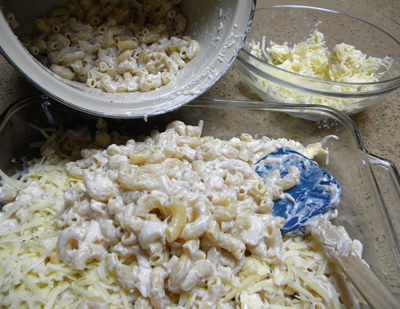 Place one-third of the macaroni mixture in the bottom of the prepared baking dish. Top with one-third of the cheese mixture. Top with another third of the macaroni and another third of the cheese. Repeat with the remaining macaroni and cheese.
In a small bowl combine the Panko and the remaining 1/2 cup of grated Parmesan. Sprinkle over the top of the macaroni and cheese.
Bake for 25 minutes, or until the macaroni and cheese is bubbly and hot and the top is golden brown.
Serves 6