Bavette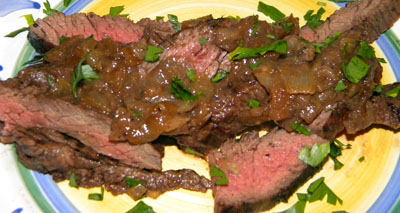 I learned of a new, new to me anyhow, cut of beef from a most unsuspecting place; One King's Lane, an online discount shopping site!
I am somewhat addicted to the site and need to take a break from checking out what they are offering each day. Although I do have quite a bit of my Christmas shopping done! The one day I will not give up checking on is Sunday. On Sundays, they offer food and or kitchen products.
About a month ago their featured items were lobsters (I've already posted about that!) and Estancia free-range, grass-fed beef. Honestly, I don't know if the beef we purchased from there was so wonderfully delicious because of the source or if it was the beef cut, bavette steak; but wonderful it was!
If you enjoy flank and skirt steaks,  you will adore bavette steak! Also known as flap steak, bavette has much of the characteristics of flank or skirt steak. Although fibrous and chewy, all three cuts are packed with flavor.
The unflattering name flap is such because of where the meat comes from; it comes from the less tender regions of the animal. Once the flank is removed, and the layers of fat taken off, the meat found the flap. An extension of the T-bone and Porterhouse steaks, flap meat is officially part of the short loin section.
Like skirt or flank steak, flap meat desperately needs marinating and then to be cooked on high, dry heat; such as grilled, broiled, pan-fried, or stir-fried. It's imperative to cut the meat very thinly across the grain, and it is at its best not too much past medium-rare, otherwise, you might as well serve a plate of rubber bands.
Since flap steak isn't an appealing name, it most often goes by its French name – bavette steak. Bavette means bib in French.  Though, even that can get confusing because there are several types of bavette steaks in France, including the bavette de flanchet, or flank steak. So if you go to France and see bavette d'aloyau on a menu, which translates to "bib of the sirloin" – then you know you are getting flap steak.
Even in the United States, it is often confused with hanger steak and some butchers label it as sirloin tips; it is neither. Flap meat is a great choice for Mexican-style grilled meats, French bistro steaks, and Asian stir-fry.  Finally, if you can't find flap or bavette steak, other long-fibered cuts such as flank steak and skirt steak can easily step in for this preparation of Bavette Steak with Caramelized Onions.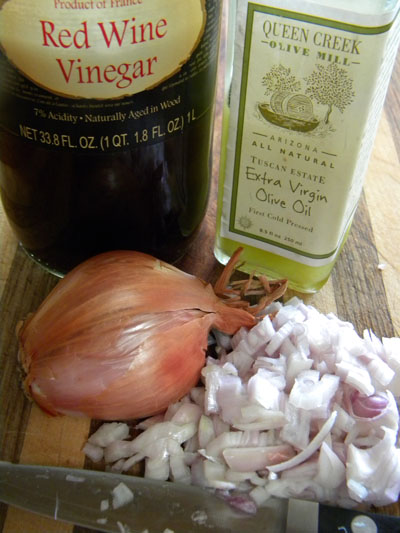 Bavette Aux Oignons Caramélisés
2 tablespoons red wine vinegar
1/4 cup orange juice
2 tablespoons red wine
2 tablespoons olive oil, divided
1 teaspoon dried thyme
2 large shallots, peeled and minced
2-pound bavette steak
2 large onions, peeled and coarsely chopped
Salt and freshly ground black pepper
2 garlic cloves, peeled and minced
1 teaspoon fresh minced thyme leaves
2 tablespoons unsalted butter
Minced fresh Italian parsley for garnish
Whisk together the vinegar, orange juice, wine, 1 tablespoon of olive oil, and thyme.  Stir in the shallots and pour into a gallon-size ziplock bag.  Add the steak, seal the bag and massage the meat to fully cover with the marinate. Refrigerate for at least 8 hours or up to a day and a half.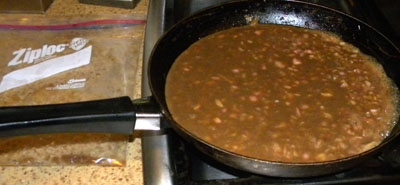 Remove the meat from the marinade and scrape off any shallot clinging to the meat.  Pour the marinade into a large skillet and bring it to a boil.  Cook for 5 minutes or until reduced by half.  Remove from heat and set aside while you preheat the grill to high heat and the oven to 500 degrees.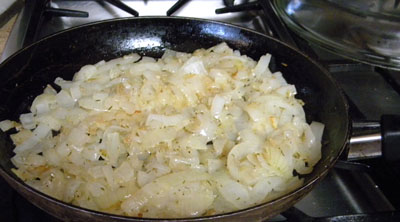 In a separate large skillet, heat the remaining tablespoon of olive oil and add the onion, toss onion to coat with oil, and season with salt and pepper. Sauté until translucent, cover and reduce heat to low, and cook for about 5 minutes or until onions are very soft.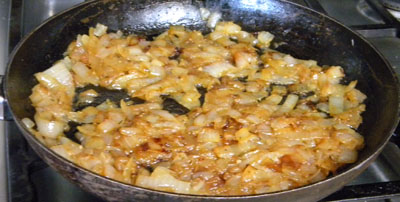 Remove lid and add the garlic and thyme, increase heat to medium and continue cooking until the shallots caramelize and are a deep brown, stirring often for about 10 more minutes. Remove from heat and seat aside.

Place the steak on the grill and mark it on each side for about 2 minutes per side.

Place on a baking sheet and finish cooking in oven for about 5 minutes to achieve medium-rare. Remove meat to a cutting board and allow to rest for 3 minutes before slicing very thinly against the grain.  Most bavette steaks are very long and should first be cut into manageable size pieces, with the grain, as pictured below.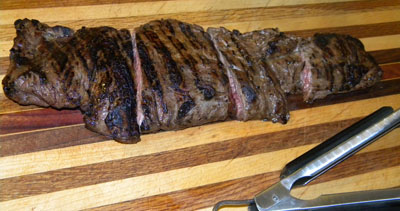 While the meat rests, reheat the reduced liquid over medium heat and whisk in the butter until combined.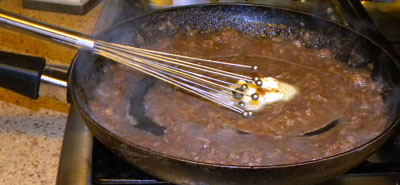 Stir in the caramelized onions along with any meat juices that have accumulated while the steak was resting.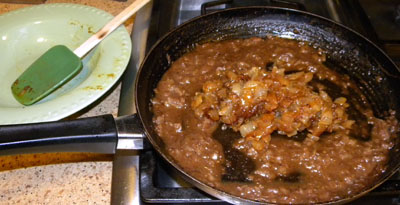 Season with salt and pepper and spoon over the meat to serve. Garnish with parsley.
Serves 4 to 6
Save