the end of Thanksgiving leftovers, finally
At last, the day has arrived – whatever leftovers haven't been eaten, given away, or frozen; are going in the trash. Marissa and Connor head back to their respective universities this evening. Care packages are going with them and then I will have my refrigerator back!
This recipe is a perfect example of when to use light sour cream and cream cheese. There are so many other prominent flavors going on here, that you'll never taste the difference. When the sour cream or cream cheese is the main flavor, then I prefer to use the real thing, because you can truly taste the difference. As for the fat-free versions – not a good choice – they don't bake up as well. When a recipe calls for canned green chilies, always go for the whole chilies and dice them yourself. They are better quality than the "already diced", and it takes only seconds to cut them up.  "Goodbye turkey, see you next November!"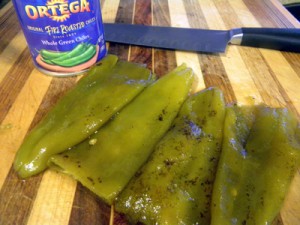 Creamy Turkey Enchiladas
16-ounce container light sour cream, divided
7-ounce can whole green chilies, drained and diced
1 cup frozen corn kernels, thawed
1 cup canned black or pinto beans, rinsed and drained
6 green onions, chopped and divided
1/2 cup fresh cilantro, minced
1 jalapeno, seeded and minced
2 teaspoons toasted cumin seed, ground
2 cups diced cooked turkey
2 cups packed grated Queso Quesadilla or Monterey Jack cheese, divided
10 8-inch flour tortillas
8-ounce light cream cheese, cut lengthwise into 10 strips
3 cups salsa
2 avocados, peeled and diced
2 tomatoes, chopped
Cilantro sprigs
Preheat the oven to 350 degrees. Spray a 13 x 9 x 2-inch glass baking dish with Pam.  Mix 1 1/2 cups sour cream, chilies, corn, beans, half of the green onions, cilantro, jalapeno, and cumin in a large bowl.  Mix in turkey and 1 cup of cheese.  Season filling to taste with salt and pepper.
Divided the filling amongst the 10 tortillas, spreading down the center of each. Top filling with a cream cheese strip.  Roll up each tortilla. Arrange (squish together) enchiladas seam side down in the prepared dish.  (Can be made 1 day ahead. Cover and chill.)
Pour salsa over enchiladas. Cover baking dish with foil and bake until sauce bubbles and enchiladas are heated through, about 45 minutes. Uncover, sprinkle with remaining 1 cup cheese and remaining green onions and bake until cheese melts, about 5 minutes.
Garnish with avocado, tomatoes, cilantro, and remaining sour cream.
Makes 10