en Papillote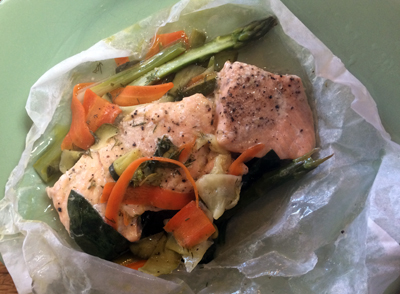 This is the salmon and spinach recipe that I was talking about in yesterday's post. I've corrected two items from the original recipe – which I enjoyed at the Ballymaloe Cookery School. The first change was the enormous amount of spinach the recipe called for. I've reduced it from 2-pounds to 8 ounces. If you make this dish you will be amazed to think that 2 pounds could have ever been used!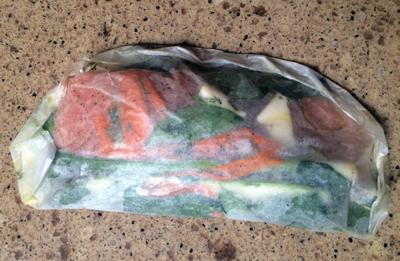 The second major change was the shape and size of the parchment. The original recipe called for a 10-inch circle. I've made Fish en Papillote (in parchment) several times before, so I should have known better. The traditional shape is a heart, not a circle. Even if a circle is used, 10-inches is in no way large enough, as you can see from the photos above and below.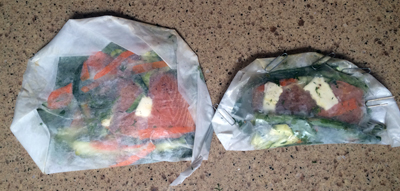 I'd already cut out the 16 parchment circles I needed for a cooking class, so I went ahead a struggled through by using them … along with about 60 paper clips to hold the parcels together!
I don't mean to make it sound as though the recipes from Ballymaloe were bad. There were 14 recipes from that wonderful day of cooking and this is the only one I've had to correct or modify.
The thing I like best about this recipe is the fact that the parcels are steamed – not baked. Fish en Papillote is traditionally baked, I love this extra-moist alternate way of cooking so much, that I think I'll steam instead of bake from here on out.
This is the very definition of healthy and delicious!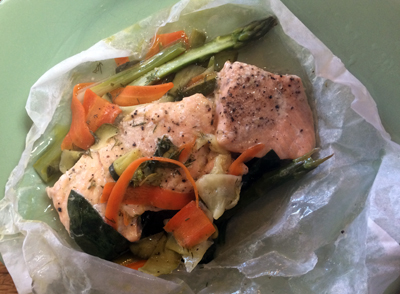 Salmon and Vegetable en Papillote
8 ounces baby spinach, thick stems removed
Eight 4-ounce pieces salmon
Salt and freshly ground black pepper
4 zucchini, cut into ribbons with a vegetable peeler
4 carrots, peeled and then cut into ribbons with a vegetable peeler
8 green onions, trimmed
8 asparagus spears, woody ends snapped off and then cut in half lengthwise
3 tablespoons freshly minced dill
Juice of 1 lemon
4 tablespoons olive oil
4 tablespoons butter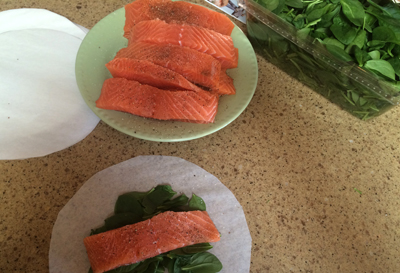 Cut out eight large heart-shaped pieces of parchment paper (more than 3-times the size of the largest piece of salmon). Place a small pile of baby spinach leaves in off-center of each heart. Season the salmon pieces with salt and pepper and place a salmon piece on top of each pile of spinach.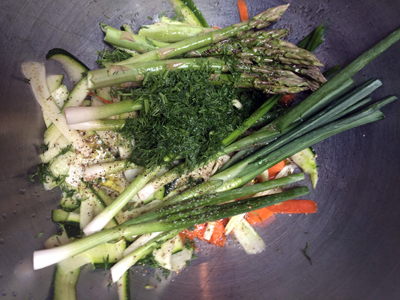 Place the zucchini and carrot ribbons along with the green onions and asparagus spears in a large bowl and season with 4 tablespoons of olive oil, salt, and pepper.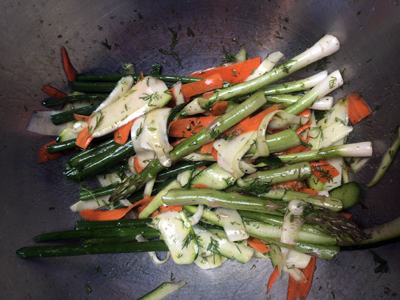 Then add the dill and lemon juice, and toss to coat.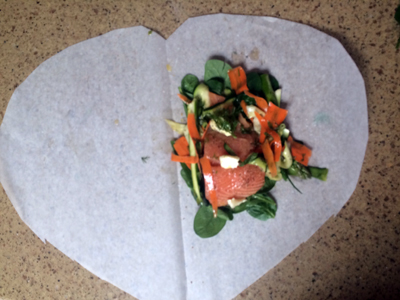 Arrange the vegetables on either side of the fish pieces, taking care to divide them evenly between the 8 parcels.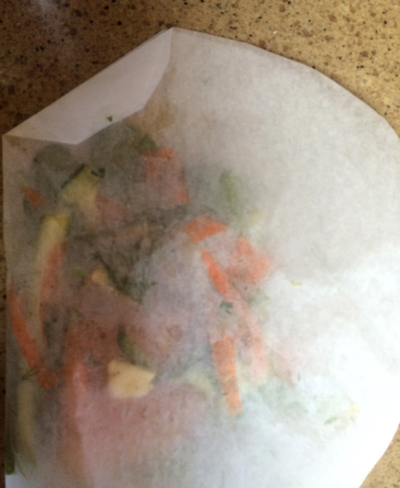 Dot the parcels with butter and drizzle 1 tablespoon of the juices that collect in the bowl of vegetables on each piece of fish. Fold the hearts in half and tightly seal each parcel. To do so, start at the top of the half-heart and make a fold as shown above.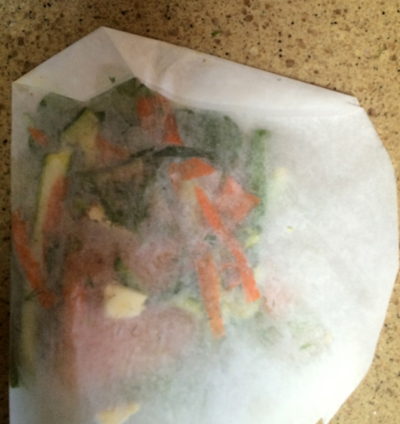 Make another overlapping fold.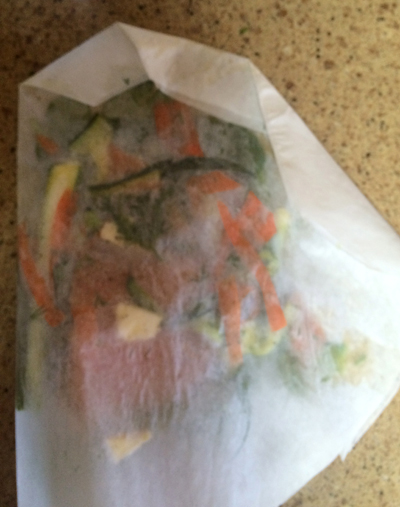 Continue to make overlapping folds all the way down to the top of the heart.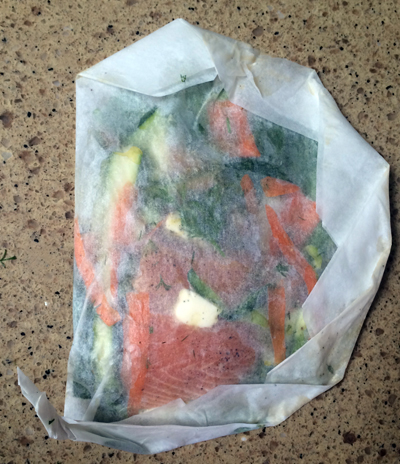 Secure the tip of the heart closed with a paper clip.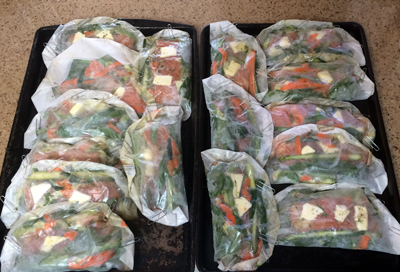 Parcels may be made up to 6 hours ahead, cover with plastic wrap and refrigerate until ready to steam.
Place an inch or two of water in a large pot. set a steamer over the water. Bring to a boil, add the parcels, cover the pot and steam the parcels for 12 – 15 minutes, depending on the thickness of the fish.
Place on serving plates and tell your guests to open the parcels and enjoy.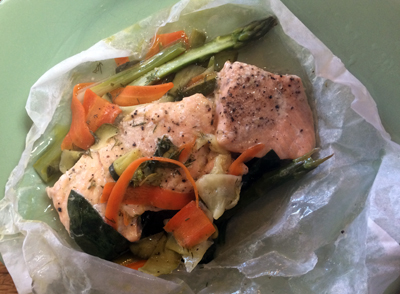 Serves 8