eat your kale
Saying, "Eat Your Kale" is so 2012, but that doesn't mean Kale is not still King in 2013.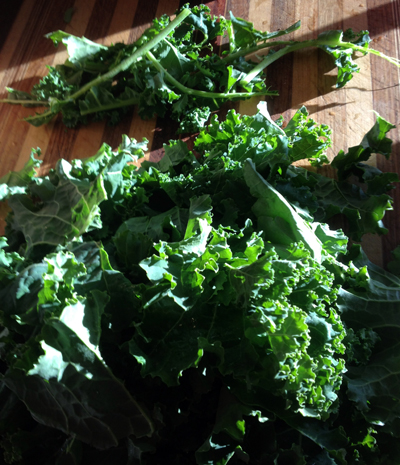 Why?
Because…
One cup of kale still has only 36 calories, 5 grams of fiber, and 0 grams of fat.
Per calorie, kale has more iron than beef.
Kale is high in Vitamin K. Eating a diet high in Vitamin K can help protect against various cancers.
It is high in antioxidants, such as carotenoids and flavonoids, which also help protect against various cancers.
Kale is great anti-inflammatory food. One cup of kale is filled with 10% of the recommended daily allowance of omega-3 fatty acids, which help fight against arthritis, asthma, and autoimmune disorders.
Eating more kale can help lower cholesterol levels.
It is high in Vitamin A, which is great for your vision, and your skin, as well as helping to prevent lung and oral cavity cancers.
Kale is high in Vitamin C, high in calcium, and kale is still a great detox food. If you're someone who really likes to take the time to watch what they eat for the purposes of detoxing in order to maintain or improve their health, perhaps these tips for detoxing your liver will be of interest.
To summarize – Eat Your Kale!
This quick and easy pasta recipe should help get it on your table on any busy weeknight, especially if you use the meat from a rotisserie chicken, as I did.

Kale and Chicken Pasta
1 tablespoon olive oil
1 red onion, peeled and diced
2 red, yellow, or orange bell peppers, cored, seeded, and diced
1 bunch of kale, tough stems, and ribs were removed and roughly chopped
2 garlic cloves, peeled and minced
1 tablespoon salt
10 ounces spaghetti
1/3 cup half and half
1/2 cup chicken broth
Salt and freshly ground black pepper, to taste
1 cup diced cooked chicken breast
1/2 cup shredded Parmesan cheese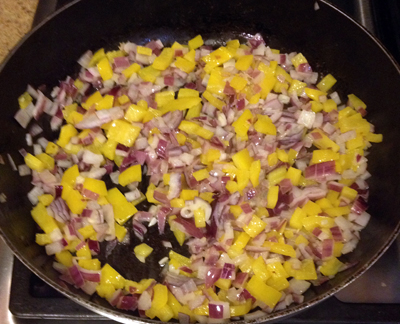 Heat a large skillet over medium-high heat. When hot, add the olive oil and swirl the pan, add the onion and pepper and saute until the onion is soft and translucent.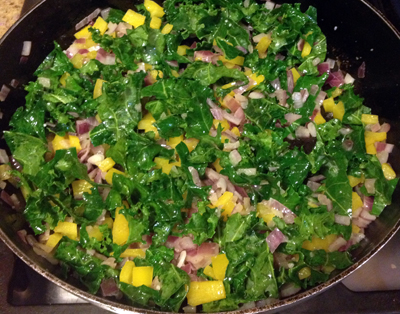 Add the kale and garlic and continue to saute until the kale is wilted.
Meanwhile, bring a large pot of water to a boil and add salt and pasta, cook until pasta is al dente, or according to package directions.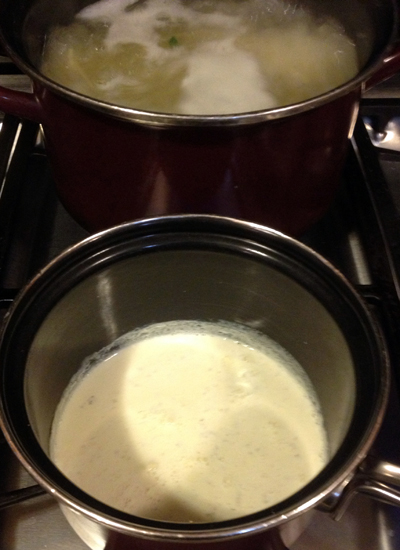 In a medium saucepan, bring the half and half to a boil and boil for about 2 minutes to reduce slightly.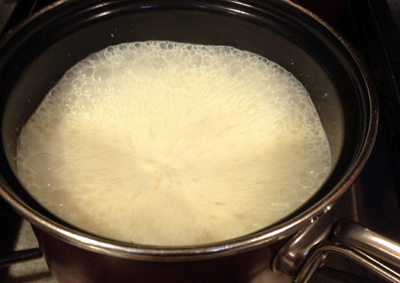 Then add the broth, season with salt and pepper, and continue to boil for 2 more minutes.
Add the chicken to the skillet and toss to combine.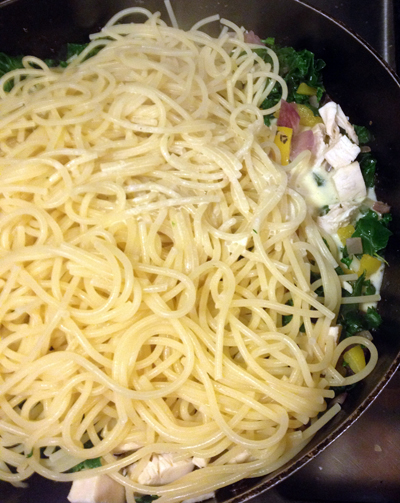 Drain the pasta, and add it to the skillet, along with the half and half mixture, and toss to combine. Taste, and season with salt and pepper, as needed.
Divide between four plates or large flat bowls and sprinkle with Parmesan cheese and serve immediately.
Serves 4