easy-breezy salmon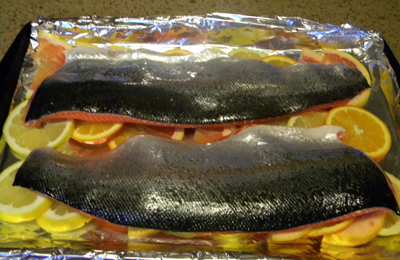 When you have as many citrus trees as we do, you're always thinking of how to use them up! I love citrus and I love salmon, so it's a joy that they go so well and so beautifully together. I generally buy my salmon fillets at Costco. You can find them both skin on and skin off… and this recipe works for both. If you have skinless salmon, just skip the first cooking step and begin by placing the fillets on a bed of citrus slices, and then immediately cover with the dill stems and another layer of citrus. Cook the same amount of time, it's as easy as that!
Mixed Citrus and Dill Salmon
2 grapefruits, thinly sliced
2 oranges, thinly sliced
3 lemons; 1 sliced into wedges, the other 2 thinly sliced
2 whole salmon fillets, with or without skin
1 cup Fage Greek yogurt or sour cream
1 tablespoon Dijon mustard
1 bunch dill, leaves minced, and stems reserved
Salt and freshly ground black pepper
Preheat the oven to 400 degrees.  Line a large baking sheet with foil.
Using the equivalent of 1 grapefruit, 1 orange, and 1 lemon; cover the baking sheet with an even layer of the citrus slices.
Lay the salmon, skin side up, on top of the citrus. Place in the oven for 12 minutes.
Meanwhile make the dill sauce; in a medium bowl whisk together the yogurt, mustard, minced dill leaves, and the juice from two of the lemon wedges. Season to taste with salt and pepper.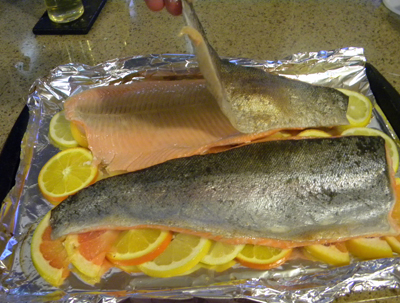 Remove the baking sheet from the oven and carefully peel off the skin from the salmon. Sprinkle salmon with salt and pepper.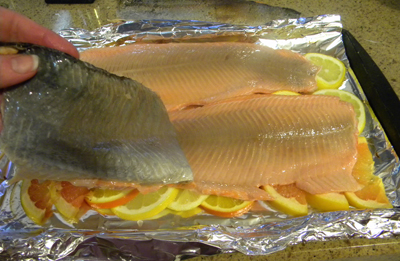 Lay the dill stems on top and then cover with the remaining citrus slices.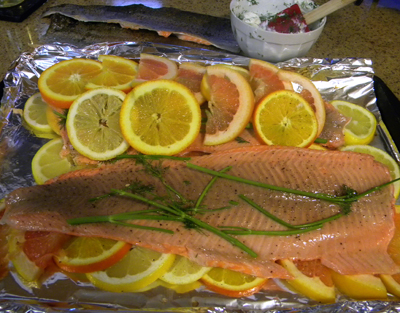 Return to the oven and bake until the salmon is just opaque in the center, about 8 to 10 minutes more.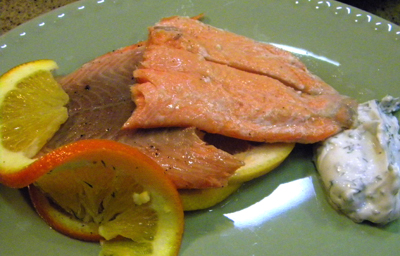 To serve; lay a few of the citrus slices on each dinner plate, place a serving of salmon on top and a spoonful of the sauce on the side.
Serves 6 to 8