cuban panini
Before we get to recipe #3 from the pork tenderloin in yesterday's post, a quick update on The Give-Away. As of 9:00 p.m. Tuesday, we have 56 eligible entries and sixteen possible winners. Remember, you may comment up to five times and you have until tomorrow, Thursday, August 28, 2014, at 5:00 p.m. (PST) to enter. Click HERE to learn more.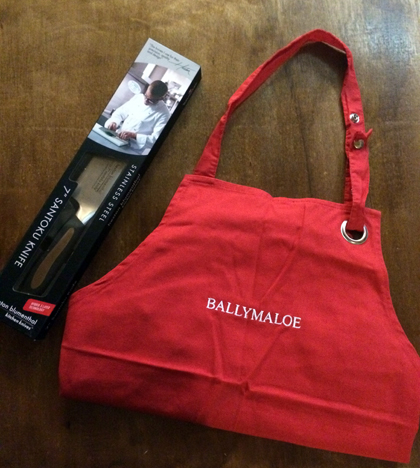 Someone is going to win, don't miss the chance … it may be you!
The third recipe from two pork tenderloins is a classic Cuban sandwich, minus the Cuban bread (French instead) and plus a panini press.
If you don't own a press – no problem – a waffle iron (perfectly good) a grill pan (fine and dandy) or a skillet (better than nothing) all will work too.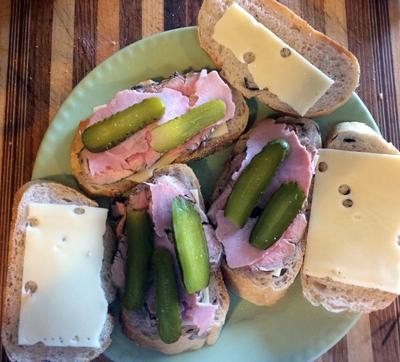 The recipe makes four sandwiches, even though you only see three being made in the photos. That is because my panini press could only hold three sandwiches at a time. The fourth sandwich was made later.
Connor and I loved these sandwiches so much that we had them for dinner one night, then lunch the next day, and dinner again that second night. In fact, I'm craving one as I type!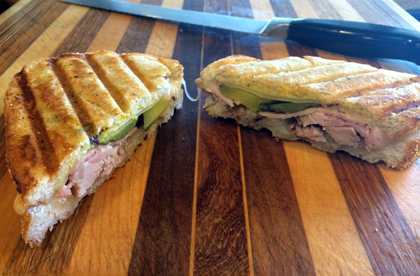 Cuban Paninis
8 slices French bread
4 slices Swiss cheese, each cut in half
Thinly sliced leftover pork tenderloin
4 slices ham
Dill pickle slices
Yellow mustard
Olive oil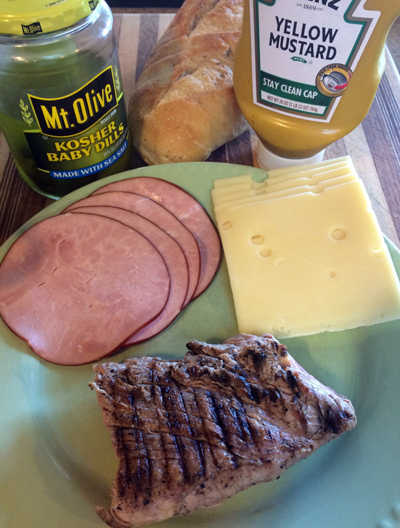 Heat a panini press, waffle iron, grill pan, or large skillet over medium heat.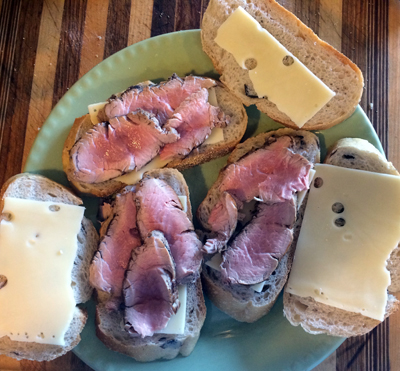 Place a half piece of Swiss each on each slice of bread. Top four of the eight slices of bread with the thinly sliced pork.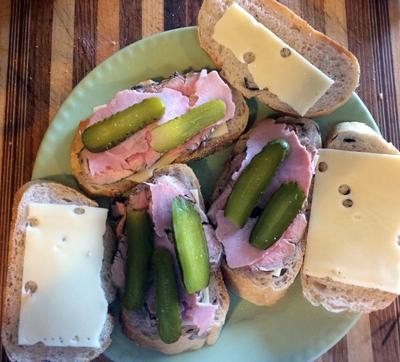 Top the pork with the ham and pickle slices.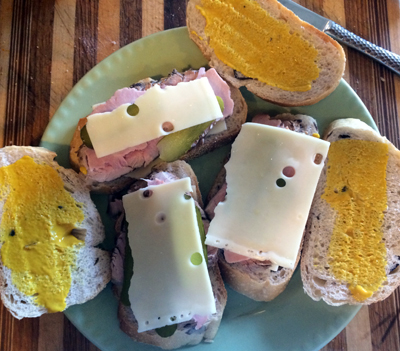 Transfer the cheese slices from the "cheese only" pieces of bread to the pickle-topped slices and spread mustard on the bare slices of bread.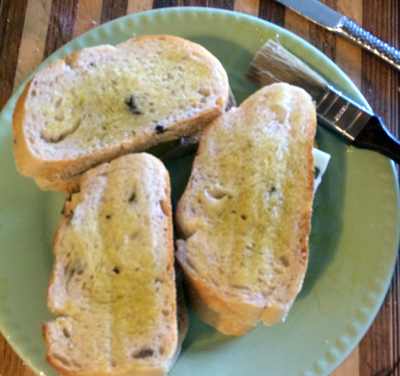 Close sandwiches and brush the top with olive oil.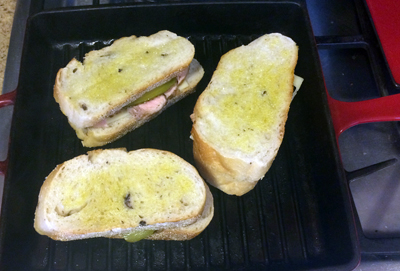 Place the assembled sandwiches, oil side down, on the preheated panini press, and brush the top side of the sandwiches with oil.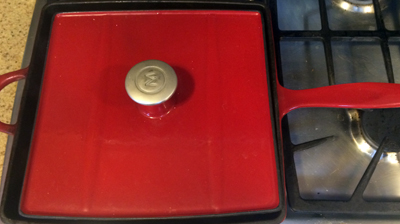 Place the lid on the panini press. If using a waffle iron, close the iron. If using a grill pan or large skillet, top with a slightly smaller skillet or a large saucepan and press down, or weight down with cans.  You'll need to flip the sandwich if you're using a grill pan or skillet, after 3 minutes or so depending on how hot your pan is, and repeat on the other side.
Cook for about 5 to 6 minutes total or until the ingredients are warmed, the cheese is melted and the bread is golden brown.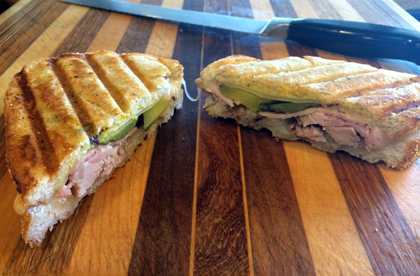 Slice sandwiches in half and serve hot.
Makes 4