Cody Howard
Many of you follow me on Facebook and Instagram, either on my personal account or on the Harmony Boards accounts. Therefore, many of you may already know what happened to Cody Howard on January 18, 2020. Today I have an update for you and the entire story for those of you who know nothing.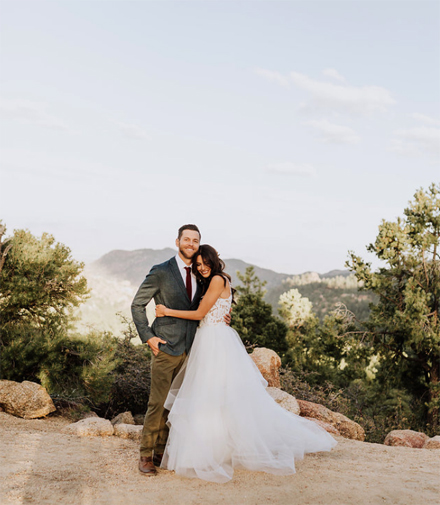 Cody is the oldest son of my dear friend, Kim Howard. Kim and I worked together for years at Les Gourmettes Cooking School. More than just years, decades, actually. Kim and I came up with the idea of Harmony Boards while I was catering Cody's wedding to Chanté in May 2018 in the forest outside Kingman, AZ. In fact, the first Harmony Board I made was for the cocktail hour of their wedding reception. Cody is a former US Marine turned contractor and has done many of the projects on my home, such as this complete bathroom remodel, this fireplace facelift, this made-from-scratch barn door, these beautiful shelves in my Harmony Boards office, and these new countertops, etc.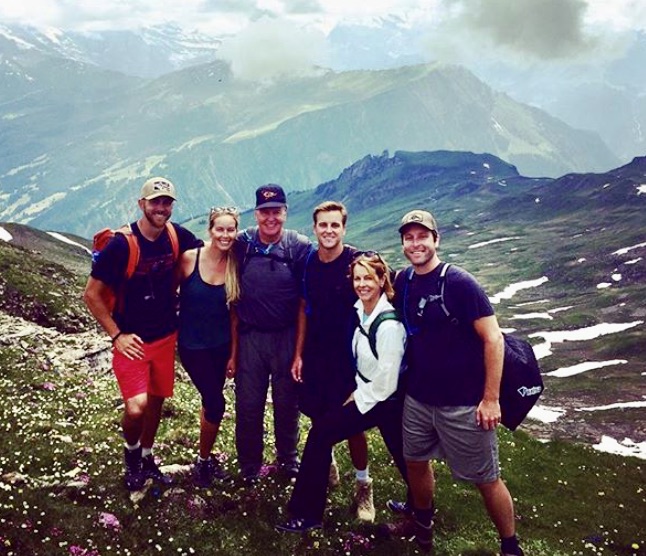 Cody is Kim and Paul Howard's oldest child. Next is Bret, then only daughter, Susannah and then Trevor. Bret married Alyssa last year, and Susannah became engaged to Chad in January 2019, their wedding was scheduled for April 2020.
On Martin Luther King, Jr. weekend, Cody, Bret, Trevor, and friends traveled to the Howard Family home in Canada for a bachelor weekend to celebrate with Chad. They rented snowmobiles to ride on the frozen lake. On that Saturday a snowstorm came and there was an accident, it involved the snowmobile that Bret, Cody, and Chad were riding. Bret was seriously injured. Chad was fine and at first, it seemed as though Cody was okay as well. The property is between Montreal and Ottawa. Ambulances from Ottawa were called and arrived some 90 minutes later. By then it was apparent, to at least Trevor, that Cody was not okay. Another 90-minute ride to Ottawa. There is more detail to the story than I know, but I do know that it took more than 7 hours to diagnose and get Cody into 9-hour emergency surgery for a dissected aorta, Goggle that and you will be scared to death. Meanwhile, Bret was in surgery getting his head sewn back together with a serious concussion and another surgery to repair his seriously injured bladder.
Can you even imagine being Chanté, at home with your 10-month-old son, receiving the news that your husband has been in a life-threatening accident, a country away, and is heading into surgery with a frightening low survival rate? Knowing that he should not have survived the accident, the agonizingly long wait for the ambulance, the ride to the hospital, all the testing to discover what was wrong, or being transferred to another hospital for said surgery?
Or being Kim and Paul and receiving that call telling you that two of your beloved sons have been in an accident and both are going into surgery and you are also a country away? The strength, faith, and hope of this family boggle my mind.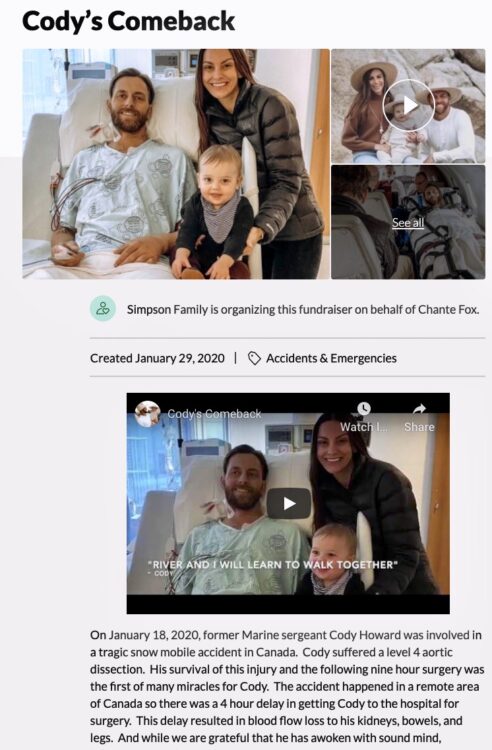 For the rest of the story, I'm going to send you to Chanté's Instagram page. Please click on the link at the bottom of her profile and watch the beautiful video, read the updates posted there by the family and if you can donate to the Go Fund Me page, please do. If not, especially in this current climate of uncertainty, please say an extra prayer for Cody and his continued recovery and for the entire Howard family. Their story is the sort of inspiration that we can all use right now to acknowledge that as rough as it is for each and every one of us, others are in the same struggle plus a bit more. Quite a bit more.
I love you, Cody. I love you, Kim and Paul. Chanté and River. Bret and Alyssa. Susannah and Chad. Trevor and Clair. Maggie and Marcus and the entire extended Howard and Simpson clans. xoxo
Alright then, how about a recipe? Here is Stir-Fry #2. A follow-up to Stir-Fry #1 was posted yesterday.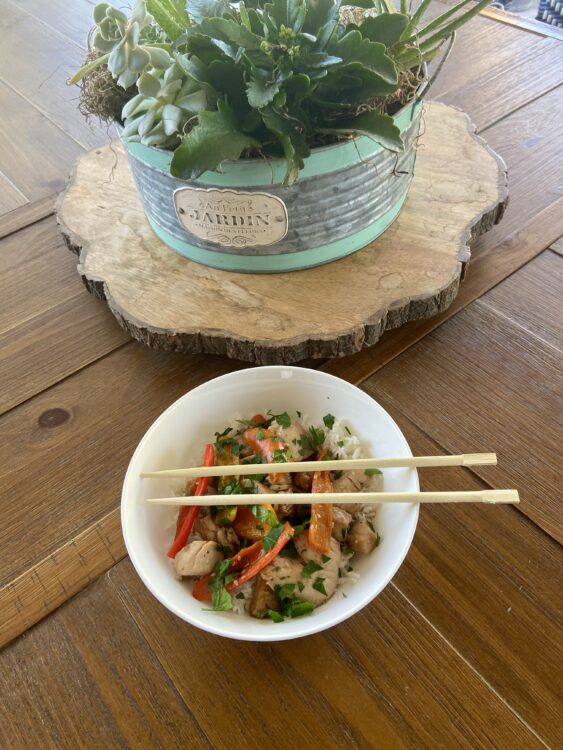 Stir-Fry Chicken and Multi-Color Mini Sweet Peppers
Sauce
3 tablespoons sweet chili sauce
2 tablespoons sake or white wine
1 tablespoon soy sauce
1 tablespoon oyster sauce
2 teaspoons seasoned rice vinegar
8 ounces mini multi-color sweet peppers
1 pound boneless and skinless chicken breasts, cut into bite-sized pieces
Salt and freshly ground black pepper
2 tablespoons cooking oil
2 cloves garlic, peeled and minced
Cooked rice
In a small bowl, whisk all the sauce ingredients together. Set aside.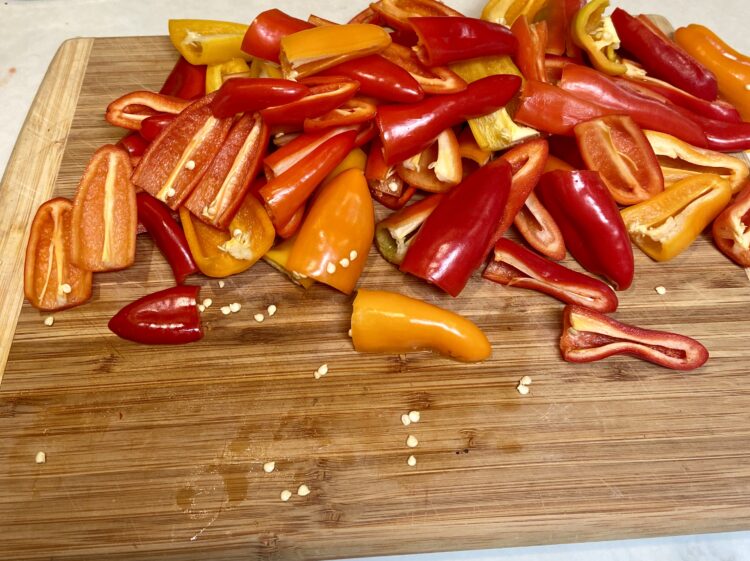 Slice and remove the tops of the peppers. Cut each pepper lengthwise and a half and remove the seeds then cut each in half lengthwise again. Set aside.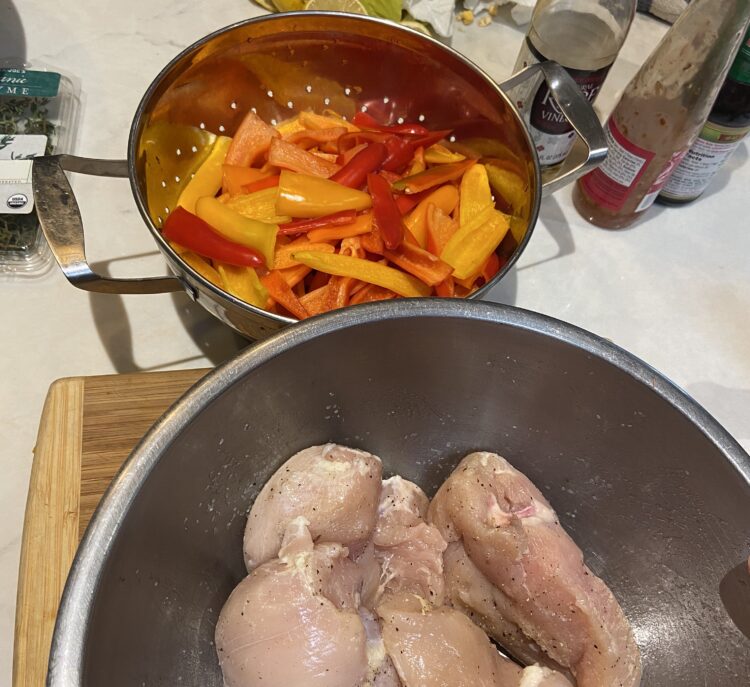 Season the chicken pieces with salt and pepper. Heat up a wok or skillet over high heat and add 1 tablespoon of the oil. When the oil is hot, add the chicken and cook until all sides of the chicken are light brown. Spoon out onto a dish and set aside.
In the same wok add the remaining oil. Add the garlic and stir fry until aromatic, about 10 to 15 seconds. Add the peppers, stir and toss continuously for about 10 seconds. Add the sauce into the wok, and stir to coat the peppers. Transfer the chicken back into the wok, and stir a few times to blend well. Turn off the heat and serve overcooked rice.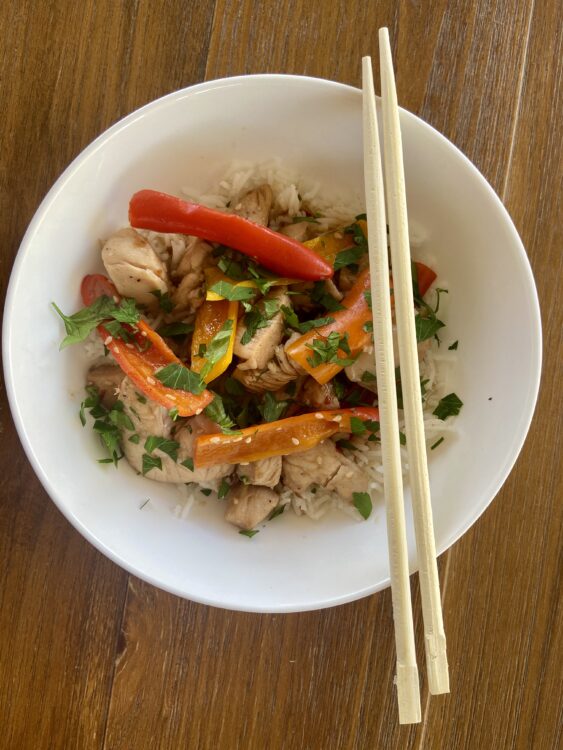 Serves 4 to 6