House Tour Pt. 2
House Tour Pt. 1 was all about the new courtyard out front and the new exterior paint job. For House Tour Pt. 2, we come inside.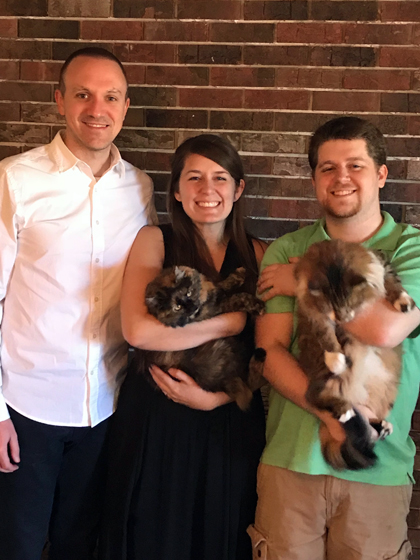 As previously mentioned, I moved into my new home on November 10, 2017. It wasn't an easy transition. Many people say the moving process can be stressful and they're not wrong there.
The courtyard started on November 13 and was completed on November 21. To keep things interesting, the interior double-sided fireplace facelift started on November 15.
If you've followed this blog for a long, you already know of my dear friend and co-worker, Kim Howard. Kim has four gorgeous grown children, the oldest is Cody.
Cody Howard is a talented craftsman and an amazing human being. Cody is a US Marine Veteran. He is an outdoorsman, he was a pro whitewater kayaker, oh, and he restores old homes too. Cody is a true renaissance man. His company is called Chisel Built.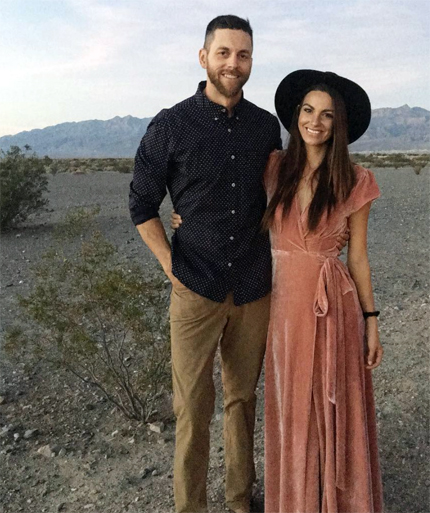 Photo from Instagram
Cody and his finance, Chante, work together and outfit some of the homes they restore and use for vacation rentals. You can find them on Instagram at Chisel Built and Chisel Built Stays.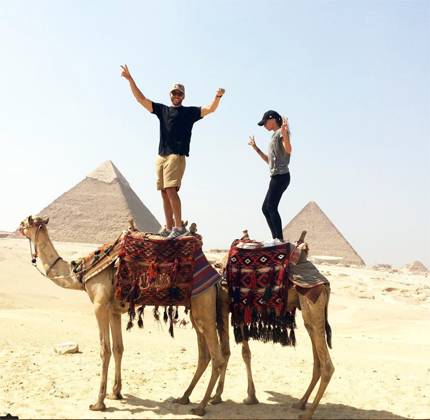 Photo from Instagram
As if that isn't enough wonderfulness, together, they are adventurous and love to travel the world. And, oh yeah, Chante is a fashion model too. Yup, they're quite the dynamic duo.
Anyhow, for the fireplace, Cody sent me to Summit Brick, I was drawn to the Morocco brick.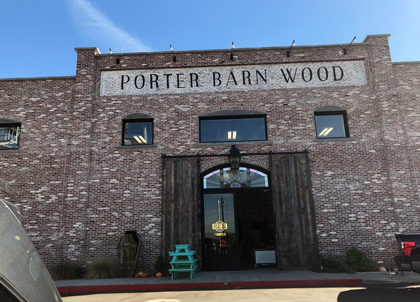 My next stop was the fabulous Porter Barn Wood to find some reclaimed barn wood for my two mantels. I knew I loved this place as soon as I pulled up a saw the building!
As I was typing this and looking for the link to take you to their website, I found a short YouTube video that PBW has up of Cody and Chante's home, using their reclaimed wood all over the house. Enjoy THIS fun bonus.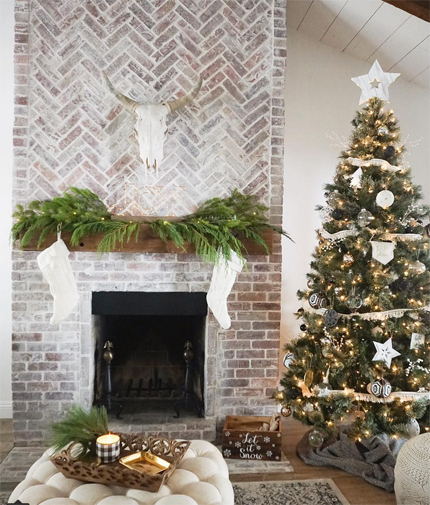 Photo from Instagram
Here is the fireplace Cody did in their home, all done up for Christmas.
I'll be making the food for their wedding in NW Arizona in mid-May. So, obviously, I could wax poetic about these two all day, but maybe I should just get back to my interior remodel for now…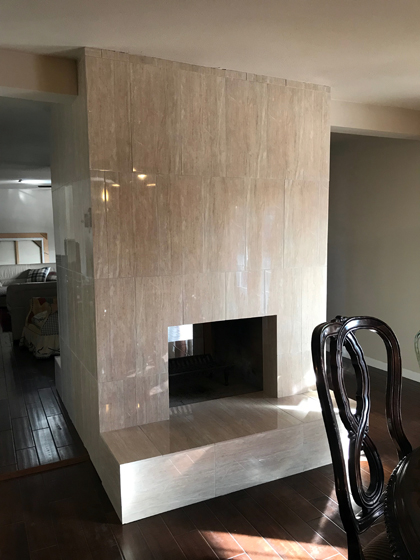 This was the fireplace on moving-in day. *Please take note of the stuccoed beam that is on either side at the top of the fireplace, we'll be getting back to that later.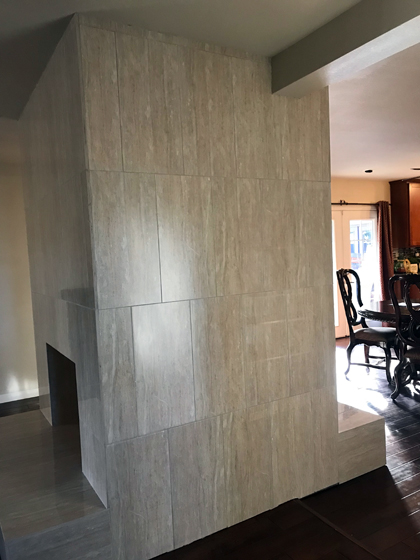 Nice, but not at all my style. And there are no mantels! I need my mantels! Where else do you hang your Christmas stockings? How can you decorate or warm up a modern fireplace like this? I suppose you could build a fire, but that's not the "warming up" I'm in need of.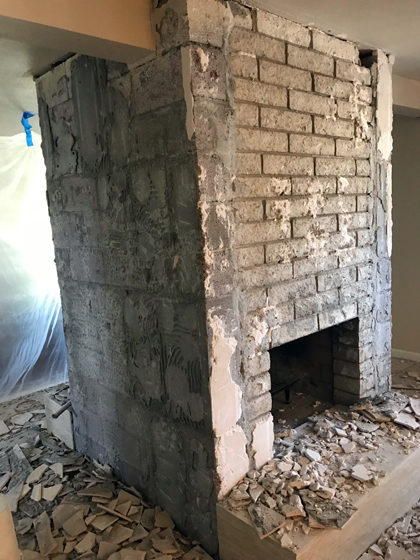 The day I was running around for brick and barn wood, this was happening at the house. Goodbye slick, smooth and cold tile. In the words of Chip Gaines, "It's Demo Day!" This may be the guy's favorite day, but I'm glad I wasn't hanging around.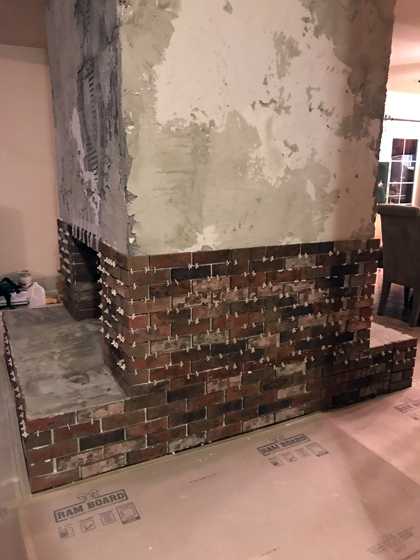 There was a day or two of repair and texturing and then the real fun began. Bricks and spacers. So many spacers! This is a BIG fireplace. I think Cody made two runs to Home Depot for more buckets of spacers and I made one trip for him.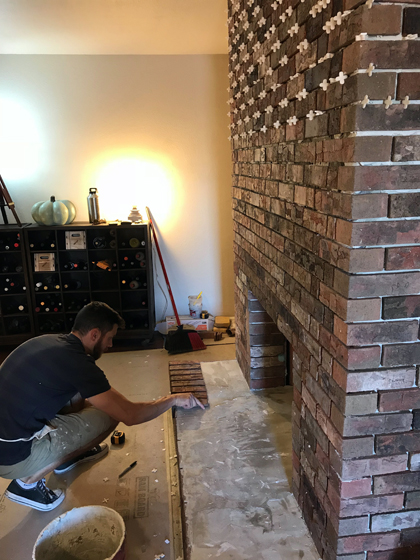 There is nothing I love more than watching the process and progress of a project like this.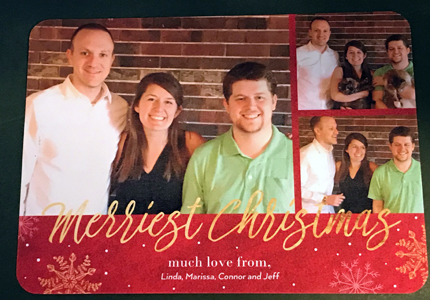 We knew it wouldn't be completed before Thanksgiving, so I just asked Cody that it be presentable by then. It was, so much so that I had the kids pose with the cats in front of it for my Christmas card.
After Thanksgiving, Cody and his guys were back to put on a light German schmear and put on the gorgeous rustic mantels that Cody found for me. Turns out the wood that I reserved for the mantels was termite damaged and not good for our project. I'm still happy I had my own little field trip to Porter Barn Wood though! Thankfully there were no more termites in it though!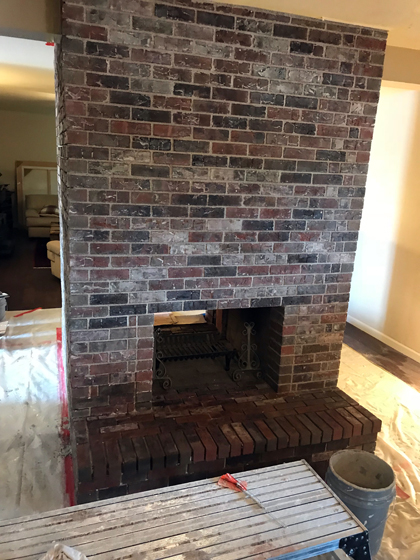 The German schmear in process…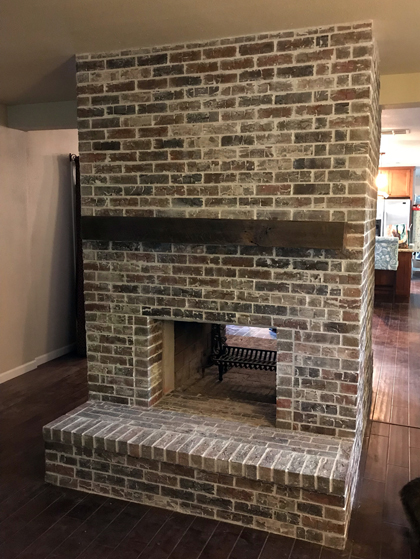 All schmeared and one mantle up!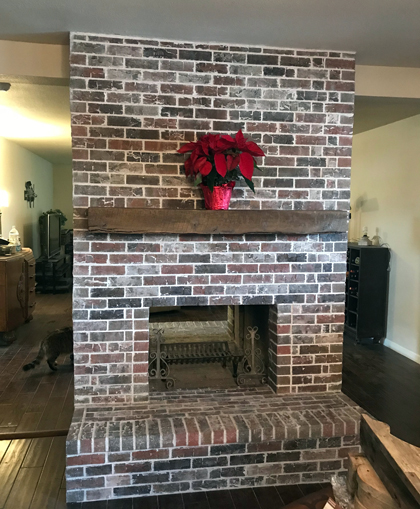 And in time for Christmas!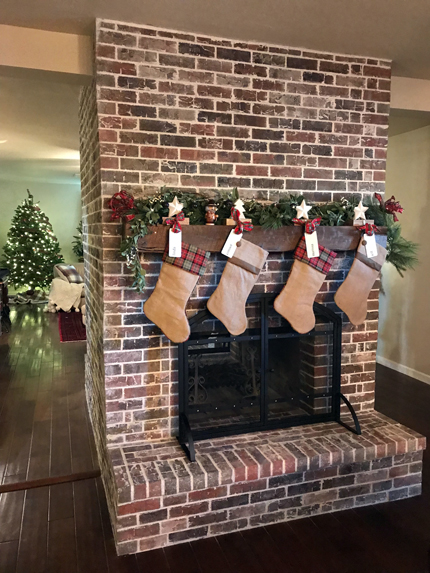 And STOCKINGS!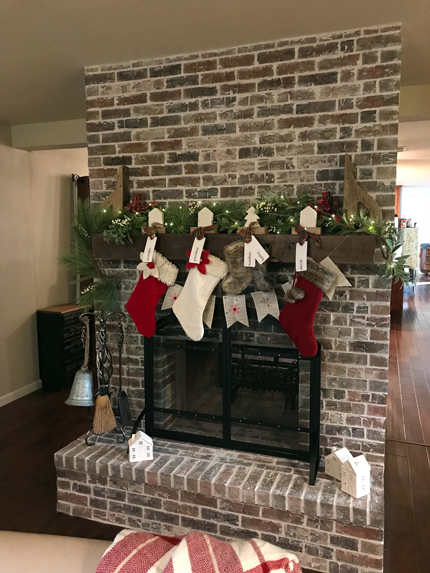 On both sides! Yahoo!
After the holidays, Cody was back to put the cherries on top of this project.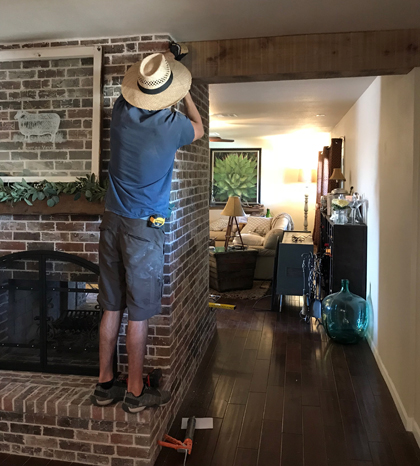 He wrapped the beams on either side of the fireplace with some very special sassafras wood which he nearly had to fight off someone for at Porter Barn Wood.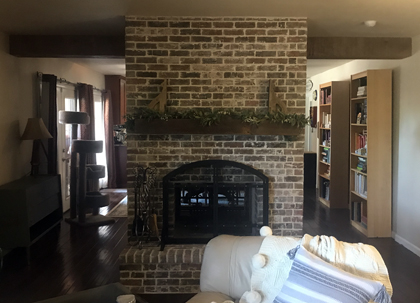 I'm so grateful he fought for it, not only because it's beautiful but also because sassafras wood is believed to be endowed with special powers.
Special Powers?!? Yes, please!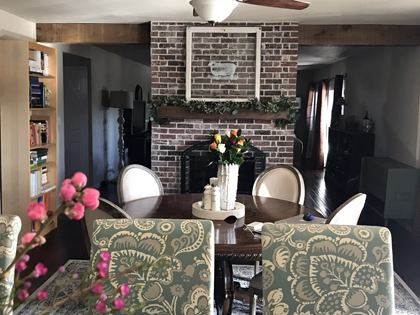 Then, best of all, he handcrafted a sassafras barn door for me!
Below is the backside of the door.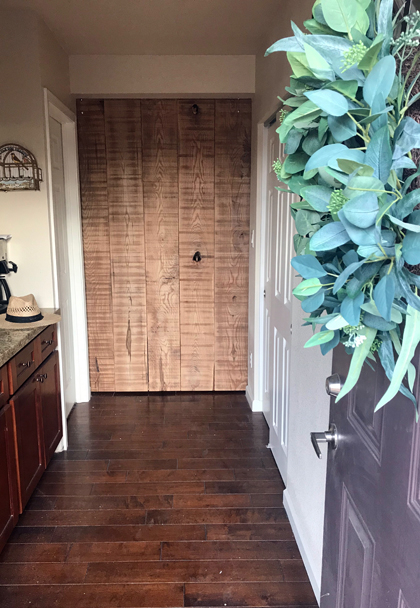 And here is the gorgeous double-X front.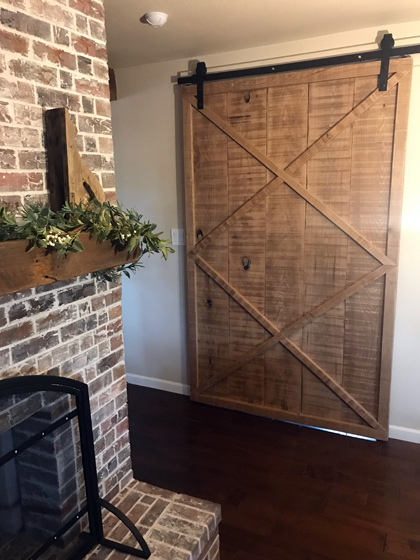 Love it all. Some days, I just sit on the couch in my family room and stare at all the beauty my talented friend created for me. xoxo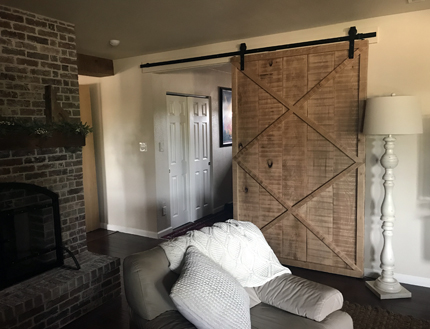 I can't wait to return a bit of the favor at a very special wedding in May.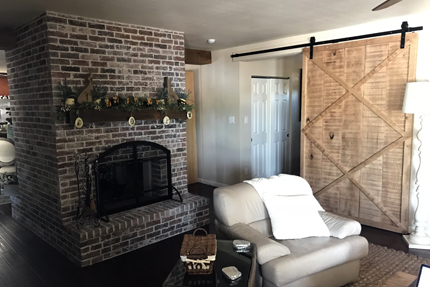 Before and After!