classic
I made this salad while I was in Chicago back in August. On August 31, 2022, to be exact, while I was literally trying to get out the door to go to the airport to head back home. Marissa and Jeff would be enjoying it after Jeff got back home from dropping me at O'Hare. That is why there are no "in the process photos" and why the avocado is sitting on the platter instead of added to the salad. This is also why there are roasted bell and poblano peppers added to the classic salad, I didn't want them to go bad if the fridge after I left.
The big news is that I'm back in Chicago for three weeks. I arrived last night and today is the first day of my stint as the primary caregiver to Max. Marissa's maternity ended yesterday and she is back to work today. Granted, she is upstairs in her office, while Max and I are hanging out downstairs, but she is truly back to work, so it's just me and Max for the next three weeks. More to come on random life updates in the days to follow. Until then, please enjoy this classic salad. xoxo
Original Hollywood Brown Derby Cobb Salad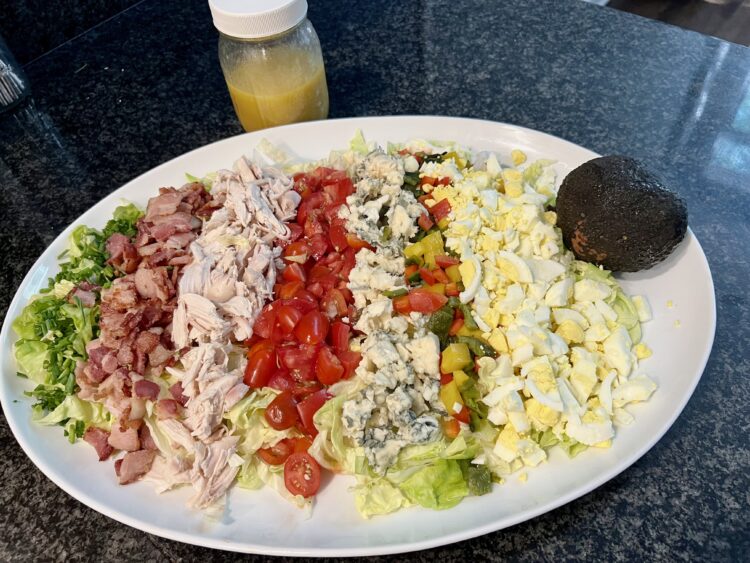 Brown Derby Dressing
1/4 cup water
1/4 cup red wine vinegar
1/2 teaspoon sugar
1 ½ teaspoons lemon juice
1/2 teaspoon salt
1/2 teaspoon freshly ground black pepper
1/2 teaspoon Worcestershire sauce
3/4 teaspoon dry mustard
1 clove garlic, peeled and minced
1/4 cup olive oil
3/4 cup vegetable oil
1 head iceberg lettuce
1 head romaine lettuce
4 Roma tomatoes, seeded and diced
10 ounces chicken breast, cooked and shredded
12 slices bacon, cooked and diced
2 avocados, peeled and diced
6 hard-boiled eggs, peeled and diced
1 cup Roquefort cheese, crumbled
4 tablespoons minced chives
Brown Derby Dressing: Combine water, vinegar, sugar, lemon juice, salt, pepper, Worcestershire sauce, mustard, and garlic in a medium bowl. Slowly whisk in the oils. Chill. Whisk again before serving.
Classic Cobb Salad: Chop the iceberg lettuce and romaine lettuce into very fine pieces. Mix the salad greens together in a large wide bowl.
Arrange the tomatoes, chicken, bacon, avocado, eggs, and cheese in rows over the greens. Sprinkle with chives.
Present the salad at the table, then toss it with about half of the dressing. Allow guests to add additional dressing if desired.
Serves 6