classic combo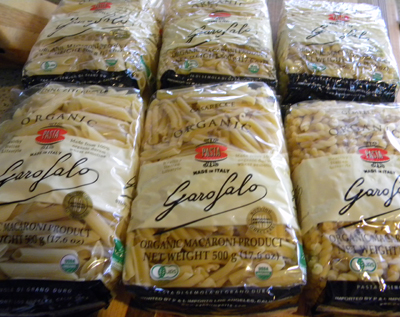 Steak and blue cheese are a classic combination. I discovered a 4-pack of rib-eye steaks in the back of the freezer and although there are only the two of us, I grilled up all four steaks. I used the extra two to make this pasta dish a couple of days later. Any leftover beef will do, just be sure to slice and cut it up directly from the refrigerator.  When the beef is cold, it is easiest to find and cut out the fat that is marbled throughout.
I purchased a wonderful 6-pack of organic pasta imported from Italy at Costco. In it, there are two packages of casarecce, two packages of penne, and two gemelli. I chose the gemelli for this dish because the other two styles are meant to hold lots of sauce. This dish has minimal sauce, so the gemelli works best out of the three. If you want to use penne or maybe fusilli, I'd advise throwing in a can of undrained chopped tomatoes to make the pasta saucier.
A funny thing I noticed was that the pasta packages are 17.6-ounces in weight, instead of the usual 16-pounces. Since I generally run on about 2% brain capacity on any given day, I was thinking, "What's up with that?"  It took me quite a while to notice that the other weight on the packages is 500 grams.  Finally, another 3% brain powder kicked in and I figured out that this was true Italian pasta, so of course, it would be measured in grams and the ounce weight was just placed on there for us metric-challenged Americans. Grazie Garofalo Pasta, I need all the help I can get when it comes to math!  Oh… and it's really good pasta too, so pick up a 6-pack the next time you're in Costco.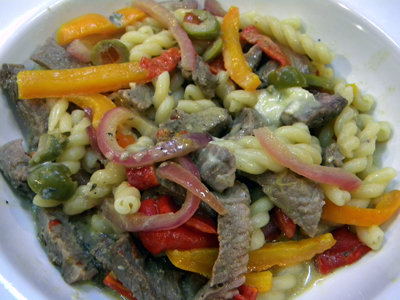 Beef, Blue Cheese, and Sweet Pepper Pasta
1 pound cold leftover cooked beef
1 tablespoon olive oil
1 red onion, peeled and thinly sliced
2 roasted red bell peppers, cut into strips
2 yellow or orange bell peppers; cored, seeded, and cut into strips
Salt and freshly ground black pepper
3 garlic cloves, peeled and minced
1 cup beef broth
6 ounces blue cheese, crumbled and divided
1/4 teaspoon crushed red pepper
8-ounces (1/2 package) gemelli or penne pasta
1/3 cup pitted green olives, roughly chopped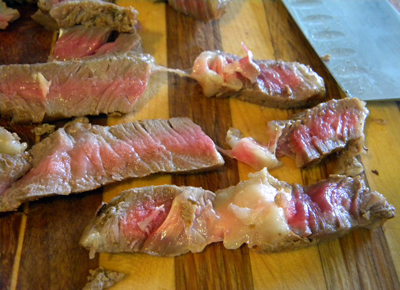 Cut beef, against the grain of the meat, into thin strips lengthwise, cutting out and discarding all visible fat. Cut each slice into bite-size pieces.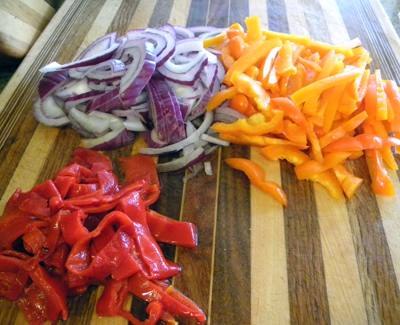 Bring a large pot of water to a boil for the pasta. Meanwhile, in a large skillet, heat olive oil. Add the onions and peppers to the skillet and cook until tender-crisp, about 3 minutes, stirring frequently and seasoning with salt and pepper. Stir in garlic and cook for 2 more minutes. Remove with a slotted spoon to a plate and set aside.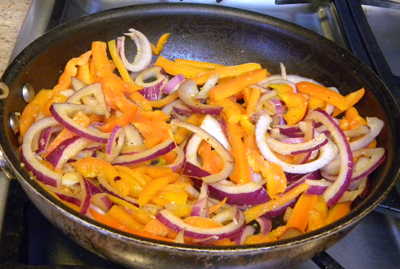 Salt boiling water in pot and drop in pasta and cook according to package directions.
Add the stock to the skillet and bring to a boil over high heat. Reduce heat and stir in the crushed red pepper, and 1/2 of the blue cheese.  Return pepper mixture to skillet, along with the beef.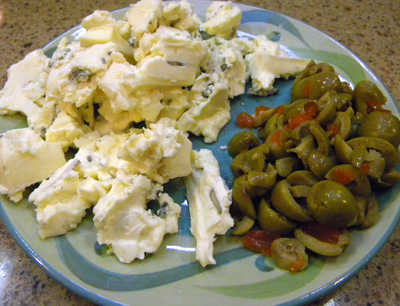 Remove from the heat. Stir in olives and the remaining blue cheese.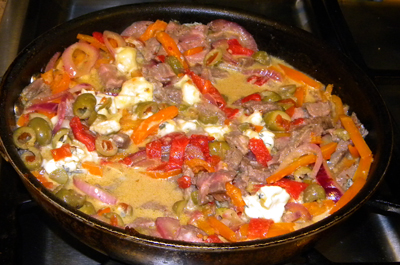 Drain pasta, add it to the meat mixture, and toss to combine. Taste and season.
Serves 6