Christmas or anytime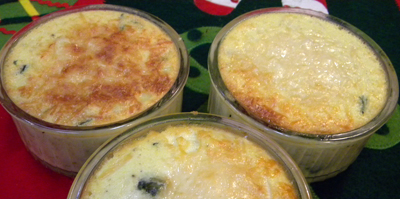 Just because I've named these Christmas custards, don't think that they wouldn't be good anytime of the year… in fact – it has been requested that I make them again for New Years Eve, and I just may!
Crab and Corn Christmas Custard
2 tablespoons unsalted butter, plus more for buttering ramekins
1/2 cup peeled and minced shallots
1 poblano pepper, roasted, peeled, seeded, and minced
1 pound frozen corn kernels, thawed
2 cups half and half
6 large eggs
1/4 cup flour
2 teaspoons salt
1 teaspoon sugar
1 teaspoon chipotle chili powder
1/2 teaspoon freshly ground black pepper
1/4 teaspoon freshly ground nutmeg
1 pound fresh or pasteurized crab meat, picked over
1/3 cup freshly grated Parmesan cheese
Preheat the oven to 350 degrees. Lightly butter ten 3/4-cup ramekins or custard cups.
Melt butter in a heavy small skillet over medium heat. Add shallots and poblano; sauté until shallots are soft and translucent, about 3 minutes.
Remove 1 cup of corn and set aside.  Puree the remaining corn in a food processor. Add the half and half, eggs, flour, salt, sugar, chili powder, pepper, and nutmeg. Pulse until the mixture is smooth. Transfer the mixture to a large bowl.
Add the shallot-pepper mixture and all but 3/4 cup of the crab meat and stir to blend.
Divide the custard mixture evenly between the buttered ramekins. Sprinkle the top of each with the reserved 1 cup corn and the 3/4 cup crab meat. (May be made 8 hours ahead. Covered and refrigerated.)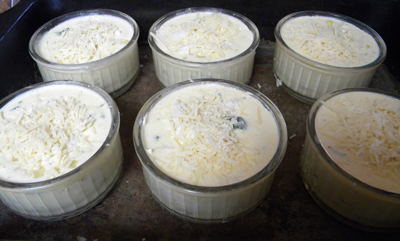 Sprinkle Parmesan cheese over the top of each. Place ramekins in a large roasting pan. Pour enough hot water into the pan to come halfway up the sides of the ramekins.
Bake, until custards are set in center and knife inserted into the center, comes out clean, about 50 minutes.
Makes 10