Chrissy's Spicy Carbonara
Along with nearly 30 million others, I follow Chrissy Teigen on Instagram. The other day in her Instagram Stories, I watched as she made a Carbonara with a spicy Asian twist. I was intrigued and decided to give it a try. Unfortunately, once I gathered all my ingredients, I discovered that there wasn't enough of the chili garlic sauce called for in the recipe. Oh well, I went ahead anyway. Yeah, it made a difference, it needed it to be spicier. I plan to make it again once I can get to the store and get a jar (or two) of chili garlic sauce because I like spicy!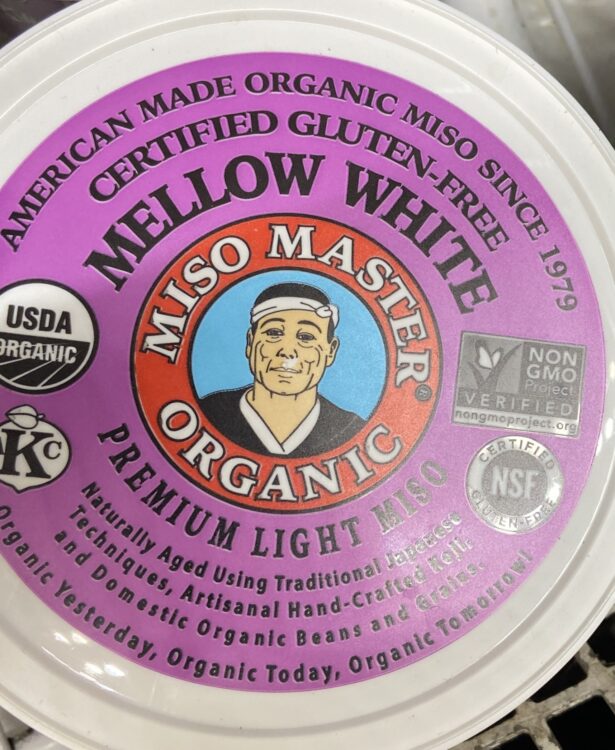 The miso that Chrissy and I used is available at Whole Foods or on Amazon.
I'm giving the recipe almost as Chrissy wrote it, only upping the amount of bacon. No surprise there! Check out Cravings by Chrissy Teigen.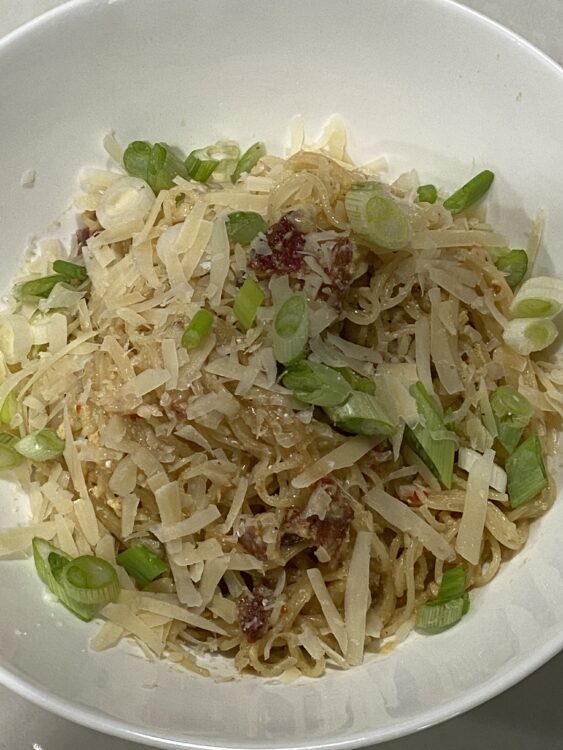 Spicy Miso Carbonara
2 tablespoons olive oil
6 slices thick-cut bacon, diced
3 tablespoons chili garlic sauce, plus more to taste
2 tablespoons blond or light miso, plus more to taste
2 tablespoons hot water
3 eggs
3/4 pound dry spaghetti or capellini (angel hair)
2 ounces finely grated Parmigiano Reggiano cheese, plus more for garnish
1 teaspoon freshly ground black pepper
1/2 cup thinly sliced green onions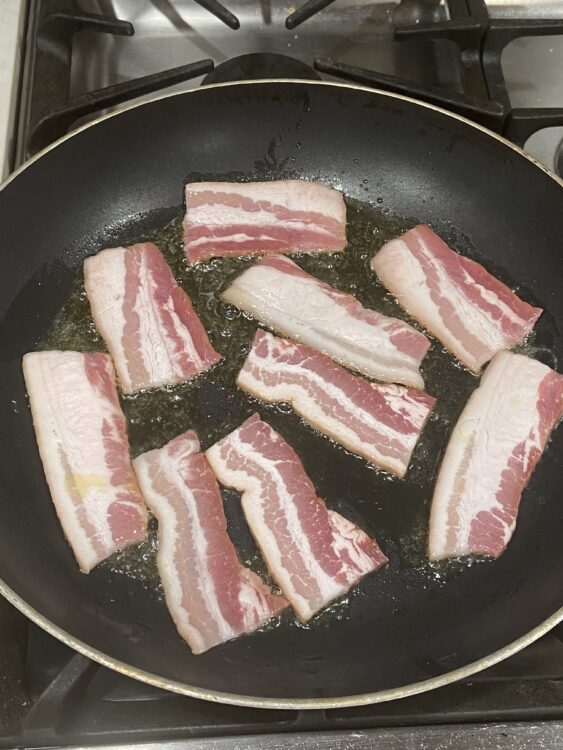 Bring a large pot of water to a low boil, cover, and keep hot on a low burner. Heat the oil over medium heat in a large skillet, then add the bacon and cook until crisped and the fat is rendered, 9 to 10 minutes. Remove the bacon to cool and then chop. Remove the skillet from the heat and drain off all but about 2 tablespoons of the drippings, and set aside the skillet.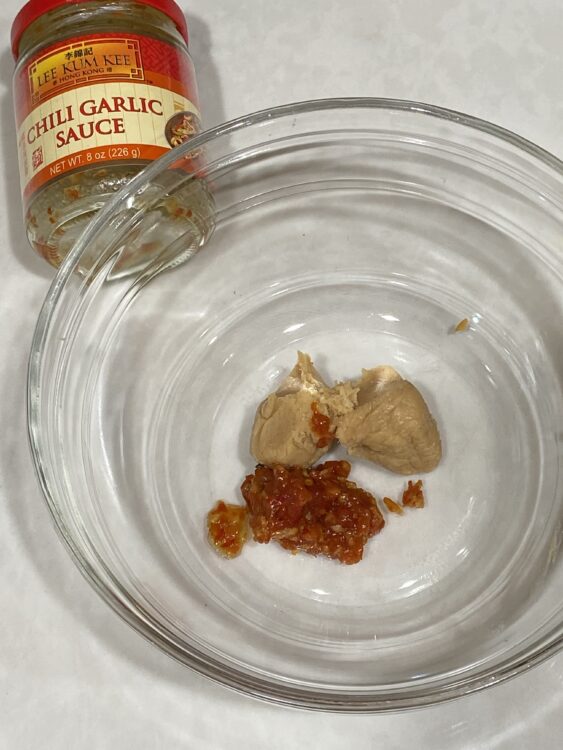 Whisk together the chili garlic sauce, miso, and hot water until smooth, then beat in the eggs, set aside.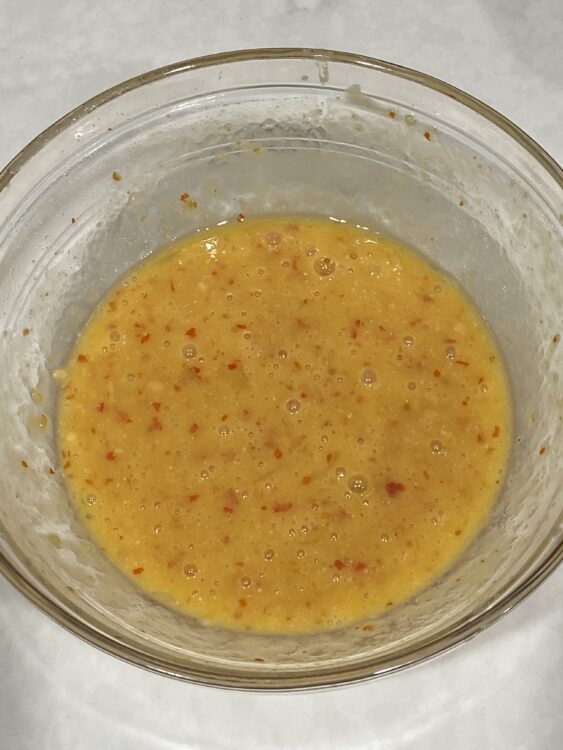 Add salt to the water in the pot on the back burner and cook the pasta according to package instructions until al dente and drain, reserving ½ cup of the pasta cooking water.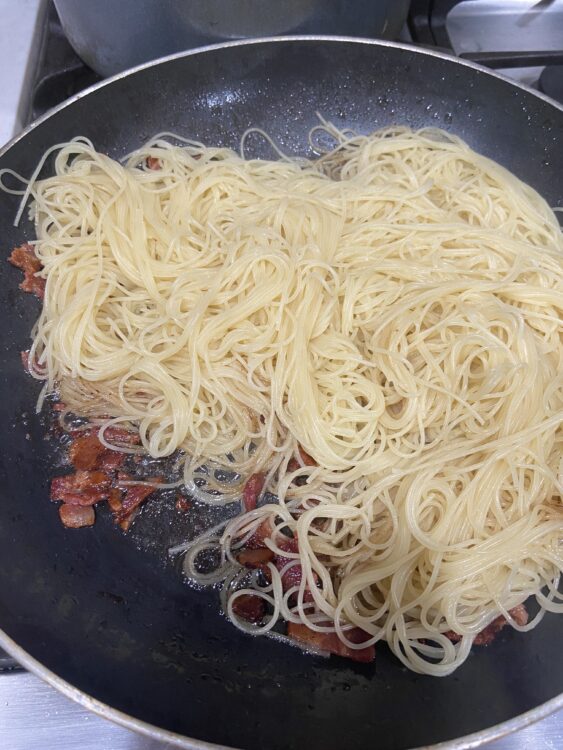 Return the chopped bacon to the skillet and add the pasta; toss to combine. Heat over medium heat until everything is hot.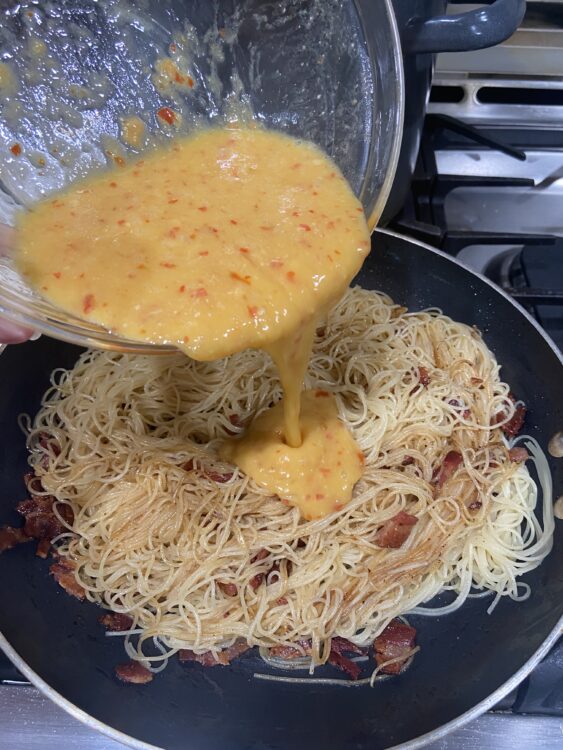 Reduce the heat to low, add the egg mixture, and quickly toss until the eggs coat the pasta but are not scrambled.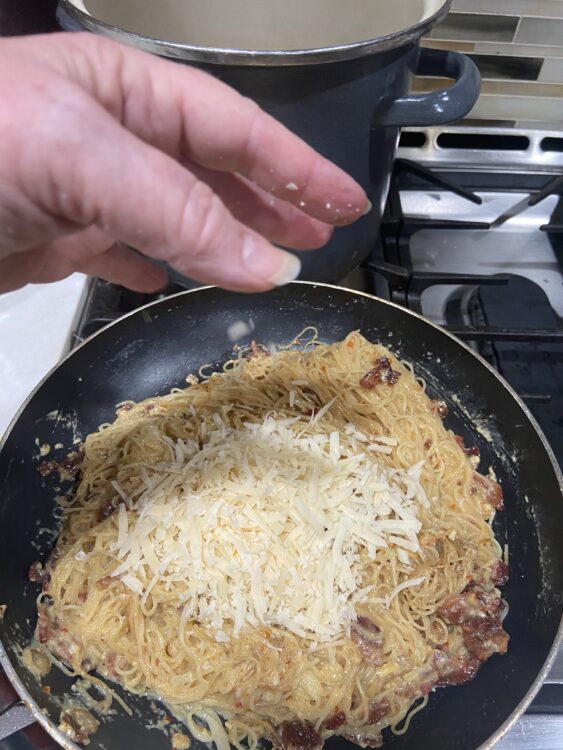 Add the Parmesan, pepper, and enough of the reserved pasta water, as needed, until the sauce reaches your desired consistency. Taste, and add more chili garlic sauce if desired.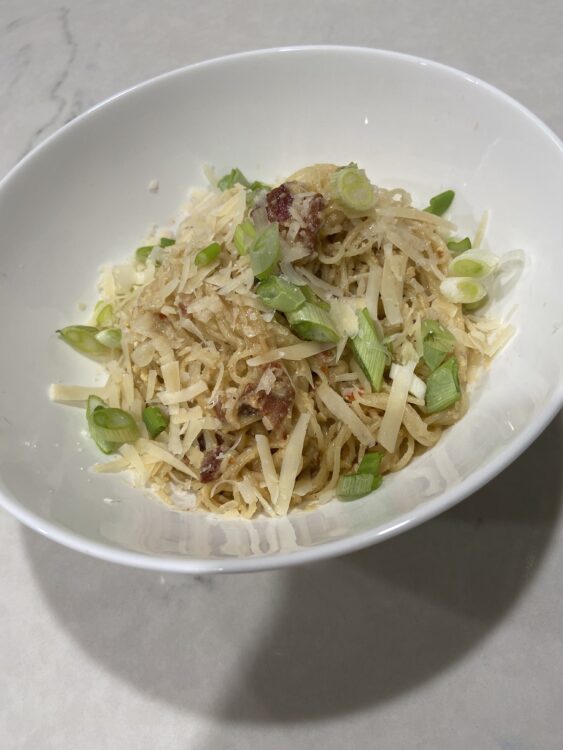 Divide among bowls, and garnish with green onions and more Parmesan.
Serves 4