chicken and peach main course
Ten years ago, in 2003, we had a huge peach tree. I'd have to say it was too huge!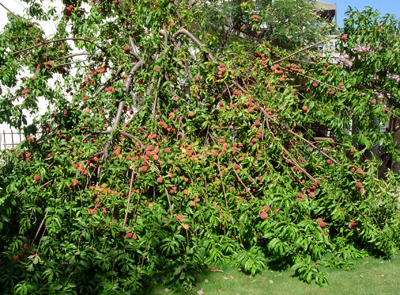 Somehow, it had grown completely out of control and sadly, this was what happened to it. It was so top-heavy and so full of heavy ripe peaches, that most of the branches broke from the weight.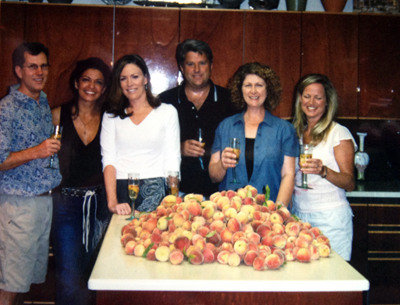 I did what any resourceful woman would do – I had an impromptu "Pick Your Own Peaches" Dinner Party. To attend, you had to pick as many peaches as humanly possible and take them home with you! You were rewarded with dinner and profuse amounts of gratitude.
The tree was never quite the same. We had another couple of years of good harvest, but it was an ugly tree after all those branches broke off in such an inhuman way.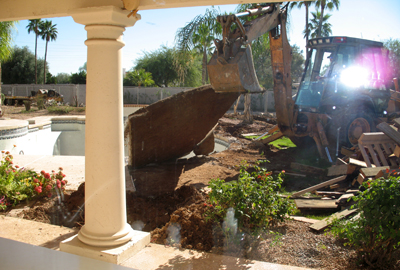 Then, in December of 2007, we took our back yard down to the dirt, literally. We took out and filled in the old plaster diving pool. We tore down the south and west sides of our block wall fence and the entire narrow covered patio, plus the dated columns that held it up.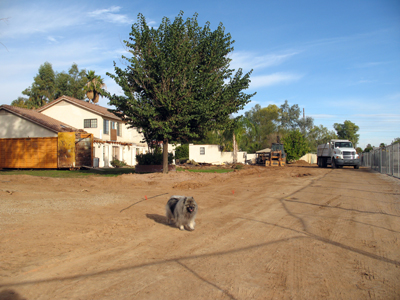 And we said goodbye to the peach tree – and just about every other living thing in the back yard. The peach tree used to stand where that orange trash dumpster sits, in the photo above. And that's my gorgeous Tanqueray in the center of the photo. How I miss my sweet boy!
All that was left were the citrus trees … the branches of the lemon tree are seen on the right, while the orange and grapefruit trees are out of view along that same side of the yard. Plus the orchid tree, which is on the far left of the photo, but can be seen more clearly in the photo above this, directly behind Tanqueray. Also saved was the large fig tree, which is out of view, but is on the back side of that orange dumpster. The two queen palms were later transplanted, but in the end, didn't survive.  The tall eucalyptus trees in the background, used to be on the side of our front yard, but we pushed out the fence and they now line the western edge of the back yard.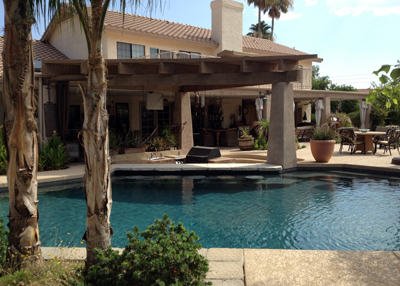 After living in a pile of dirt, dust, and far too often, mud, that wet winter – we were hugely rewarded in May 2008 with a beautiful backyard oasis.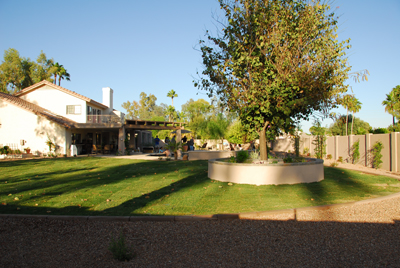 I will soon be showing you more photos of the yard, because we are about to embark on phase two of the backyard remodel. Anyhow, a new tiny peach tree replaced the previous monster. It's hard to make out, because it's so small and barely in the picture, but if you look closely, you'll see it on the far left center edge of the photo. That spot of green against the white of the house, that's it!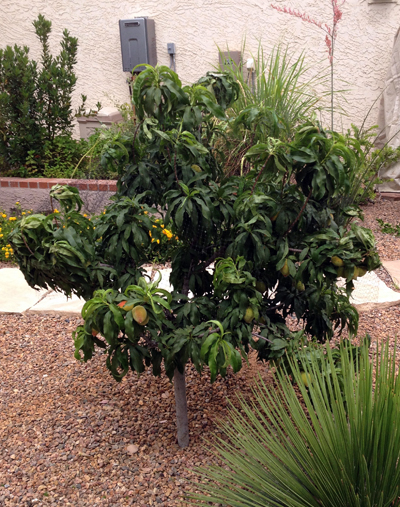 Here is what it looks like now. It's a dwarf peach tree, so it is still small today. This photo was taken exactly one month ago. It may be little but I generally get a nice size basket or two of fruit from it each year. More than enough for just Dave and I.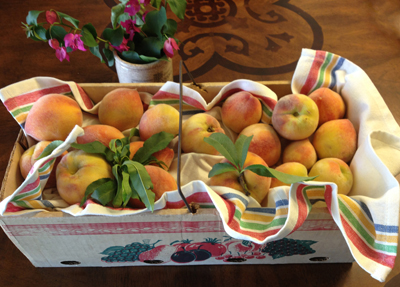 Along with plenty of peaches to make the dessert in yesterday's post and enough "just eating" peaches, I was able to make a main course peach dish with what I harvested this year.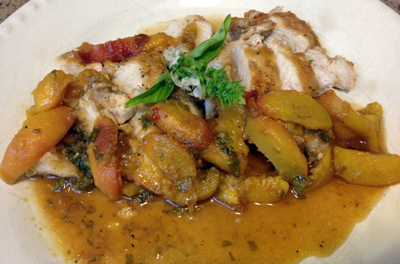 Chicken Breast With Savory Sweet Peaches
1/2 cup flour
1/4 teaspoon salt
1/4 teaspoon freshly ground black pepper
1/4 teaspoon smoked paprika
1 tablespoon olive oil
2 skinless boneless chicken breast halves
6 medium peaches, sliced
3/4 cup orange juice
2 tablespoons brown sugar
2 tablespoons white balsamic vinegar
1/2 teaspoon ground nutmeg
2 garlic cloves, peeled and minced
1/4 cup minced fresh basil
Fresh basil sprigs, garnish
Combine flour, salt, pepper, and paprika together on a flat plate.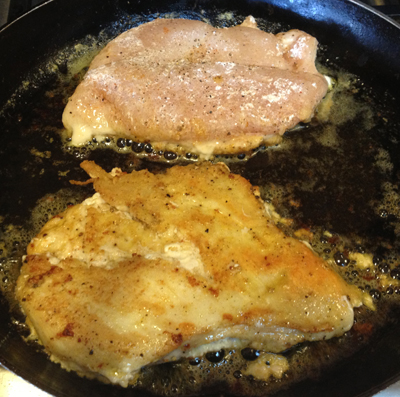 Heat oil in a large skillet over medium high heat. While oil is heating dredge chicken in the seasoned flour. Add chicken to skillet and brown on both sides.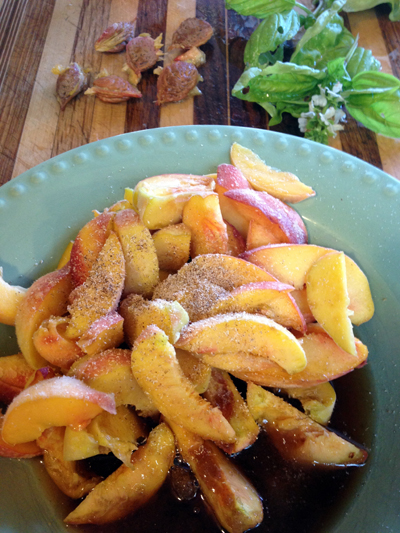 While chicken is browning, place peaches, orange juice, brown sugar, vinegar, nutmeg, basil and garlic in a bowl.
Remove chicken from skillet when it is browned and place on a plate. Add peach mixture to skillet and bring to a boil. Reduce to medium and simmer for 8-10 minutes or until liquid reduces and thickens slightly. Return chicken to skillet, reduce heat to low, cover and simmer for 15-18 minutes, until chicken is cooked through.
Divide between two dinner plates, garnish with a fresh basil sprig and serve.
Serves 2