casserole – are you excited or disappointed?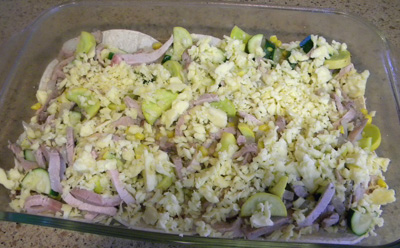 Say the word "casserole" and you will generally get one of two typical responses… a huge smile filled with excitement from the person who knows that something hearty, filling, and tasty is about to come their way… or a turned-up nose and rolling eyes from the person who envisions a sticky, gooey, mess of food about to be forced upon them.
Because of that second reaction, I was tempted to call this dish a "Bake" instead of a "Casserole".  I even searched through online thesauruses looking for an alternate name, but call it what you may, it's a casserole.  And exactly what is that?  A casserole is an ovenproof dish sometimes with a tightly fitting lid, made from earthenware, glass, or metal. The word 'casserole' also refers to the mixture of the food itself which is prepared in the oven in this dish. The word is derived from the Old French word casse and the Latin word cattia meaning a "frying pan or saucepan." As often happens, the name of the cooking utensil was used for the name of the dish.
So, if the word is derived from a French word, then how does it end up sounding so pedestrian? Maybe it is because, when some of us were growing up, the contents in the casserole dish were often called "surprise", as in Turkey Surprise, or even worse, Spam Surprise; almost a guarantee that this would not be a happy or delicious "surprise" at all!
As with many casseroles, this one is made using leftover meat, pork from Christmas dinner, to be exact. Feel free to use another leftover meat, such as chicken or beef in place of the pork. Additional vegetables can be used as well; bell peppers, green beans, kidney beans, or whatever you have on hand or dream up. I used a mix of three different "green" salsas to get my 3 cups needed, do the same if you have a mix of jars in your refrigerator.  I hope the only surprise you receive upon making and tasting this casserole, is that it makes your taste-buds sing!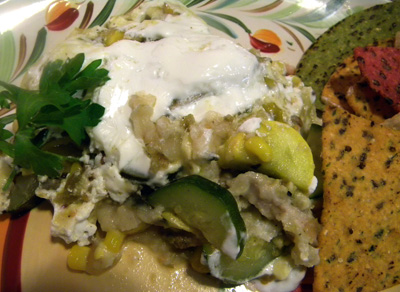 Tortilla, Tomatillo, and Pork Casserole
1 tablespoon olive oil
1 medium onion, peeled and diced
2 garlic cloves, peeled and minced
3 medium zucchini, ends trimmed off, cut in half lengthwise, then sliced into 1/4-inch pieces
3 medium yellow crookneck squash, ends trimmed, cut in half lengthwise, sliced into 1/4-inch pieces
1 cup frozen corn kernels, thawed
Salt and freshly ground black pepper to taste
3 to 4 cups leftover pork, beef, or poultry, cut into matchstick-size pieces or shredded
12 corn tortillas
2 cups (8 ounces) shredded Monterrey Jack cheese
3 cups (24 ounces) tomatillo salsa
1 cup low-fat sour cream
Minced fresh cilantro, for garnish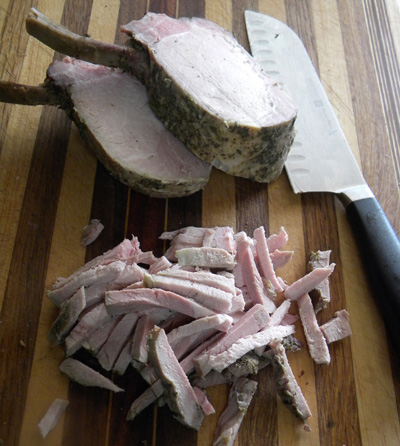 from pork crown roast to a casserole
Preheat the oven to 375 degrees and grease a 9 x 13-inch glass baking dish. In a large heavy skillet heat the oil over medium heat until hot.  Add the onion and sauté until translucent. Add the garlic and both kinds of squash and cook over medium heat for about 5 minutes.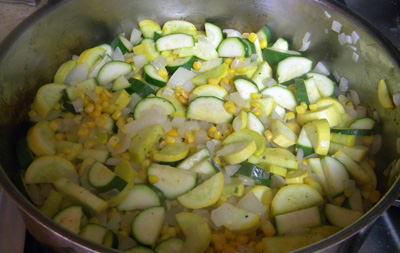 Add the corn and cook until just tender, about 2 to 3 minutes. Toss in the pork. Add salt and pepper, to taste.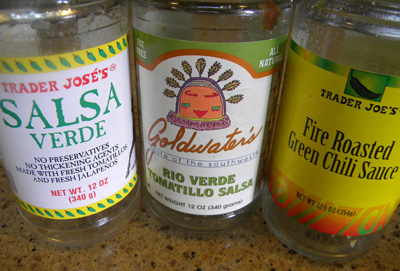 Spread 1 cup of tomatillo salsa on the bottom of the dish. Arrange 6 of the corn tortillas in the dish, overlapping the edges. Cover with half of the squash-pork mixture, 1 cup of the cheese, and 1 cup of the salsa. Repeat the layering process with the remaining 6 tortillas, the remaining squash-pork mixture, cheese, and 1 cup of salsa. (May be made up to 1 day ahead, covered and refrigerated)
Cover with foil, and bake in preheated oven for about 50 minutes. Remove the foil and spread the 1 cup sour cream over the top of the hot casserole, return to the oven, uncovered for 5 minutes.
Allow to sit for about 5 minutes before spooning onto dinner plates.  Garnish with fresh cilantro.
Serves 8