caprese flag
Everyone loves caprese salad, or at least everyone I know love it!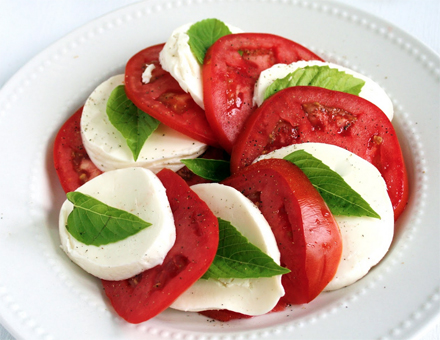 There are many variations of Insalata Caprese, but the classic Italian salad consists of layers of ripe tomato slices, sliced mozzarella, and basil leaves that are seasoned with olive oil, salt, and pepper, and sometimes drizzled with balsamic vinegar. It is made to represent the colors of the Italian flag.
I have made it as an hors d'oeuvre before, but this time I assembled it to resemble our American flag for a 4th of July appetizer. I wish I could take credit for coming up with the easy idea on my own, instead, I saw a video on the Food Network Instagram page on the morning of the 4th. I immediately jumped in my car and headed to Trader Joe's to pick up the ingredients. This was too clever and yummy to NOT make!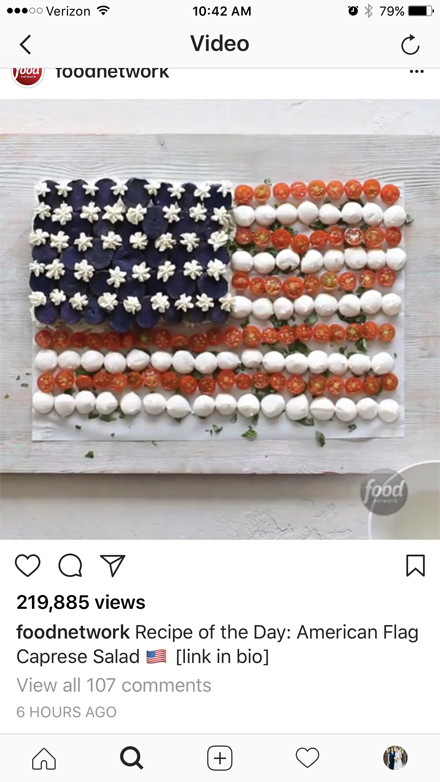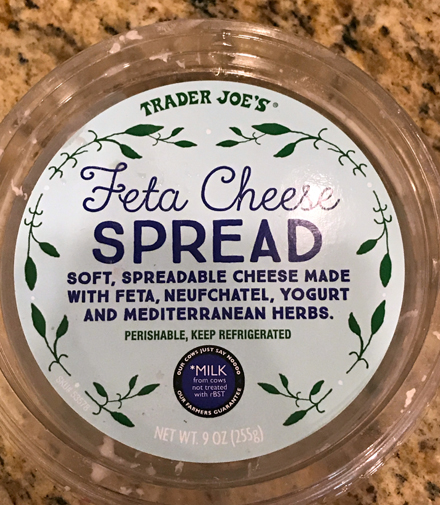 I hoped to find everything I needed at Trader Joe's. I picked up a tub of their Feta Cheese Spread. In hindsight, I would not recommend using it. It was a bit too chunky to use with the star tip in the pastry bag. You'll soon see, in the photo of the finished product, that the stars came out large and sloppy. A better option would be Boursin.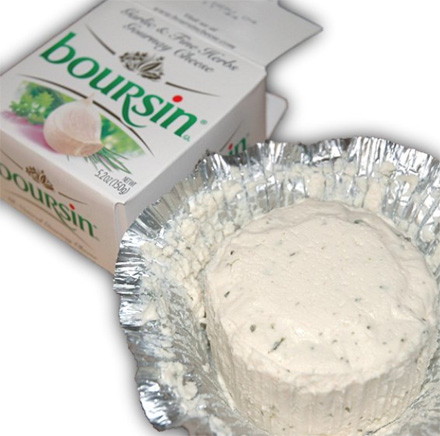 Unfortunately, I did not find the purple potatoes I needed for the field of blue at Trader Joe's. I headed over to Whole Foods.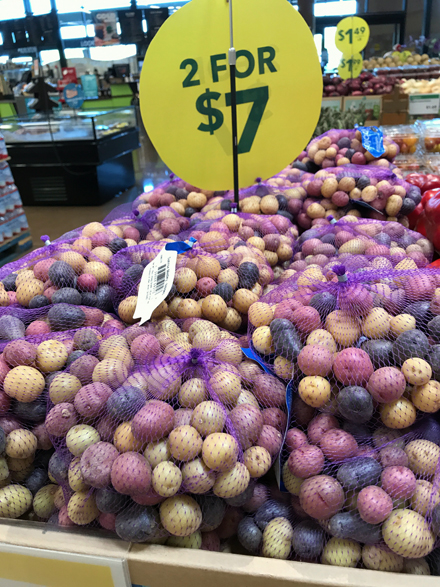 The only purple potatoes I found there were in a mixed bag of baby potatoes. I wasn't sure how many I would need and I didn't want to have to buy several bags to find out.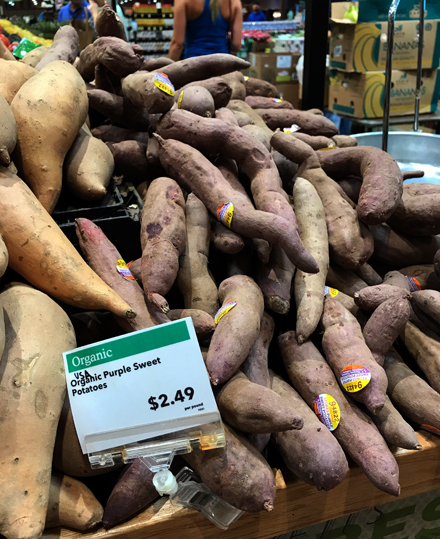 I was about to give up and use beets (I hate beets!) when I asked the produce guy and he showed me the purple sweet potatoes they had. Bingo! I bought a half-pound of those and was on my way!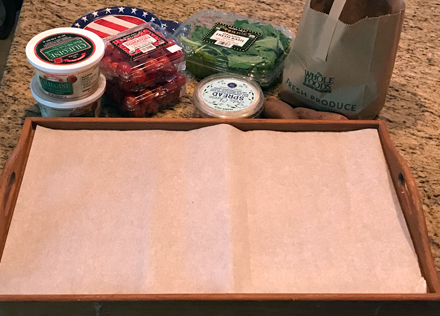 4th of July Caprese Flag
Tray or cutting board with dimensions of at least 21 x 13-inches
21 x 13-inch piece of parchment paper
8 to 10-ounces herbed cheese spread (2 packages of Boursin recommended)
Olive oil
1/3 cup chopped fresh basil leaves
Two 10-ounce packages red cherry tomatoes, cut in half through the equator
Three 8-ounce containers Ciliegine mozzarella balls (the little ones), drained and cut in half
1/2 pound purple sweet potatoes (choose small long potatoes of similar diameter)
Pastry bag fitted with a small star tip
Balsamic vinegar
Sea salt and freshly ground black pepper
Appetizer picks or toothpicks, for serving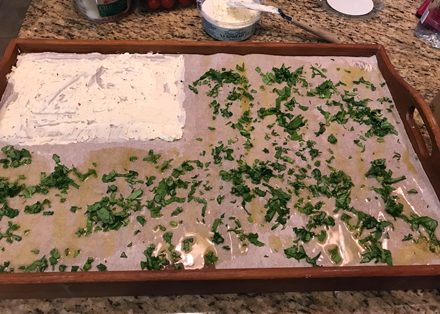 Use a dab of the cheese spread to "glue" down the four corners of the parchment to the tray. Mark out a 6.5 x 9.5 -inch rectangle in the upper left corner and spread that area with a layer of the herbed cheese spread.
Drizzle the rest of the parchment with olive oil and sprinkle with the chopped basil.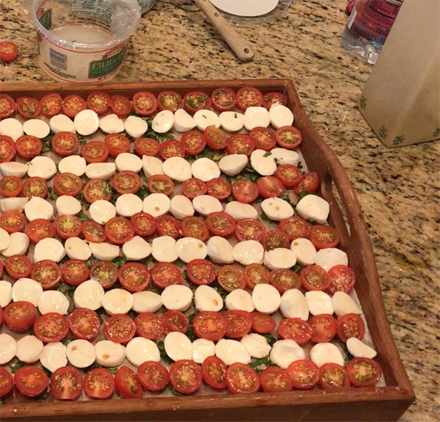 Arrange the cherry tomato halves, cut-side-up, in a row at the top of the tray, butting up to the edge of the cheese you just spread in the corner. Then a row of mozzarella halves, cut-side-up. Repeat with the remaining tomatoes and mozzarella until you have 13 stripes; 7 red and 6 white, beginning and ending with red.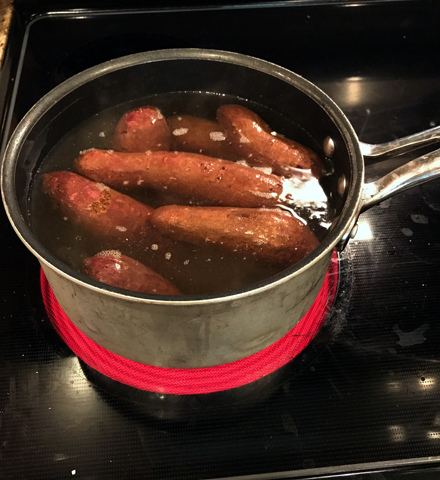 Bring a saucepan of water to a boil. Add 1 tablespoon salt and the purple sweet potatoes and boil until easily pierced with the tip of a paring knife.
Drain and run until cold water until cool enough to handle, then cut into 1/2-inch slices. Sprinkle with salt.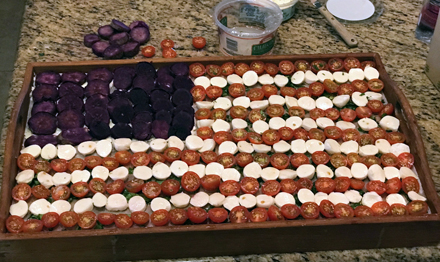 Cover the cheese spread in the upper left corner with the potato slices. Place the remaining cheese spread in a pastry bag fitted with a small star tip.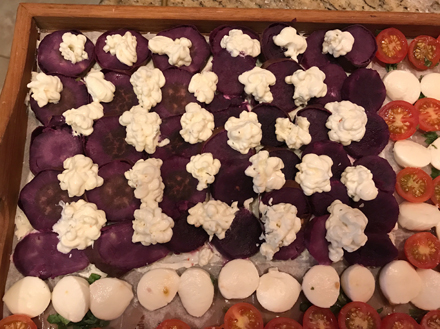 Pipe 50 stars on the field of purple potatoes. Drizzle lightly with more olive oil and balsamic vinegar and season with salt and pepper. Refrigerate until ready to serve.
(As you can see, I was only able to get about 30 stars because of the difficulty I was having with my chunky feta cheese spread. The Boursin will pipe out much cleaner and you'll easily be able to get 50 smaller stars. Even so, it made a fun, festive, and delicious party appetizer.)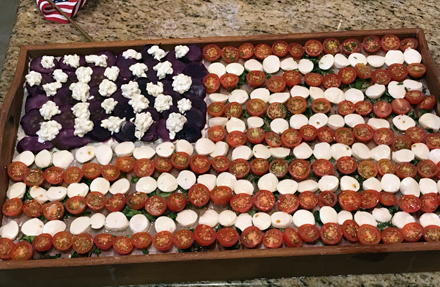 Place a little cup of appetizer picks or toothpicks next to the tray for serving.
Serves a crowd
Save
Save
Save
Save
Save
Save
Save
Save
Save
Save
Save
Save
Save