tasty sticks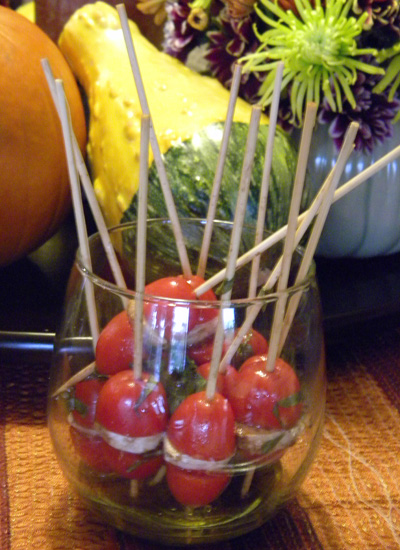 Here is the second of the two appetizer recipes using that 2-pound box of cherry tomatoes (cherubs). It couldn't be easier and they will disappear before you know it … enjoy!
Caprese Sticks
1-pint grape tomatoes halved crosswise
14 fresh bocconcini (mini-mozzarella cheese balls), cut into thirds
1/4  cup olive oil
2  tablespoons  balsamic vinegar
Salt and freshly ground black pepper
1/3 cup fresh basil leaves, chiffonade (thinly sliced)
42 long wooden skewers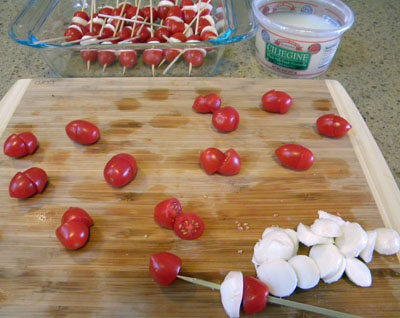 Thread 1 tomato half, 1 piece of cheese, and another tomato half on each skewer. Place skewers in an 8×8-inch baking dish.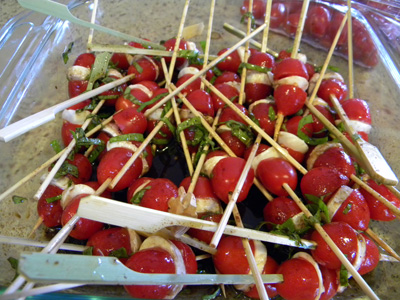 Whisk together oil, vinegar, and basil. Drizzle oil mixture over skewers; season with salt and pepper to taste. Cover with plastic wrap and refrigerate for 1 at least 1 hour to marinate.
Remove sticks from the dish and place 14 sticks in 3 separate stemless wine glasses to serve.
Makes 42 sticks