break time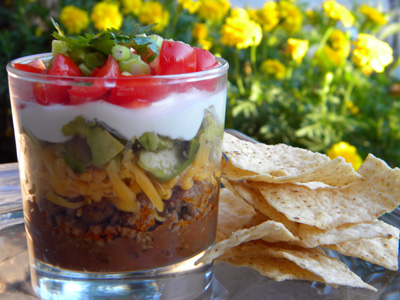 I'm going to take a long weekend break from my "reminiscing about our first trip to France" month for the next 4 or 5 days and instead focus on appetizers! Fun and creative appetizers because now that it is fall in AZ… it is THE time to party outside and enjoy our weather!  We are going to start out nice and slow with a cool serving idea for a party staple … the Mexican layer dip.
You all know the drill, a layer of ground turkey or beef that is seasoned with a taco seasoning pack, next, a layer of refried beans, some cheese, avocado or guacamole, tomatoes, and sour cream, green onions, cilantro, etc. All piled up on a platter and surround with chips… true party goodness, for sure. But, not all that creative or much of a presentation once your guests scoop it out onto their plates in a big blob. The solution? Super cute individual serving size. Why didn't I think of this before? No matter, I'm having a group of ladies over on Friday night and this is what will be awaiting them.  So adorable and fun!
All you need to do is find some straight-sided clear ramekins or small glasses and layer the dip inside, serve them with chips and you are set to go. Oh, and be sure the chips will fit in the vessels you choose, that is kinda important!
You can go to THIS PREVIOUS LINK and find the "recipe" or just use your favorite.  One thing I did do for this version was spice up the usual can of refried beans (use black refried if you'd like). To do so, just sauté diced onion in a little olive oil, add ground cumin, dried oregano, freshly ground black pepper, chili powder, salt, garlic, and chipotle cubes (CLICK HERE to learn more about those) and then mix in your can of beans… so much tastier.
Oh, and I'll be on NBC Channel 12 Valley Dish today at 3:30, in case you're around and want to watch. Finally, I just have to say what a joy it was to watch the Chilean miners being rescued during those heroic 24 hours of Tuesday and Wednesday. I am typing this just minutes after #33 came up out of the ground. It is so amazing to see just how powerful the human spirit is! I just pray that all nations could come together and work together and get along as they have for this ordeal … what a world we could live in if that happened on a daily basis!