banana – the unberry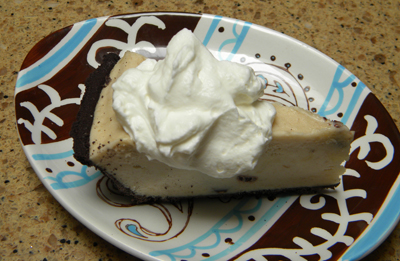 You know how sometimes one of your children (who you love dearly!) demonstrates a trait and you think, "Did I really birth this child, do they belong to our family?"  Admit it, you do, it doesn't mean you love them less or would trade them for all the tea in China, but you still wonder!  For me, that child is Connor and that trait is his complete distaste and dislikes for all things berry.  He doesn't like strawberries, blueberries, raspberries, blackberries, boysenberries, marionberries, or any sort of berry. This is completely out of sink with everyone else in our family, heck I don't know anyone else in my entire life who doesn't love berries!  But, of course, I love Connor all the same and because of that deep and undying love, I happily made this unberry dessert, especially for him for Easter…. and berry shortcake for everyone else, everyone else who is normal…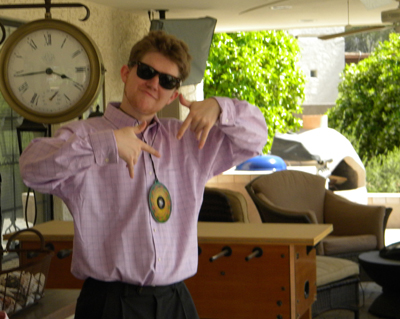 Connor rocking the "kaleidoscope on a rope" he found in his Easter basket… that's right, I still make my 18 and 22-year-olds baskets and force them to search for them!
Bananas Foster Ice Cream Pie
3/4 cup brown sugar
1 cup coconut milk, divided
2 pounds of very ripe bananas (4-5 large), peeled and cut into 1/2-inch  slices
Pinch of salt
1 tablespoon dark rum
1/2 teaspoon vanilla extract
1/3 cup chocolate chips
1 purchased Oreo pie crust
2 cups freshly whipped cream

In a wide skillet, heat the brown sugar with 1/4 cup of coconut milk, stirring, until smooth and bubbly.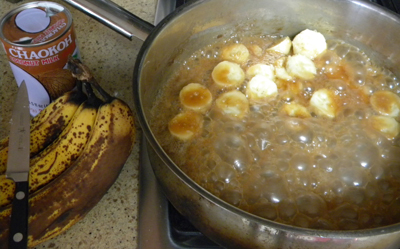 Add the bananas and salt, and continue to cook, stirring occasionally, until the bananas are soft and completely cooked through, about 3 or 4 minutes.  Remove from heat and stir in the remaining 3/4 cup coconut milk, rum, and vanilla.
Pour into a medium bowl and place that bowl into a larger bowl that has ice and a small amount of water in it; this is called an ice bath.  Stir the custard occasionally until cooled. Pour into an ice cream maker and process according to manufactures directions. During the last minute of churning, once the custard is thick, add the chocolate chips.
When ice cream is ready and the chocolate chips are evenly distributed throughout the mixture, pour into pie crust and freeze until firm, at least 2 hours, before serving. Remove from freezer and top pie with whipped cream, cut, and serve.
Serves 8