appetizer for 6 or "dinner" for 2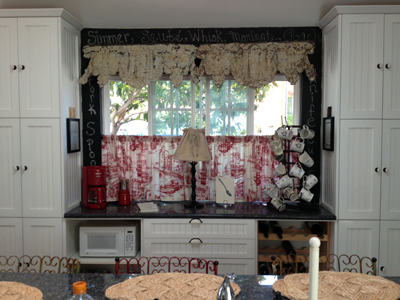 Not only did Sheila and I enjoy our Vootbeer Cocktails on Friday night, we also scarfed down some salty spicy-sweet little snacks … ummm … as our dinner.  Hey, we're on a vacation shopping trip – do not judge!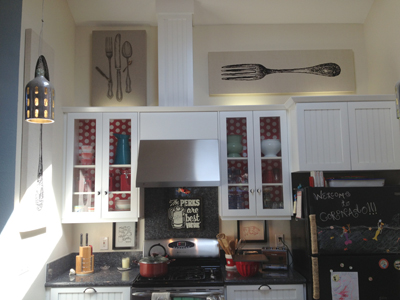 Additionally, this is a "do as I say, not as I do" sort of recipe. We didn't have any foil, or a rack, so the photos don't exactly match the instructions. I had to make do with what was available in Sheila's adorable drool-worthy cottage kitchen.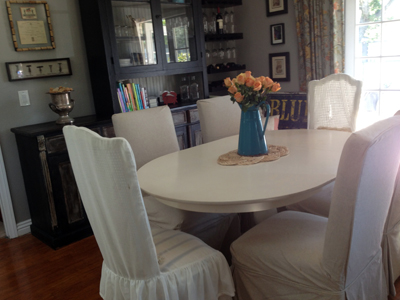 The kitchen is actually very well equipped, as Sheila is a fabulous cook, but things are sometimes just a bit smaller than I am used to. If you have foil and a rack, which I'm sure you do, then follow the directions and you will be set!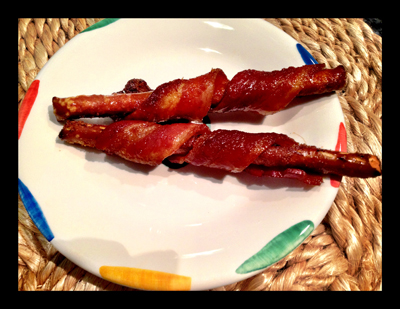 Spicy-Sweet Bacon Wrapped Pretzel Rods
6 slices of thick-cut maple bacon
1/2 cup brown sugar
1 tablespoon pure chili powder
1/4 teaspoon ground cayenne pepper
6 pretzel rods
Preheat oven to 400 degrees.  Line a baking sheet with foil.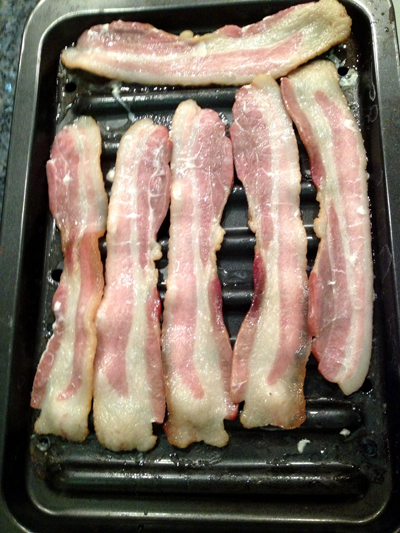 Place the bacon on the foil and par-bake in the oven for 10 minutes to partially cook the bacon. (This gives the bacon a head start and gets it about halfway there so that the pretzels don't burn later when you put the assembled item back to bake.) It will be nowhere close to being cooked enough to eat, it should still be limp and not at all crisp. Remove from oven and place bacon on a paper towel to cool slightly.  Place a rack on the same foil-lined baking sheet.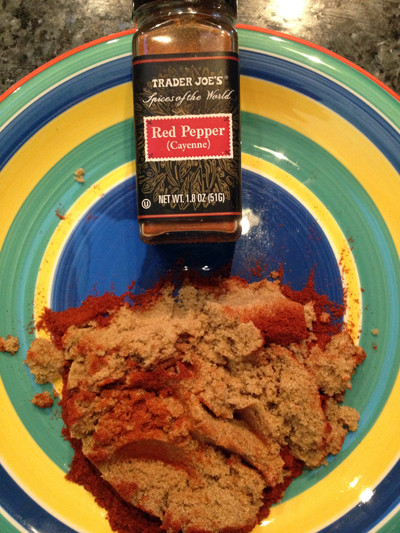 Mix the brown sugar, chili powder, and cayenne together on a large flat dish. Coat each slice of the par-baked bacon on both sides with the brown sugar mixture. Wrap one slice of bacon around each pretzel rod.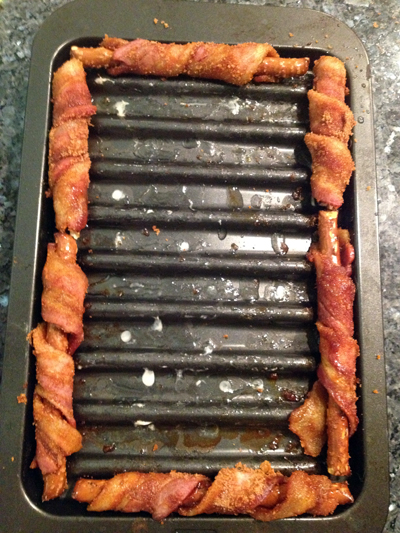 Place on the rack, positioning so that the ends of the bacon are secured down tightly on the rack so the bacon does not begin to unwrap itself.  If this isn't possible, secure the bacon on each end of the pretzel rod with a toothpick and place it on the rack.
Return to 400-degree oven for about 10 to 12 minutes or until bacon cooks and begins to crisp.
Remove from oven and let cool on a rack for 5 to 7 minutes before transferring to a serving plate. The bacon will crisp up even more as it cools.
As tempting as it will be; do not even think of taking a bite straight out of the oven. The roof of your mouth and your tender tongue will thank me!
Makes 6
(serves two women who are too lazy and too full from a late lunch to make a real dinner)