another "cook once" installment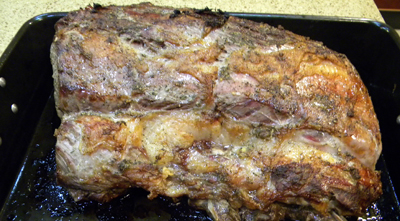 This is the second installment of my "Cook Once – Eat All Week" segments. Last time we used a whole roasted chicken, this time… a prime rib beef roast, also known as, beef rib-eye.  These recipes were used last night in the first week of my 3-week series of classes at Les Gourmettes Cooking School.  Today's recipe begins with a bone-in prime rib beef roast. This and the recipes to follow are designed for "cooking for two" – but every recipe can be easily doubled to feed a family of four.
In fact, Costco sells gorgeous whole boneless beef rib-eye roasts that weigh about 12 pounds.  Although this recipe calls for a bone-in roast (you will need those bones for the soup that will be coming up tomorrow), you can use other beef bones for the soup if you choose to use a boneless roast.  Many grocery stores will sell you beef bones if you just ask.
So, to recap; Prime Rib today, which you use only two servings of. Prime Rib Soup to follow tomorrow, French Dip Sandwiches the next day, and a beautifully composed Mexican Beef Salad the day after. Which will give you 4 meals from one cut of beef.
Prime Rib
3 large garlic cloves, peeled and finely minced
3 teaspoons dried thyme
1 teaspoon Kosher or sea salt
1 teaspoon freshly ground black pepper
6 to 8-pound bone-in prime rib beef roast
Preheat the oven to 450 degrees.
In a small bowl, make a paste with garlic, thyme, salt, and pepper.
Place beef, fat side up, in a heavy roasting pan.  Rub beef all over with the paste.
Roast 1 hour.  Check the temperature with an instant-read meat thermometer inserted into the center. You are looking for an internal temperature of 118 degrees, for rare. If more roasting time is needed, tent beef with foil.  Return to the oven and continue roasting until the meat reaches the correct temperature, checking every 10 minutes or so. Transfer to a platter and let stand 20 minutes.
To split the roast into several meals, carve off two servings and cover the remaining roast and refrigerate for future soup, sandwich, and salad meals. Otherwise, this full roast will make about 8 servings.