adaptation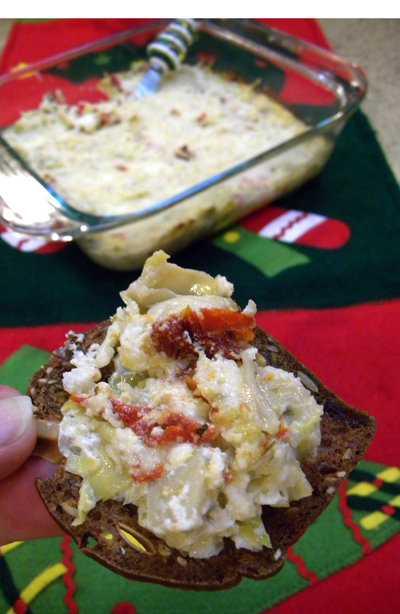 L
ate la

st night, after midnight, I remembered that I needed to make an appetizer for Dave's office Holiday Happy Hour.
Sadly, I can't even blame it on him, since several days ago he asked me if I could come up with something.
Obviously, I wasn't going to take a trip to the grocery store at that time of night, so I needed to work with what I had. A quick glance in the fridge, and I knew exactly what to make. I spotted jars of artichoke hearts and sun-dried tomatoes.
I often make a crostini with those two items, but a crostini wouldn't work well for a "make-ahead" or for an office with a microwave but without an oven. So I adapted my usual crostini recipe to become a spread. Directions for crostini can be found at the end of the recipe. Either way, it is a perfect "easy-breezy" recipe.
Artichoke-Sun-Dried Tomato Spread
1/2 cup sun-dried tomatoes packed in oil, drained well, and chopped
14-ounce jar artichoke hearts, drained and chopped
8 ounces shredded mozzarella or Fontina cheese
2 cloves garlic, peeled and finely minced
1/4 cup freshly grated Parmesan cheese
Preheat the oven to 375 degrees and lightly spray an 8 x 8-inch baking dish with Pam, set aside.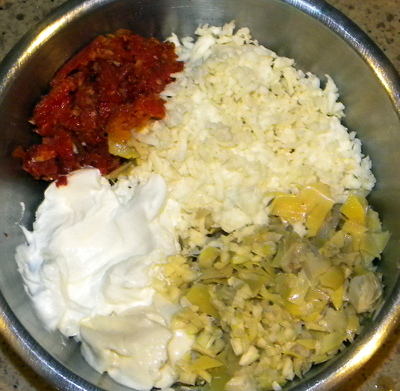 Combine the sun-dried tomatoes, artichoke hearts, shredded cheese, sour cream, mayonnaise, and garlic in a medium bowl; stir well with a fork until blended.  Pour into the prepared baking dish and bake in preheated oven for 25 minutes.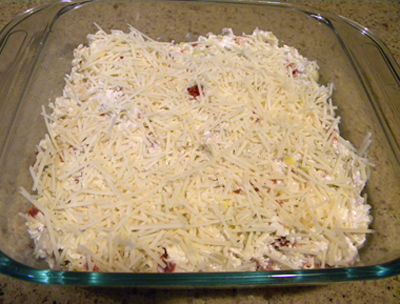 Remove from oven and switch oven from bake to broil. Sprinkle the top of the mixture with grated Parmesan and return to the oven for just a minute or two, or until the top is slightly browned.
Crostini: Slice a baguette into 24 slices, at a slight diagonal.  Arrange bread slices in 1 layer on a baking sheet and brush tops with 2 tablespoons olive oil.
Broil 4 to 6 inches from heat until golden on top, about 30-60  seconds.  Turn toasts over and broil until golden, about 30 seconds more.  Reduce oven to 350 degrees.
Spread toasts evenly with artichoke mixture.  Sprinkle with Parmesan cheese.  Return to oven to just heat through, about 2 minutes. Serve immediately.