a week from today…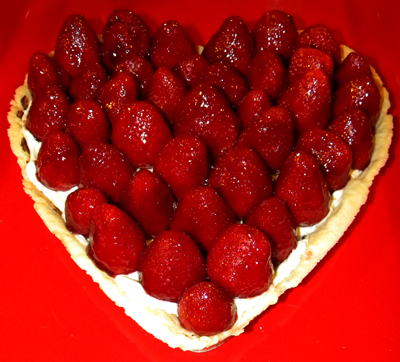 … is Valentine's Day!  Are you ready? Here's a pretty, fun, and festive tart to make and present to your loved ones. It's easy and comes together quickly, all you need to do is get yourself a heart-shaped tart pan. You'll find them at kitchen stores such as Williams-Sonoma, Sur La Table, or locally at ABC Cake Decorating. Or, if you get on the stick today, you can even order it from Amazon at THIS LINK.
Strawberry Heart Tart
Crust
1  1/2 cups flour
2 tablespoons sugar
Dash of salt
8 tablespoons (1 stick) unsalted butter, cold and cut into pieces
3 tablespoons ice water
Cream Cheese Filling
8 ounces cream cheese, room temperature
3 tablespoons sugar
1 tablespoon Grand Marnier
1/2 teaspoon vanilla extract or vanilla bean paste
Topping
3 ounces bittersweet or semisweet chocolate chips
32 ounces hulled strawberries
1/3 cup seedless raspberry jam, slightly heated in the microwave
Crust: In the bowl of a food processor, combine the flour, sugar, and salt.  Using the pulse button, mix in the butter until the mixture resembles a coarse meal. Add the ice water through the feed tube until just combined. Form the dough into a disk and wrap it in plastic wrap and refrigerate it for 30 minutes.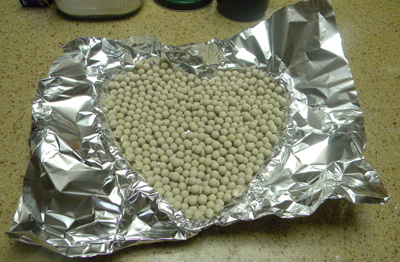 Preheat the oven to 350 degrees.  Roll the dough into a 12-inch circle. Place dough into a heart-shaped tart pan. Line the tart with foil and fill with pie weights or dried beans or rice. Blind bake for 15 minutes.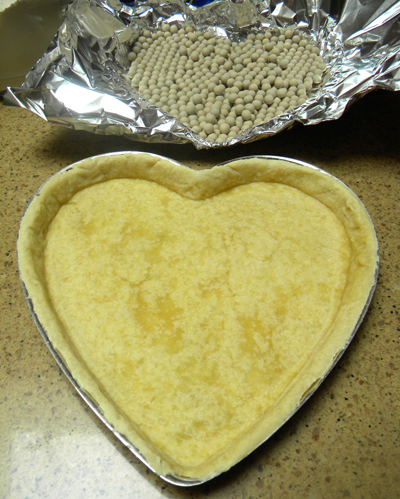 Remove foil and weights and return to oven to bake for about 10 minutes more, or until crust is lightly golden and crisp. Cool on a rack.
Cream Cheese Filling: In a food processor, combine all the filling ingredients until smooth.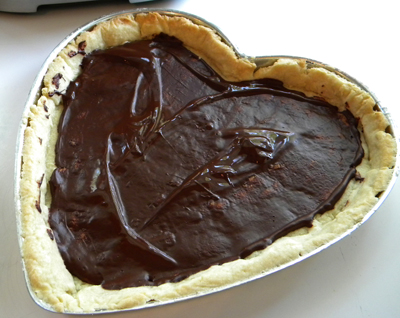 Topping and Assembly: Melt the chocolate chips in the microwave; for 1 minute at a time, stirring in between, until smooth.  Spread the warm chocolate on the tart shell, and place it in the refrigerator 5 minutes to set the chocolate. Spread the cream cheese filling on top of the firm chocolate layer.  Gently toss the strawberries with the jam to coat. Top tart with the berries, stem-end-down (points up). Serve immediately.
Serves 8-10
The separate components of the tart may be made ahead of time, but should not be assembled until as close to serving time as possible or the tart will become soggy.