one popular salad
This salad was one of the easiest dishes I made for the Christmas Crafts Party and it seemed to be the most popular thing on the table… go figure!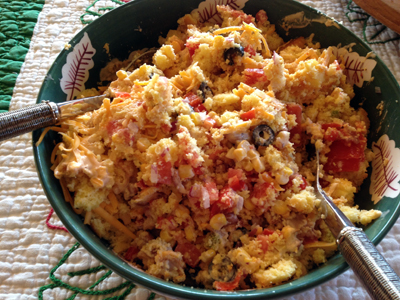 It kinda looks like a hot mess, but I have to admit, it was pretty darn tasty. I adapted the recipe from one I found on the Hidden Valley® website.
Southwestern Cornbread Salad
12 homemade cornbread muffins, cooled completely and then coarsely crumbled, divided
2.25-ounce can sliced ripe olives, drained, and then set to dry on paper towels
16-ounce can pinto beans, rinsed, drained, and then set to dry on paper towels
11-ounce can whole kernel sweet corn, drained and then set to dry on paper towels
1 cup Hidden Valley® Spicy Ranch Dressing, divided
1 red bell pepper, cored, seeded, and diced
1/2 cup diced red onion
1 cup tomatoes, diced and then drained on paper towels
1 cup shredded sharp Cheddar cheese
In large salad bowl place, half of the cornbread crumbled muffins.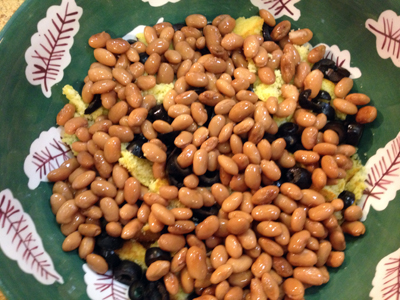 Next layer on the drained olives and pinto beans.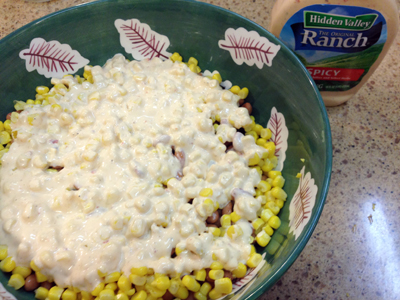 Follow that up with drained corn and 1/2 cup of the dressing.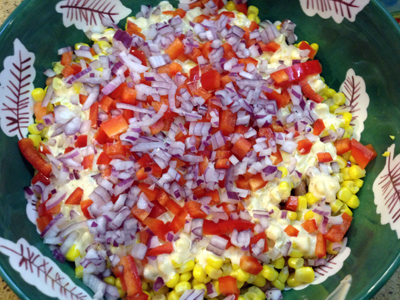 Layer with the red bell pepper and red onion.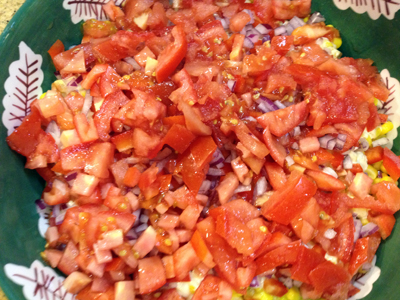 Spread on the diced tomatoes next.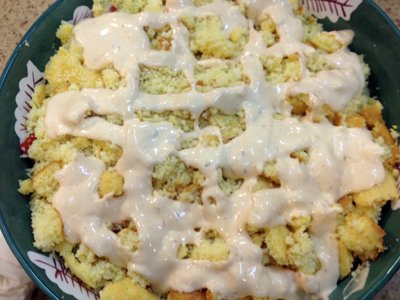 Top with the remaining crumbled cornbread muffins and the remaining 1/2 cup dressing.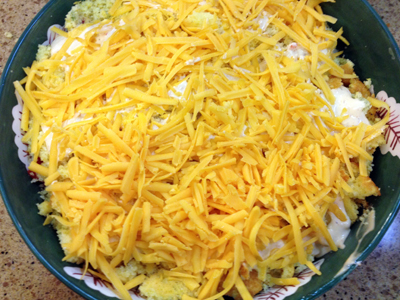 Finally, sprinkle with the grated cheese. Cover with plastic wrap and refrigerate overnight. Toss just before serving.
Serves 8 to 10