70's tablescapes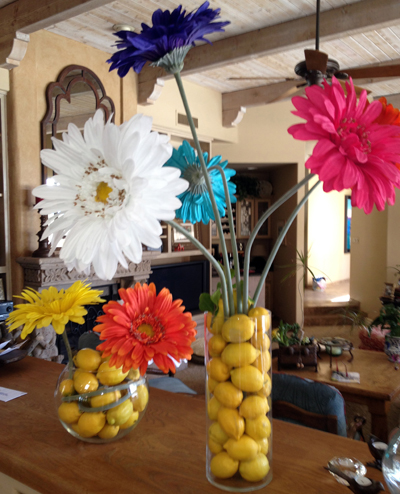 Groovy Flowers + Lemons = Stupendous Centerpieces!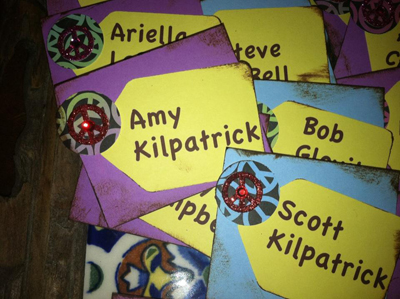 My Bestie, Amy, who you already know from Amy's Famous Taco Soup – is always in charge of making cute name tags for our neighborhood soirées  – love those blinged out peace signs, Amy!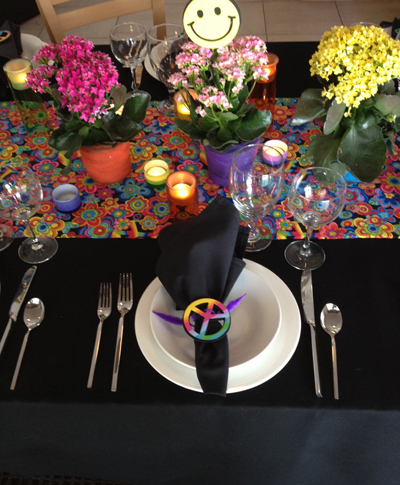 More peace signs along with smiley faces, a flower power table runner, and 70's album covers were the decor at Rainy and Trent's ultra cool and "Mod Squad-esque" home.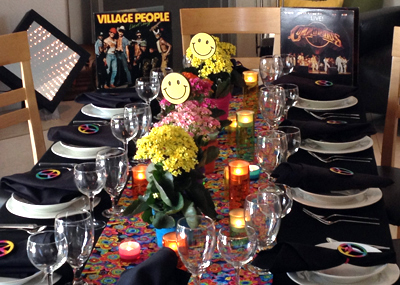 Another very authentic touch found here were 1970's Playboy magazines fanned out on the cabinet in the foyer. I heard the guys who dined here were excited to revisit their tween and teen days, you know – "reading the articles" – just like they used to do!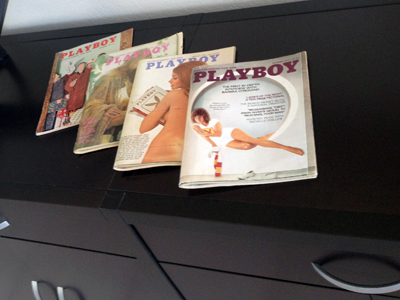 I had the pleasure of dining on the gorgeous covered patio at Tony and Cindi's home.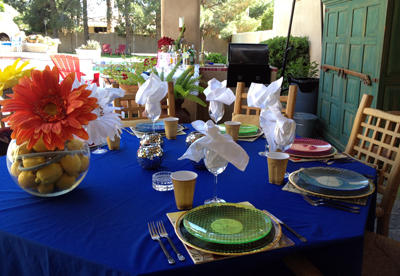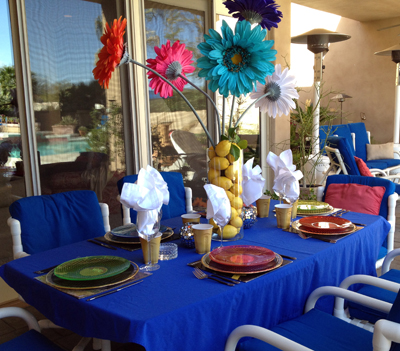 I love how they used an album cover as a placemat and the matching vinyl album as the charger – so clever!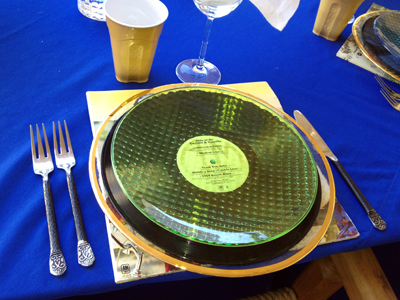 And here are my fellow dinner guests – at the home of the King and the Queen of the Prom.  Sweet!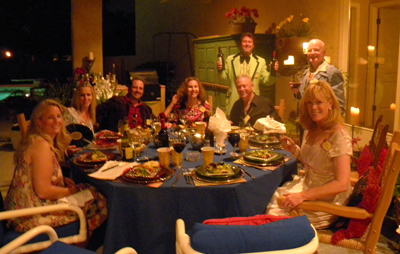 Our entree was spareribs and the neighbor who made them, Kathy Fiss, graciously shared her mother's recipe, which I am including here. Thank you, Kathy.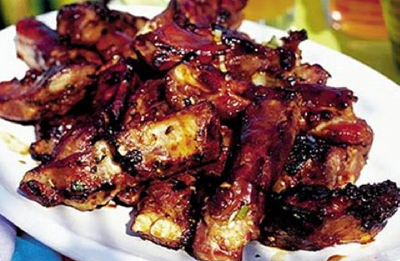 Country-Style BBQ Spareribs
1 package country-style pork spareribs (contains 4-5,
bone-in will produce more flavor but boneless may be used)
Pepper
BBQ sauce, your favorite bottled or homemade
1 yellow onion, sliced (may be partially cooked in pan drippings)
Parsley flakes or fresh, chopped up
Place the ribs in a roasting pan, pepper all sides then brown at 450 degrees for 15-20 minutes per side, pour off fat.
Oven Method: Leave in roasting pan and coat with barbecue sauce, onion slices and sprinkle with parsley. Cover with foil and slit 5-6 times. Bake at 325 degrees for about 2 hrs.
Crockpot Method: Cover inside bottom of pot with BBQ sauce, then remove ribs from roasting pan and place in crockpot one layer at a time, covering each with BBQ sauce, onions and parsley. Cook on High for 3 hours, then turn down to Low for an additional hour. Carefully remove and serve.  Be careful because the meat will want to fall off the bone!  Enjoy!
Serves 4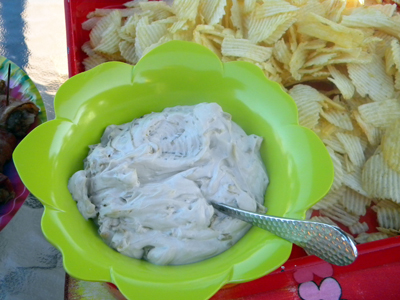 Since I didn't make any of the food for dinner, what I have for you recipe-wise are a few more appetizers.
Cream cheese and sour cream were the staples of most 1970's hor d'oeuvres. You could not have a party without Lipton's Onion Soup Dip and Ruffles potato chips! No recipe need here – just buy a package of soup mix and a container of sour cream, mix it together and you are done!
Most of these recipes were cream cheese based.  Generally, I would only serve one of these at a party, but since the theme was 70's – I went all out – a cream cheese bonanza!
One exception was the Spinach Deviled Eggs. I've posted that recipe before.  Out of all the appetizers on the table – the eggs were the only one to completely disappear before we headed off to the dinner houses.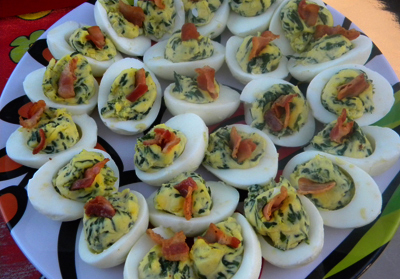 They are THE BEST! – Get the recipe HERE.
Stuffed Celery
1 large bunch celery
8-ounce package cream cheese, room temperature
4 ounces blue cheese; rind removed, room temperature
Sweet paprika
Wash the celery and use paper towels to dry very well.  Trim off the ends and cut each stalk crosswise into 3 or 4 pieces.
Use a hand mixer to blend together the cream cheese and blue cheese. Spoon into a pastry bag, fitted with a decorative tip.
Fill each celery slices with the mixture, place on a serving tray, cover with plastic wrap and refrigerate for at least 2 hours to firm.  Just before serving, sprinkle with sweet paprika.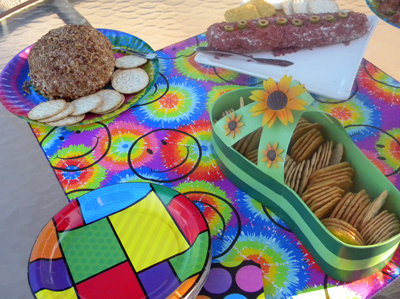 Next up is the appetizer my mom made and took to every cocktail party I can ever remember my parents going to. If you're familiar with chipped beef, then you may discard this immediately, especially if your mom ever served Chipped Beef and Peas on Toast. It has another common name with the acronym S.O.S.
Feel free to leave a comment if you know what that stands for. It is not something I have ever served to my kids, they wouldn't even know what to look for in the grocery store if they were to stubble upon a recipe calling for dried or chipped beef.
That being said, I've always loved my mom's cheese log using dried beef and olives, served with crackers. I haven't had it in probably 30 years… until now.  It was just as I remembered, tasty!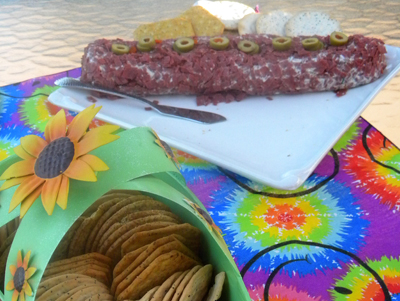 Chipped Beef and Olive Cheese Log
8-ounce package cream cheese, room temperature
1/2 cup mayonnaise
2 tablespoons minced parsley
1 teaspoon Worcestershire sauce
1 teaspoon creamy horseradish
1 cup pimento stuffed green olives, well drained and chopped
5-ounce jar dried beef, finely chopped
5 additional olives, sliced thin for garnish
Crackers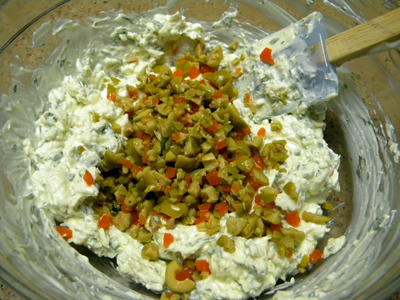 Use a hand mixer to combine the cream cheese, mayonnaise, parsley, Worcestershire sauce, and horseradish. Fold in the chopped olives.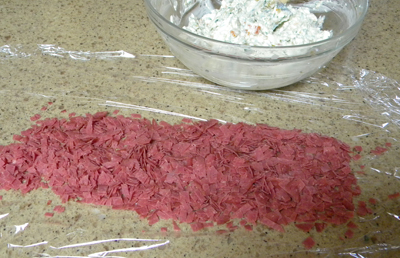 Use about half of the chipped beef and lay out in a thick layer on a sheet of plastic wrap.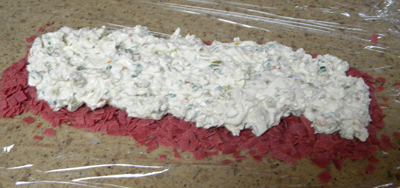 Use a rubber spatula to drop the cheese mixture over beef, into a log shape.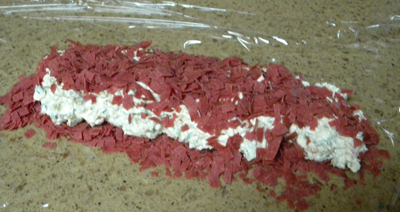 Place the rest of the chipped beef on top and use the plastic wrap to press the beef into the cream cheese log, until  the cream cheese log is completely covered in beef. Wrap tightly in the plastic wrap and chill for at least 4 hours.

When ready to serve, unwrap and place cheese log on a platter. Arrange the sliced olives in a row along the top of the log and serve with crackers.