3 of 10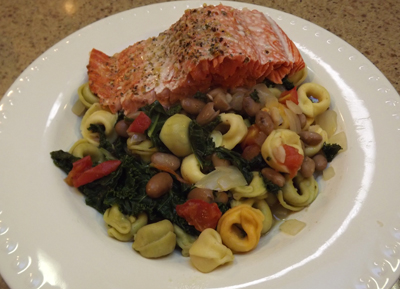 Today I am using 3 of the 10 inexpensive "superfoods" I told you about yesterday; pinto beans, kale, and salmon. Although I have to confess that I cheated a little bit and used fresh salmon (more expensive) rather than canned (inexpensive)… but only because I had it on hand and it would have gone bad otherwise, which just would have been stupid and wasteful.
Cheese Tortellini with Pinto Beans, Kale, and Salmon
1 pound dried pinto beans
4 garlic cloves, peeled and left whole
1/2 teaspoon salt
1 bay leaf
1 sprig fresh rosemary
3 tablespoons olive oil
1 onion, peeled and diced
1 cup chopped fresh fennel
1 tablespoon fresh thyme leaves
1/2 teaspoon crushed red pepper ­flakes
6 cups chicken or vegetable broth
1 large bunch of kale; washed, ribs removed, and then chopped
1-pound package of dry cheese tortellini
1 cup grated Parmesan cheese
Canned salmon or fresh grilled salmon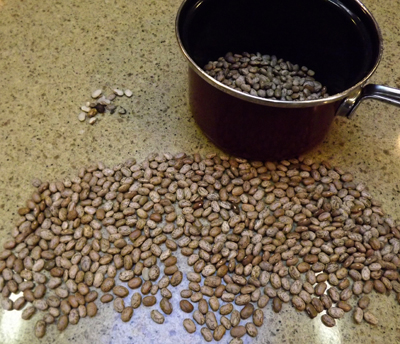 Pick over pinto beans and discard foreign matter; such as rocks, dirt clods, or any damaged beans.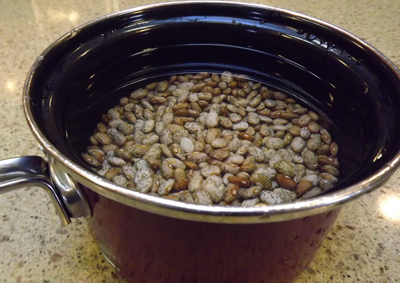 Rinse in cold water and drain; soak in water, to cover, overnight, and then drain. Place in a medium saucepan with the garlic, and cover with at least 3 inches of fresh water. Bring to a boil, and skim off any foam from the top. Add the salt, bay leaf, and rosemary.  Simmer, partially covered, for 35 to 45 minutes or until beans are tender. Discard garlic cloves, bay leaf, and rosemary and allow beans to cool in the cooking liquid.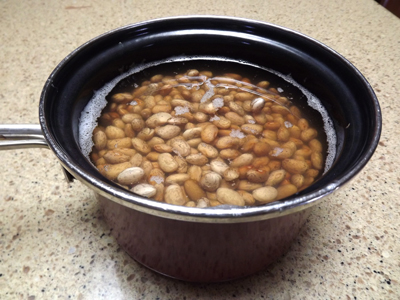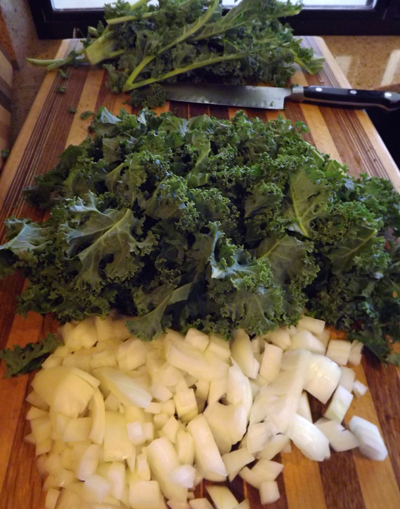 Heat a large skillet or pot over medium heat and add oil; stir in onion, fennel, thyme, and red pepper flakes.  Sauté until onion and fennel are soft and translucent.
Add the broth and bring to a boil. Stir in kale and beans along with their cooking liquid. Reduce heat to low and simmer until kale is wilted, stirring often.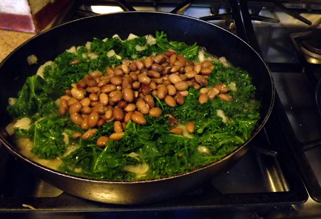 Add tortellini. Cover and simmer until pasta is tender, about 10 to 12 minutes. Stir in Parmesan, then season to taste with salt and pepper.
Spoon into large flat bowls and serve with flaked canned salmon or fresh grilled salmon on the top.
Serves 4 to 6