2 classic Italians in 1
go to site by Linda Hopkins
watch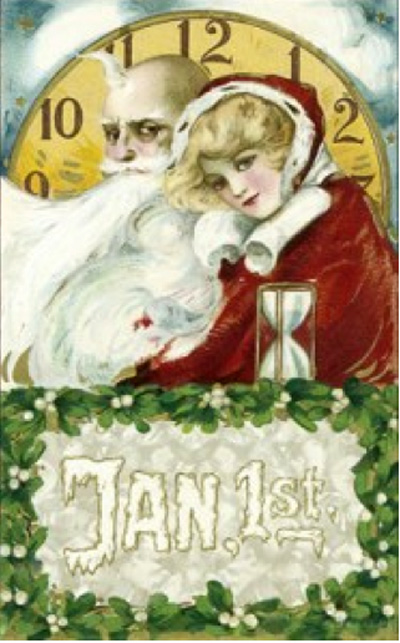 click Happy New Year, wishing you and yours a happy, healthy, prosperous 2010!
To start the year out on a yummy note, why not combine two Italian favorites? This is a quick and easy lasagna, no boiling of noodles or making of a time-consuming homemade sauce.
Just purchase the various items for the layers and go to town assembling a big old pan of goodness. To change to a vegetarian dish, substitute diced or sliced zucchini, yellow crookneck squash, and/or bell peppers for the sausage. Sauté the veggies in an additional tablespoon olive oil and proceed as directed.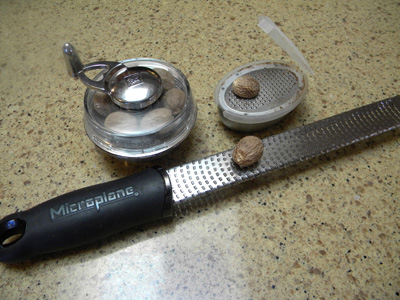 When it comes to nutmeg, there is no comparison between freshly ground and the already ground stuff you'll find in the spice aisle. Purchase the whole nutmegs and use any of the tools above to grind it fresh when you need it.

Ravioli Lasagna
1 tablespoon olive oil
1 medium onion, peeled and diced
2 garlic cloves, peeled and minced
1 pound ground Italian sausage
Salt and freshly ground black pepper
28-ounce can crushed Roma tomatoes
1 cup prepared pesto sauce, divided
4 ounces fresh baby spinach, stack the leaves and thinly slice (about 2 cups)
15-ounce container ricotta cheese
1 cup grated or shredded Parmesan cheese, divided
1 teaspoon freshly grated nutmeg
Two 16 to 18-ounce packages frozen cheese-filled ravioli (use frozen, do not thaw)
3 cups grated Mozzarella cheese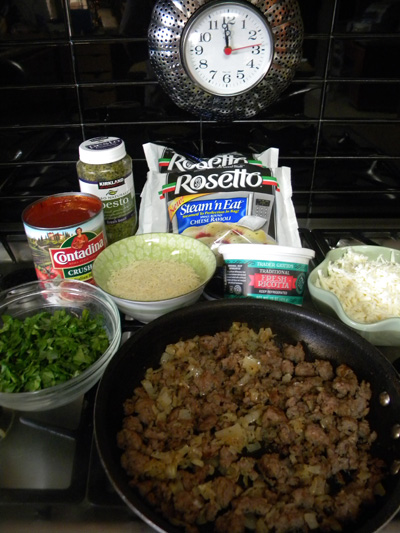 Preheat oven to 375 degrees. Heat the olive oil in a large skillet over medium heat, add onion and sauté until soft, add garlic and cook about 4 minutes longer, transfer to a small plate.  Add the sausage to the same skillet and cook, stirring often to break up for about 12 minutes or until sausage is browned. Drain off any grease, then add the onion-garlic mixture back to the pan and season with salt and pepper.
In a medium bowl, stir together the crushed tomatoes and 1/2 cup of the pesto sauce.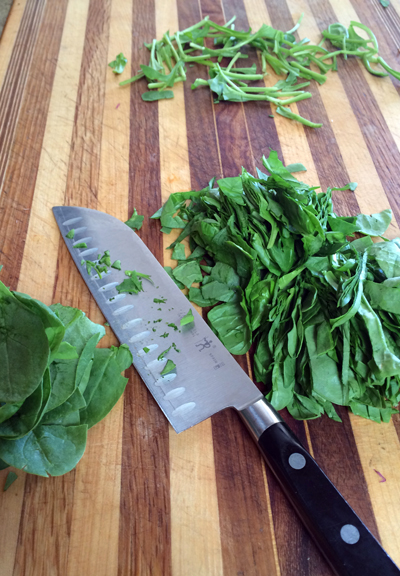 In a separate medium bowl, mix together the sliced spinach and the remaining 1/2 cup pesto sauce.
In a third medium bowl, mix together the ricotta cheese and 3/4 cup of the Parmesan cheese (reserve remaining 1/4 cup Parmesan for sprinkling on at the end), stir in the nutmeg and season with salt and pepper.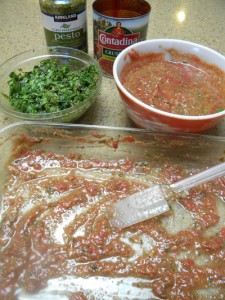 In a 9 x 13-inch baking pan, spread 1/2 cup of the tomato-pesto sauce on the bottom and the pan and lightly coat the sides of the pan with the sauce as well, to prevent the lasagna from sticking after baking. Top with 1/2 of the sausage-onion mixture, then 1/2 of the spinach mixture.
Top with 1 package of the ravioli, laying out evenly in a single layer. Dollop 1/2 of the ricotta mixture over ravioli, then top with 1/3 of the mozzarella.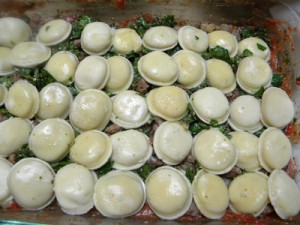 Spread with 1/2 of the remaining tomato sauce, top with remaining sausage, then with remaining spinach.
Top with second package of ravioli, dollop with remaining ricotta and 1/3 of the mozzarella.  Spread on the rest of the sauce.
Cover with foil and bake for 25 minutes. Remove from oven, discard foil and sprinkle with the remaining mozzarella and the reserved 1/4 cup Parmesan cheese. Return to oven and bake another 12 minutes.
Serves 10 to 12
(Lasagna may be baked 1 day ahead up to point of adding last layer of mozzarella and Parmesan. Cool completely, then chill, covered. Bring to room temperature before topping and reheating with final layer of cheeses, in a 375 oven until hot, 20 to 30 minutes)