17 ingredients and 4+ hours but still… "easy breezy"!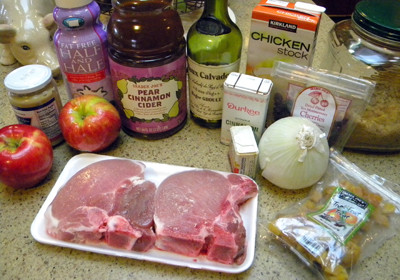 Really, it is!  Eight of those 17 ingredients are things like salt, pepper, spices, sugar, olive oil, and chicken broth. The only things to cut up are an onion, some garlic, and a couple of apples. As for the time involved, the four hours – or more, if that works better for you – is to brine the meat. That means that it is just sitting in the refrigerator, not bothering you one little bit! So don't let the long list of ingredients scare you off, this is the perfect recipe for a quick and easy dinner, as long as you think ahead and get those pork chops into the brine.

Pork Chops with Apples
Brine
3 cups pear or apple cider
1/4 cup salt
1/4 cup brown sugar
1 tablespoon freshly ground black pepper
1 teaspoon dried rubbed sage
1/2 teaspoon ground cinnamon
Pork
2 thick pork loin chops, trimmed of excess fat
1 tablespoon olive oil
1 large onion, peeled and thinly sliced
2 garlic cloves, peeled and minced
2 apples, peeled, cored, thinly sliced
3/4 cup chicken broth
1/2 cup pear or apple cider
1/4 cup Calvados (apple brandy)
1/4 cup mixed dried fruit, such as cherries, mango, apricots
1/2 teaspoon ground ginger
1/3 cup half and half
1 tablespoon Dijon mustard
Salt and freshly ground black pepper
Brine:  In an 8×8-inch Pyrex dish combine the 3 cups of cider, salt, brown sugar, pepper, sage, and cinnamon. Whisk until the cider is completely incorporated with the dry ingredients and the sugar and salt dissolve.
Pork:  Add pork chops to brine. Top with a plate to submerge the pork. Cover and refrigerate for at least 4 hours and up to 48 hours.
Drain and discard the brine from pork chops. Pat pork chops dry. Heat oil in a heavy large skillet over medium-high heat. Add pork and cook until browned but not cooked through, about 4 minutes per side. Transfer pork to plate.
Reduce heat to medium. Add onion to the same skillet. Cover and cook until onion is soft, stirring occasionally, about 5 minutes. Add garlic and apples and sauté until pale golden, about 3 minutes.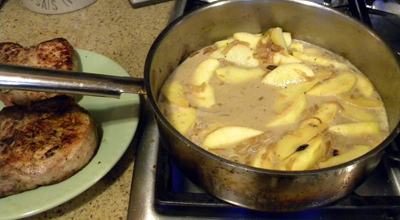 Stir in broth and 1/2 cup of cider, then add the brandy, dried fruit, and ginger, scraping up browned bits from the bottom of the skillet.  Add cream and mustard. Bring sauce to boil. Reduce heat to medium-low.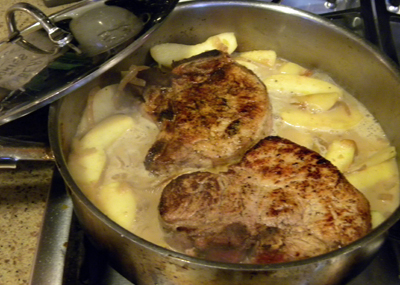 Add pork. Cover; cook for 3 minutes. Turn pork over and cook until an instant-read thermometer inserted into the center of each pork chop registers 150 degrees, about 3 minutes longer. Use a slotted spoon to transfer pork and apples to a plate.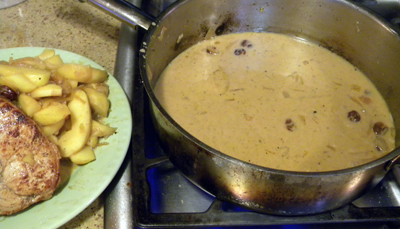 Increase heat and simmer sauce until slightly thickened, about 4 minutes longer. Season sauce to taste with salt and pepper. Spoon sauce over pork and apples and serve.
Serves 2