banana – rama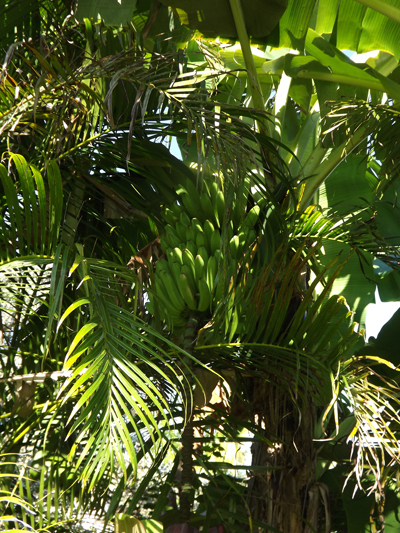 Today I am returning from visiting Kathy and Chris Froggatt, my longtime friends,  in their new home (well it's been about 18 months since they moved from AZ) in Jupiter, Florida.  Yes, the "crazy lady" comes out again and goes from 110 degrees in AZ to 90+ degrees plus 90% humidity… for a less than refreshing summer reprieve in FL. Whatever, it was a wonderful trip to see great friends, in their gorgeous new home, with their tropical backyard.  Do you know what that is in the picture above?  Look closely…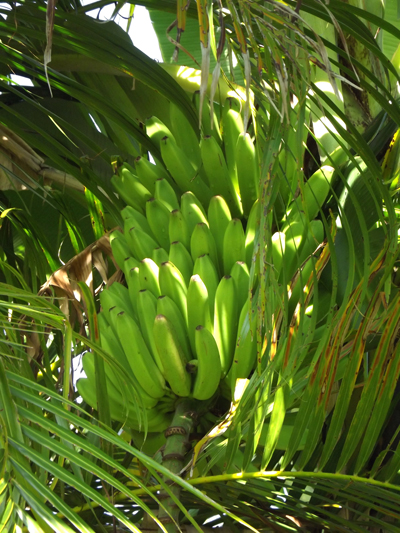 There is nearly 100 bananas on that tree! Did you know that after a banana tree produces bananas, it dies? Before it does though, it puts out new little banana tree shoots to replace itself.  See the new little banana tree coming up between the two below?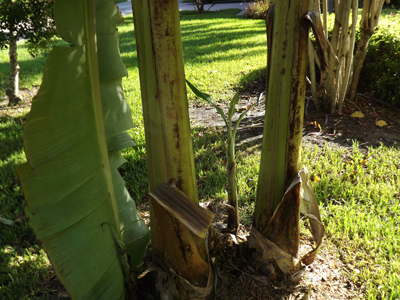 I had no idea! So cool, and here are a couple more pictures of another tree in their backyard with a new crop of bananas.  See the pod at the bottom of all those bunches?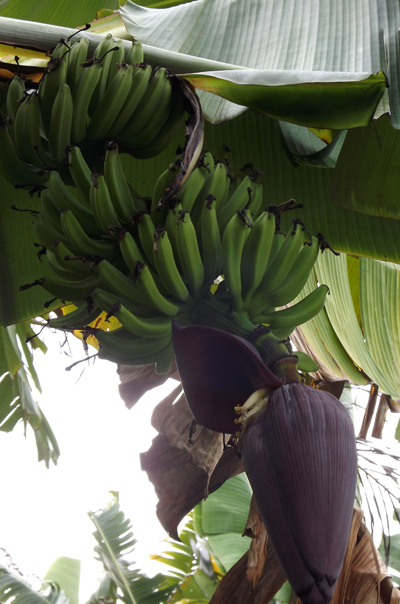 And here is a closer look at the newest little ones coming out of the pod. Love it!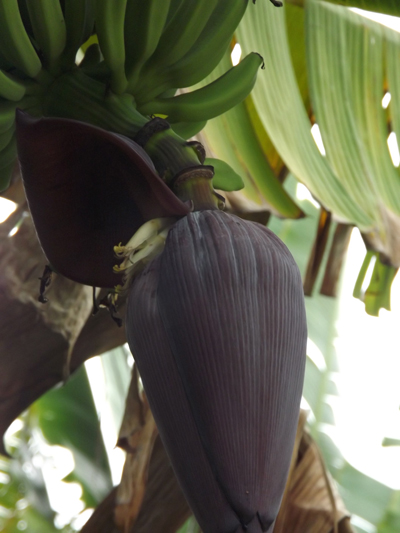 It's been quite some time since I put up a dessert recipe and to be perfectly honest, even longer since these were made.  The kids made them back in June during our summer classes. Since bananas are always available in the grocery store, even here in the desert, these dessert egg rolls are perfect any time of year.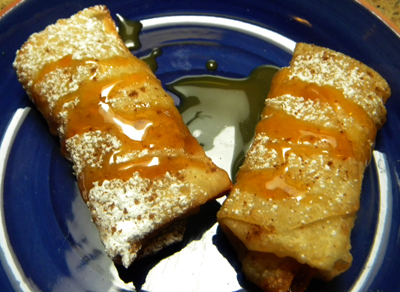 Banana Egg Rolls with Caramel Sauce
12 egg roll wrappers
3 bananas, peeled, halved lengthwise, then cut into 4-inch pieces
1 jar purchased caramel sauce, heated slightly in the microwave
1/4 cup toffee bits
1/4 cup finely chopped toasted walnuts
Vegetable oil (for deep-frying)
Powdered sugar
1/2 teaspoon Chinese five-spice powder
Arrange 4 egg roll wrappers on the work surface; keep the remainder covered with a dry clean towel.
Brush edges of wrappers with water.  Place 1 banana piece diagonally across 1 corner of each wrapper.  Drizzle each banana with 1 teaspoon caramel sauce, 1 teaspoon toffee bits, and 1 teaspoon walnuts. Fold in the wrapper corner closest to the banana. Roll wrapper over banana once, then fold in sides and roll up as for an enchilada, pressing ends to seal, brushing with more water, if needed.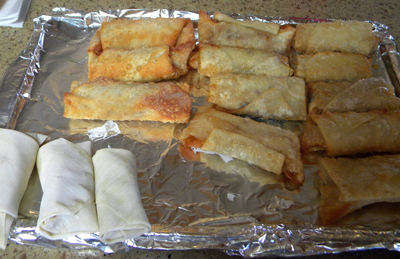 Repeat filling and rolling remaining wrappers. (Can be made 2 hours ahead. Covered tightly and chill.)
Pour enough oil into a heavy large saucepan to reach a depth of 3 inches or into a deep fryer. Heat oil to 375 degrees.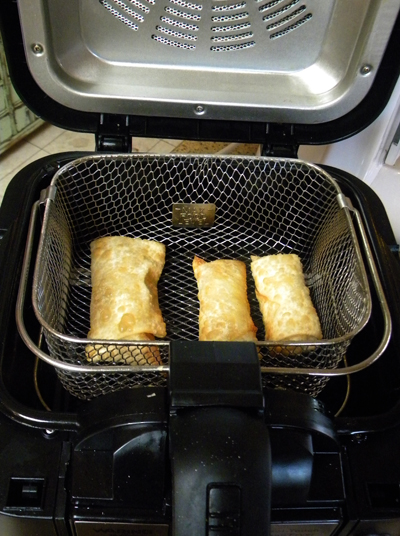 Working in batches, fry rolls in oil until deep golden brown, turning, about 3 minutes per batch. Using tongs or a slotted spoon, transfer rolls to paper towels and drain.
Arrange rolls on a platter or serving plates.  Sift powdered sugar over.  Sprinkle lightly with five-spice powder. Drizzle caramel sauce around rolls and serve immediately.
Makes 12