weekend update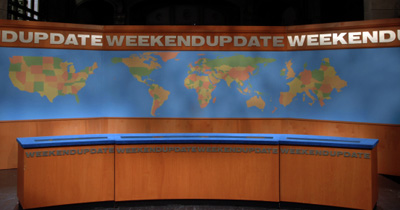 I made myself smile after I typed that heading. Saturday Night Live's Weekend Update has always been one of my favorite sketches on SNL. It is the show's longest-running recurring sketch and has some memorable anchors, from the original, Chevy Chase, to the current, Seth Meyers. I especially loved Jane Curtain and more recently have enjoyed when Tina Fey and/or Amy Poehler were paired with Meyers.
But I digress, this isn't about SNL, but rather my own weekend happenings.
Saturday's activity could have been an SNL sketch. It involved an 81-year-old man, my dad, who will be 82 on April 18th, myself, and my 21-year-old son, Connor. The humorous part would have been watching us try to move a large, bulky, very heavy, double recliner La-Z-Boy loveseat from the bed of my dad's truck and into his condo.
Just thinking about how it must have looked makes me wish there was a surveillance camera in the area filming us – it would be hilarious to watch back! We struggled every inch to get that monster in the house. We first stood it up on end atop a large piece of carpeting and intended to drag/push it along the narrow walkway that leads to the front door. It would not budge.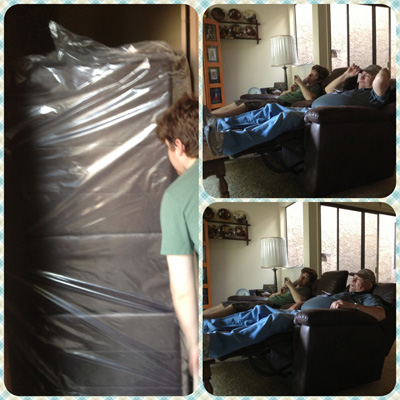 It was too heavy to pick up, so we ended up just flipping it lengthwise, from end to end until we reach the "L" turn on the sidewalk that is near the door. There, we struggled to get it around the corner. When we finally reached the door, I pulled out my phone and snapped a photo of Connor leaning his head on the recliner. We squeezed it through the door and through the even more narrow entry and finally got it into place. I hooked up the electric connectors (the recliner is electric, not lever-operated) and my guys took their well-deserved rest in the beast!

Sunday was much more relaxed and fun. I was invited to an event honoring my dear friend, mentor and colleague, Barbara Pool Fenzl.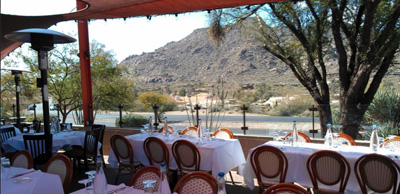 The event was held by the Careers through Culinary Arts Program (C-CAP) at Cafe Bink to honor Barb for her years of C-CAP support, including a scholarship that Barb personally funds each year for a graduating C-CAP student.
C-CAP works with public schools across the country to prepare under-served high school students for college and career opportunities in the restaurant and hospitality industry.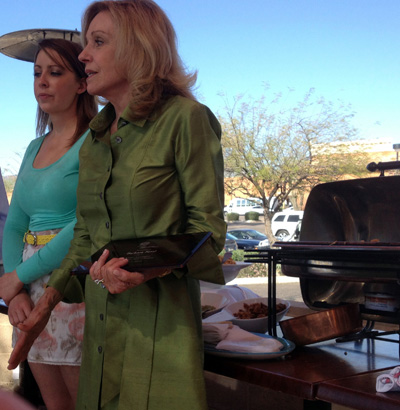 One of Barb's scholarship recipients was Therese Hills. Therese went on to complete the Culinary Arts program at Scottsdale Community College and to work as executive pastry chef at Troon Country Club. She and her family are in the process of opening their own shop in Carefree called My Sweet Blessings Bakery. Barb and Therese are pictured above.
As I said, the event was held at Cafe Bink, the casual sister restaurant of Binkley's, of which I've raved about many times before.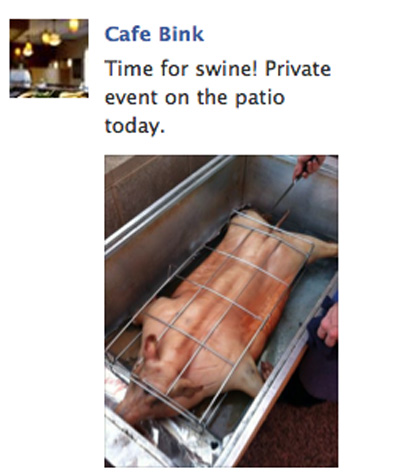 Kim Howard was my date, and before we headed out, I checked in on Facebook and saw the above post from Cafe Bink. So I knew what was in store for us!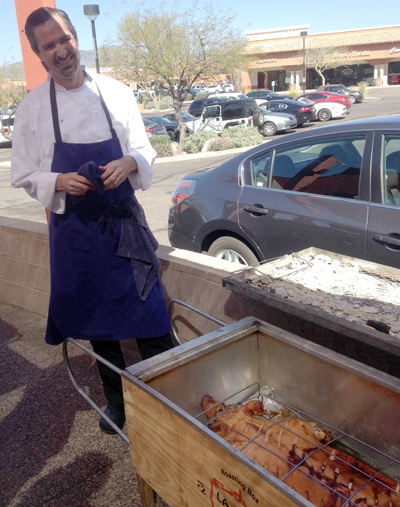 Yes, Chef Kevin Binkley roasted a whole pig for the event.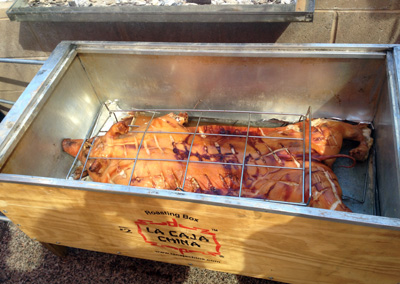 It was out of this world delicious!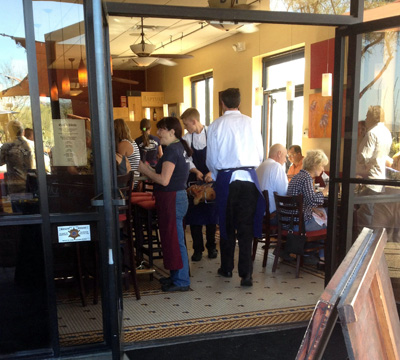 He carried it from the patio into the kitchen and carved it up for us.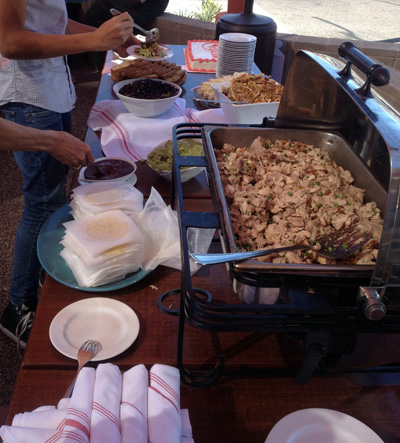 It was a wonderful Cafe Bink meal, with desserts from My Sweet Blessings Bakery, of course.
Congratulations, Barb! You so richly deserve to be honored, when and where ever possible. xoxo