"unwind at the grind"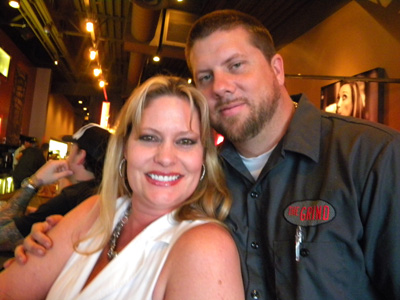 …That is the slogan for a fab new restaurant in town, The Grind.  My beautiful sister, Sloane, and I enjoyed a delectable dinner there last night.
Chef Matt McLinn is at the helm, so you know it's gonna be good (that's Sloane and Matt, pictured above). I first met Matt nine or ten years ago when he and Sloane worked together. They dated for quite a while and that meant that we shared some wonderful holiday meals together too.
It's no wonder Matt's food stands out, he has cooked alongside some of the culinary world's most recognized names – such as world-renowned Chef Alain Ducasse of the Michelin three-starred restaurant Le Louis XV of the Hotel Paris in Monte Carlo and Chef Dominque Bouchet of the Michelin three-starred restaurant, Les Ambassadeurs, located in Paris, France. He also studied at the Michelin two-starred Le Hotel Carlton in Cannes, France, and Michelin one-starred Le Maison du Seigneur in Brussels, Belgium. He is a graduate of the California Culinary Academy and a member of the James Beard Foundation.
Matt was Executive Chef for several world-class resorts and restaurants located in both Arizona and California. Then in May 2006, Matt opened his own place – Méthode Bistro in Scottsdale, which we loved! Sadly, he sold it in 2008 – but happily, he is back with The Grind. It's a small neighborhood place reminiscent of something you might find in NYC or Chicago, with its 40-foot-long zinc bar and cozy booths.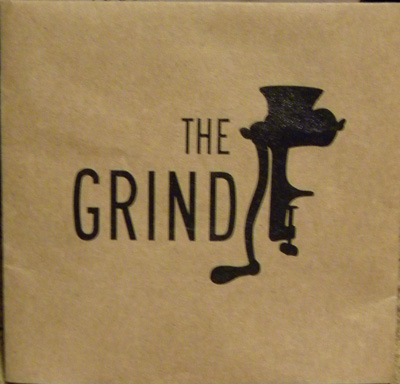 Burgers are cooked in two custom-made 1000-degree coal-fired ovens which are the only ones of their kind in the States.  Matt gave us a look at them and a tour of the kitchen – pictured below – the ovens and "the line".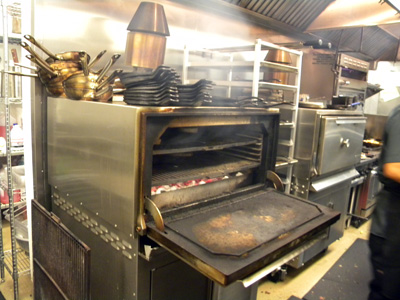 The grass-fed beef patties are brushed with softened butter, salted, and cooked in individual cast iron skillets placed in the oven for two minutes on each side. There are three kinds of burgers; steak house blt, sweet and spicy, and peppercorn crust. And three kinds of fries; herbed, duck fat country fries, and sweet potato fritters.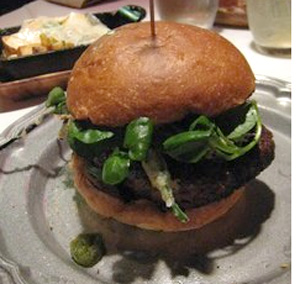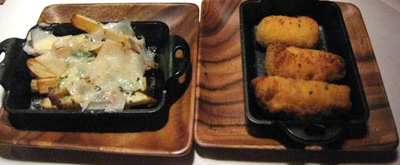 Sloane and I shared the sweet and spicy burger and the duck fat fries along with the fritters. We started with a most original appetizer…rosemary roasted camembert cheese with strawberry coulis and strawberry relish which you spread on toasted croutons. Loved it all! I'm sure you will too…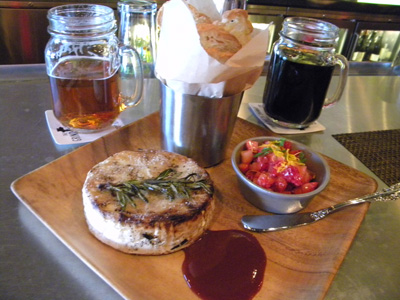 The Grind is located on the southwest corner of 40th Street and Camelback. You can check out the menu and more at The Grind website on this LINK. Thank you, Sloane, for a great night out, and thanks, Matt for a wonderful dinner… next time I'm going to take you up on those doughnuts for dessert!