this and that
Good food is very often, even most often, simple food.
– Anthony Bourdain.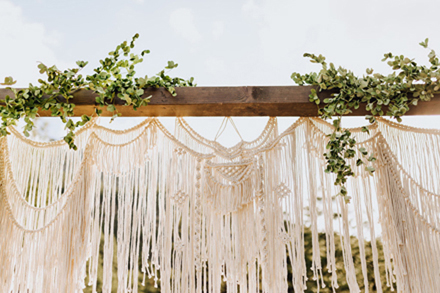 Photo courtesy of griffithimaging.com
I want to give you a heads-up; next week I'll be posting all about the wedding I helped with over Mother's Day weekend. It's been nearly 4 weeks since I last mentioned it in THIS post. That is because I was so much "at the moment" and honestly too busy, to take photos of the food or the gorgeous setting and set-up. That's a good thing in the scheme of it all, but not a good thing when you need photos to blog about!
Thankfully, the wonderful wedding photographer, Jen Griffith of Griffith Imaging, sent me photos to share. So please come back on Monday to see all the beauty that was Cody and Chanté Howard's wedding weekend.
Today, I want to share a great cooking tip that I thought most people knew about, but realized I might be wrong in that thinking when I found out my own kids didn't know it … and they used to live with me.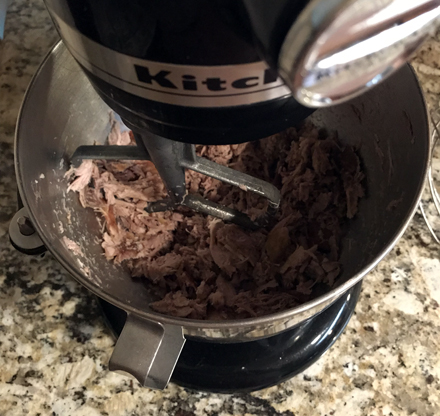 Did you know that you can shred cooked meat, such as chicken, pork and even beef in the KitchenAid? It's true. It takes all of a minute or less to have perfectly shredded meat.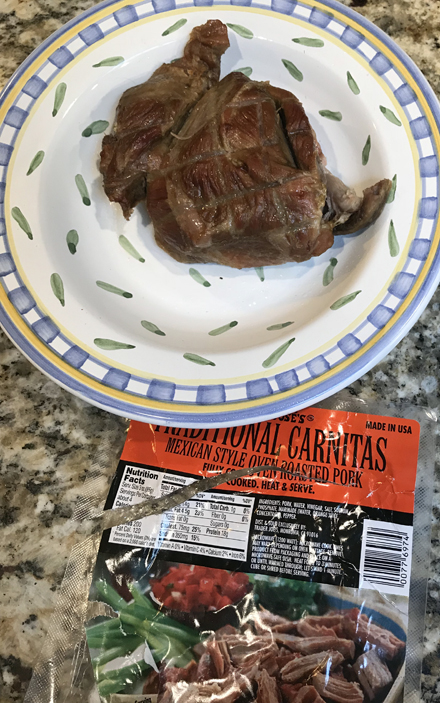 For quick and easy weeknight meals, I bought this precooked chunk of carnitas at Trader Joe's.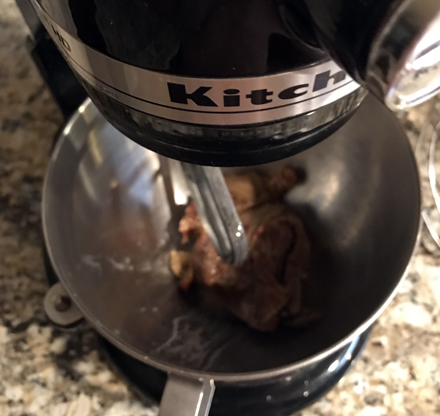 To quickly shred, just drop in a standing mixer, fitted with the paddle attachment, and turn on the machine.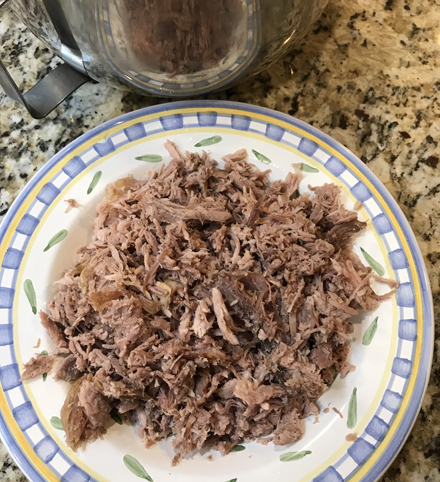 It only takes 45 to 60 seconds, so keep an eye on it. You don't want to go from perfectly shredded to something more like minced or even ground.
One more little tidbit. If you know me, you know I love chalkboards and chalkboard art. One of my favorite things about going to True Food Kitchen, besides the food itself, is their chalkboard art.
Yesterday, Marissa's sweet mother-in-law, Amy Sandell, took me out to lunch. We were sitting at a table right next to where the art was being created.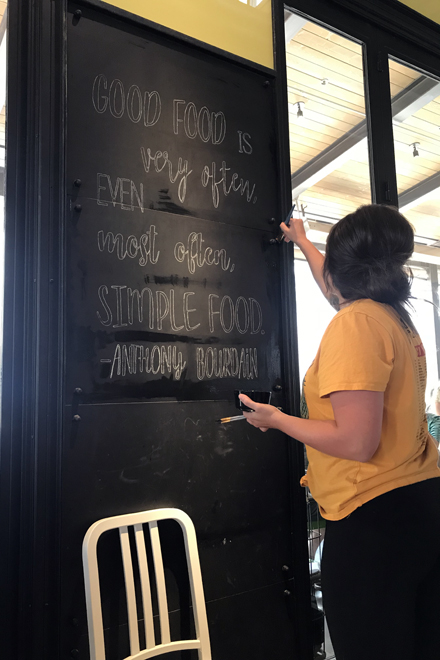 When we were seated, at about noon, I snapped a photo of the artist working on the board.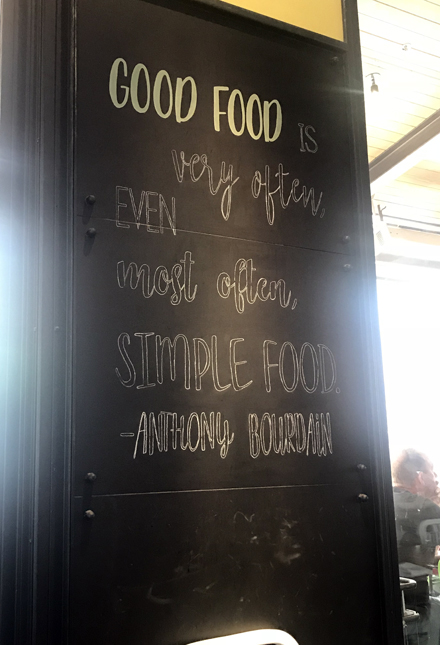 I was enthralled by her process. So slow and methodical to create chalkboard art perfection. I have no idea how long it took her to outline the quote, but I do know it took her over an hour to clean up the board with chalkboard paint and then use the markers to fill in the eight letters spelling out "Good Food." After each letter was filled in, she used a thin black marker to outline and clean it up.
From now on, when I see wonderful chalkboard art, I'll appreciate it, even more, knowing the hours and hours that were put into it.
Such a lovely tribute to Anthony Bourdain and such a wonderful quote:
Rest in Peace, Chef.