"Save Me, San Francisco"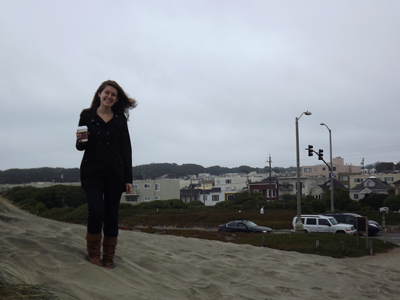 Last day of July! Hard to believe, summer is almost over, at least in most of America. In Arizona it will last another 2 1/2 months, but here in San Francisco, it feels like autumn. Heaven!  Here is Marissa on the beach, which is less than a mile from her new home. Yes, she is in her new HOME! So exciting, and it is so cute, and big!
Oh, and if you want to watch the Train video "Save Me, San Francisco" CLICK HERE
Below is a picture of her car attached to the U-Haul we drove over, packed with all her Stuff! More about the drive later, all that is important now, is that we are here and she is home.