officially a toddler now!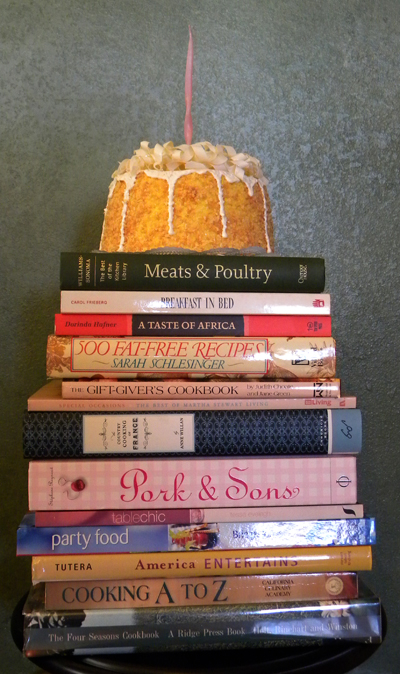 That's right, the LPG blog is 1 year old today! This is post #347! If you haven't been along for the ride since day one, here is a LINK to August 16, 2009.
The reason for the big countdown on each of the last week's posts wasn't just to say, "Hey, look at me and my huge accomplishment of sticking with this blogging thing for a whole year! Can you believe I posted just about every day, only "taking off" 15 days out of 365?"  Although, I do want to shout that from the top of Camelback Mountain. It has also been a build-up to the fabulous Give-Away to celebrate the 1 year anniversary or as it's known in the world of bloggers, the 1st Blogiversary.
My friend, Gwen Walters, and her Pen & Fork blog 2-year anniversary contest inspired my give-away idea. She had people vote on their favorite photos. I can't do that, simply because my photos aren't all that! Thanks, Gwen, your site is amazing and I'm envious of your photography, especially the recent Italy entries!
The prize is a baker's dozen of my cookbooks. If you watched the last Valley Dish, you might have seen the intro blurb they did in my kitchen. The one where I admitted that the hundreds of cookbooks are a bit of a fire hazard. Here's THAT LINK. So to make my home a safer place, I have chosen 13 quality cookbooks to give up. Trust me, this was not an easy task, since I'm not giving away the "bad" ones. Those have already been handed over to family, friends, and even Goodwill on my quarterly purges.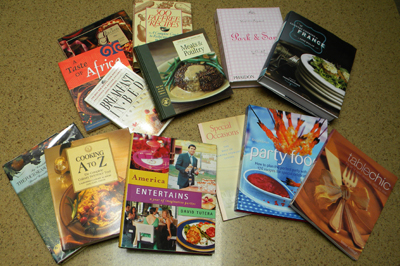 To enter this Give-Away contest, all you need to do is comment on this post. I'm looking for a specific sort of comment though, and you have two choices.  If you just comment, "Linda, I think your hair in the Valley Dish link above looked a little sketchy," well that is not the specific comment needed to qualify, as true as it may be. So to reiterate, your comment needs to be one of these two sorts…
In your comment, tell me what recipe you have made and liked best from the more than 300 recipes posted on this blog. What? You have not made a single recipe listed here yet! Sad, but that's OK, look at choice number two below.

In your comment, tell me what is your favorite part of the blog. Personally, I think The Basic Kitchen is a pretty great resource and that the Tip Index is beyond amazing. But that's just me, you make your own choice.
Now if you haven't made a single recipe and you don't have a favorite part of the blog, skip this contest. It's just not for you and that's OK.
Finally, I myself entered a contest to win a free iPad, because I really want one and don't want to pay for it. Here is my take on that "Official Rules" page… too funny how legal it all gets. For a user-friendly "Official Rules"  – skip the legal rigamarole and scroll to the very bottom.
TO ENTER: Beginning 10:26 AM Mountain Standard Time August 16, 2010, through 11:59 PM Mountain Time August 22, 2010.
Limit one entry/comment per person. No mechanically reproduced entries/comments of any kind are permitted. Illegible and incomplete entries/comments are void. The sponsor is not responsible for lost, late, misdirected entries/comments or those not received. In the event of a dispute over who submitted an online entry/comment, the entry/comment will be deemed to have been submitted by the authorized account holder of the e-mail account identified on the online comment form. The authorized account holder is deemed to be the natural person who is assigned to an e-mail address by an Internet access provider, service provider, or online organization responsible for assigning e-mail addresses for the domain associated with the submitted e-mail address. For an entry/comment to be placed in the random drawing, it must be made on this post (August 16, 2010 post titled "officially a toddler now!').
RANDOM DRAWING: The winner will be selected by a random drawing in the early morning hours of August 23, 2010, from all eligible entries received. Decisions of the Sponsor are final on all matters. The winner will be notified personally by email and will also be publicly named on the August 23, 2010, post on this site. Limit one prize per person/household address. The odds of winning will depend upon the number of eligible entries/comments received.
PRIZES: (1) One Grand Prize – winner will receive 13 quality cookbooks from the Les Petites Groumettes Cooking School personal library. The winner is responsible for the care, use, and any problems that may arise with the prize. The sponsor is not responsible for any failed recipes in cookbooks or on the part of the Winner to properly recreate said recipes. Prizes consist of only those items specifically listed as part of the prize. No substitution or transfer or assignment of prizes by winners is permitted.
Or, in other words, and these are the nearly exact copy/pasted words from Gwen's contest page, I just substituted in my dates. Funny stuff.
"Your entry/comment must be cast on THIS post. If you cast your entry/comment on another post, your name will NOT go into the hat. Not that I don't appreciate any and all comments on any post, but to get into this random drawing, you have to cast your vote in the comments on THIS post. The contest ends Sunday, August 22, 2010, at 11:59 p.m. I'll announce the winner on Monday morning, August 23, 2010. Only one vote per person. No alternate entry is valid. Whining, complaining, and blatant brown-nosing (although appreciated) will not improve your chances."
Thank you for all your support over the last year and into the future as we move toward the 2 year Give-Away!
Save