Happy Birthday, Julia
American legend, Julia Child, would have turned 100 today. Julia died two days shy of her 92nd birthday in 2004.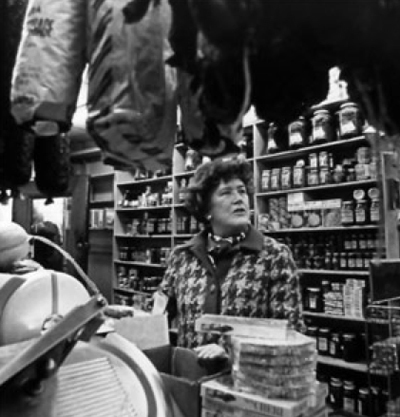 Photo by Hans Namuth
Gelatin silver print, 1977
National Portrait Gallery, Smithsonian Institution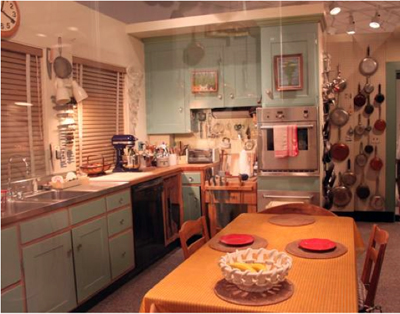 In 2001, Julia Child donated the kitchen from her Cambridge, Massachusetts home to the Smithsonian's National Museum of American History, in Washington, D.C.  It includes the cabinets, appliances, cookbooks, pegboard, kitchen table, and hundreds of her kitchen utensils and gadgets.
Julia's turquoise kitchen had been on display from 2002 until this past January.  The National Museum of American History will temporarily reopen the exhibit today through September 3, 2012, in honor of her birthday. It will be open again permanently in November 2012 and will anchor an expanded food exhibit.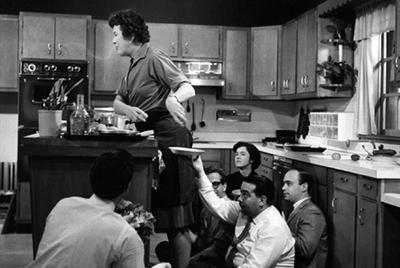 Additionally, 100 restaurant chefs across the country have been firing up their ovens all week to honor Julia's amazing culinary legacy. Four of our own Valley chefs are participating. CLICK HERE to read about some of their fond and funny memories of Julia and then drool over their menus, especially the one at Quiessence at the Farm at South Mountain. The tribute dinner there has been organized and will be hosted by our Phoenix Chapter of Les Dames d'Escoffier International, the chapter of that I am a founding member.  So sorry to be missing it!
As I've mentioned before, I too, had the pleasure of meeting and later working with the incomparable Mrs. Child.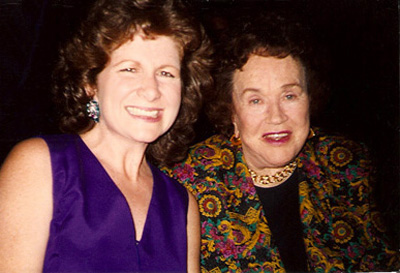 1994 in San Francisco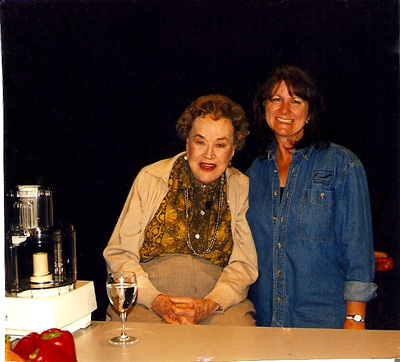 2001 in Minneapolis
Believe me, I know how very blessed I am to have had that honor.
Here are two photos from the IACP Culinary Concerts from when I was the producer.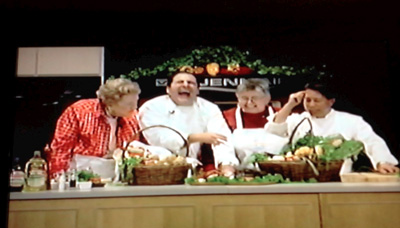 Julia Child, Emeril Lagasse, Shirley Corriher, and Martin Yan on stage in Providence, Rhode Island on March 29, 2000
In this photo, the chefs were choosing ingredients for a signature dish they were going to make together. Martin had pulled out a bunch of cilantro and handed it to Emeril. Emeril showed it to Julia and she matter-of-factly said, "I don't like cilantro." Emeril said, "No cilantro, then!" as he tossed it back into the basket in front of Martin. Martin made some comment and tossed the cilantro into the audience and obviously, it struck Emeril's funny bone!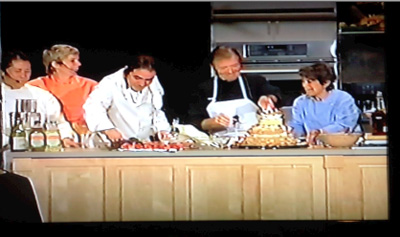 Martin Yan, Mary Sue Milliken, Emeril Lagasse, Jacques Pépin, and Susan Feniger in San Diego on April 18, 2002
Julia was scheduled to perform with these great chefs, but wound up with a bout of bronchitis. Here the chefs are making a birthday cake (a few months early) in her honor.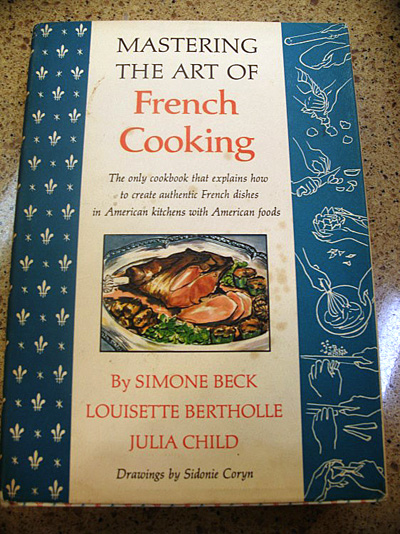 I am also privileged to own an autographed first edition of Mastering the Art of French Cooking, an amazing treasure.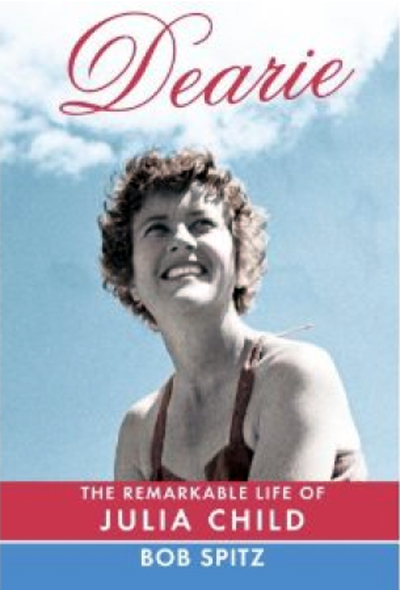 I have brought along the new Julia Child biography, Bob Spitz's "Dearie:  The Remarkable Life of Julia Child" to read on my Alaskan trip. Can't wait to dive into it.
If you want to own a little piece of Julia's art of your own, consider purchasing this adorable tea towel. I've bought a few myself.  It makes a great gift for other lovers of all things Julia.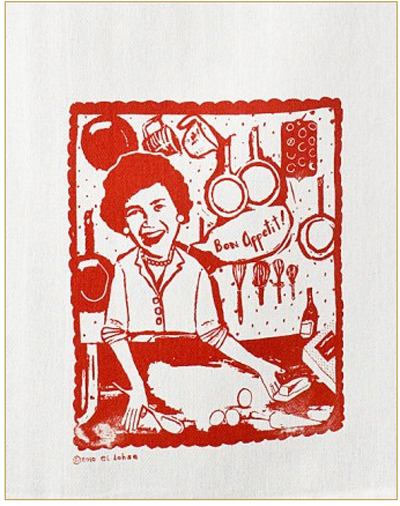 Or if you really want to immerse yourself in the life and times of Julia Child, consider the unique trip of a lifetime to her French home, La Pitchoune, and enjoy cooking in Julia's kitchen with Kathie Alex at Cooking with Friends in France. (Now run by someone else. Here is the new link.)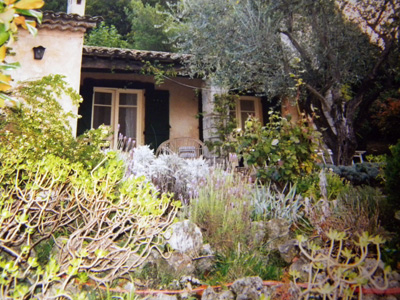 When Dave and I spent the week there, we were assigned Julia and Paul's bedroom as ours! Below is the actual packing list that still hangs on the master bedroom closet door. N'avez-vous pas tout simplement l'amour? (Don't you just love it?)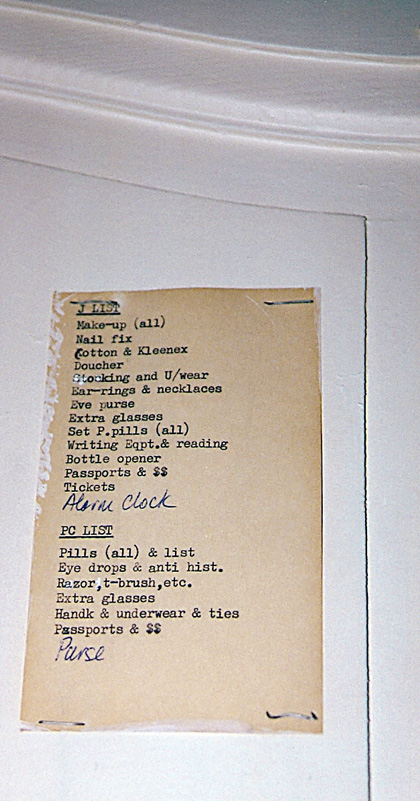 If that is not in the cards, then spend a few moments today enjoying THIS fabulous and hilarious compilation of clips of Julia with her dear friend, Jacques Pépin.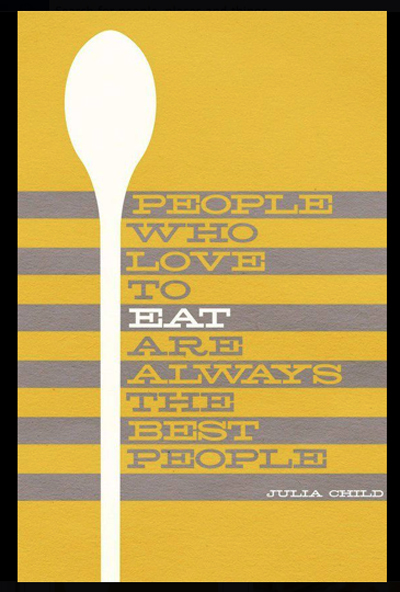 Happy Birthday, Julia!!!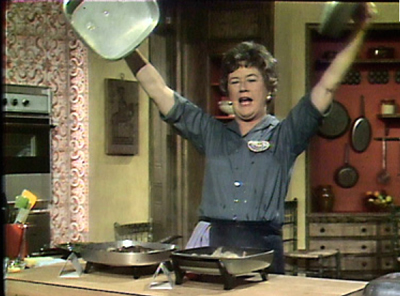 "Bon Appétit" to all!