first fish… ever!
Have I ever told you just how much I hate camping?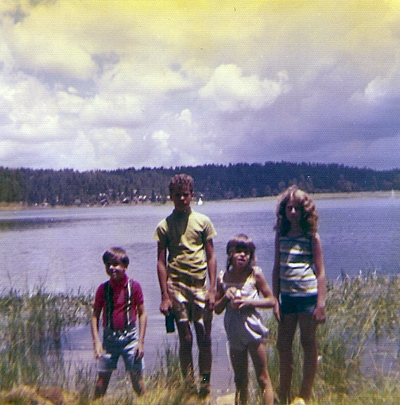 Yes sir, I looked back, and not so surprisingly I have … in this post, and again – it was implied at the end of this post, and yep, again in this post!
I guess the word is out: I despise camping for a variety of reasons, one of which has to do with fishing.
Going back to the time, when I was a kid, our summer vacation was camping. First in tents, years later in a trailer.
All six of us packed into a station wagon or a truck, on the road, fighting like cats and dogs in the backseat which would prompt my mom would reach back, without warning and without even looking, and slap at us with a fly swatter. Have you ever been hit with a fly swatter? It hurts and leaves a mark!
Then we'd set up camp and settle into a campground in Northern Arizona or in Colorado for at least one week, two or three times each and every summer.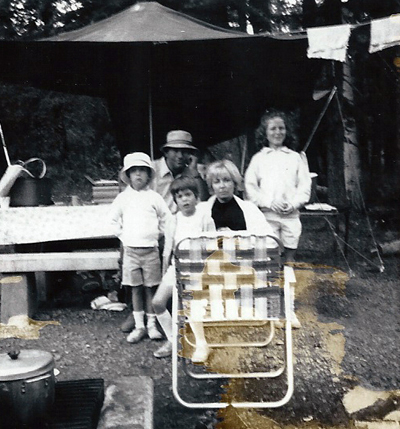 Good Times… for some, but not for all!
When we camped, we also fished.
Well, they all fished – I just floundered.
My mom (the fly swatter-wielding mad-woman) was a great fisherman, she caught fish left and right. That might be attributed to the fact that she'd go downstream, away from the rest of us to fish. When she caught one, she'd walk up to Dad and he'd take off the fish and re-bait her hook, and away she'd go again.
My dad would have also been a great fisherman if he wasn't always busy bating everyone's hooks, taking the fish off said hooks, cleaning, and gutting said fish. He was constantly untangling all our tangled lines, unhooking the hooks we snagged in trees, on rocks, and in each other… as we were casting… all at the same time.
Poor guy, he never had a chance to actually fish for himself… but he never complained. Never!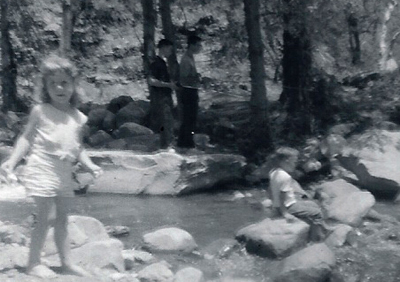 My three siblings all caught fish at one time or another… but alas, I NEVER caught a fish in my life! All those years of camping and fishing and not a single fish for me. Only if my parents took us to the Tamarindo area, which is known to be the idle spot to go on Costa Rica deep sea fishing charters expeditions. I think I could have caught a fish or two there as the waterbody seems to be well-stocked with marine life. Alas, I never got the chance to visit the place as a kid!
But yes, I agree that if I had the skills, I could have caught a fish in my neighboring lake or waterbody. It might have had something to do with my natural-born impatience. I'd cast my line out, expect to immediately get a nibble… when I did not, I'd reel it in and just cast out again and again. With all that casting and reeling, I'd inevitably get my hook caught in a tree or bush, on a sibling, or even in my own mop of hair. Then, I'd say, "I hate fishing" and stomp off in a huff! Yes, I was the complainer!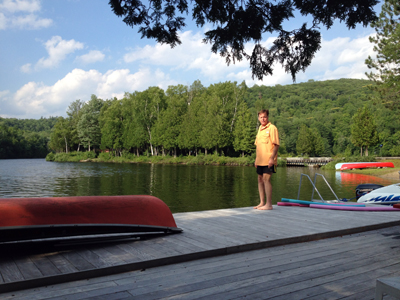 So when I was at Deer Lake and Paul asked if I'd like to go fishing with him, I said that yes I would like to go fishing with him. I confessed that I'd never caught a fish before! Well, he was happy to take on the challenge and get me out on the lake with a pole in hand. He never had an ounce of doubt that I'd catch a fish on Deer Lake!
I'd only fished in a stream or standing on the shore of a lake, never in a boat. Here, we were in a motor boat and trolling. "Trolling means slowly dragging a line through deep water. Most trolling is ­motorized — from a boat." What a difference and how much less stressful and more fun!!!
So. Much. Better!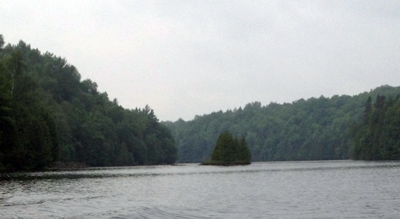 I caught my first fish ever within 10 minutes! I also "caught" Tiny Island. Yes, that is the imaginative name the Howards call a small tree-filled island in the middle of their massive lake… Tiny Island! I snagged it… just like old times, only this time, Paul had to unsnag me, instead of my poor dad.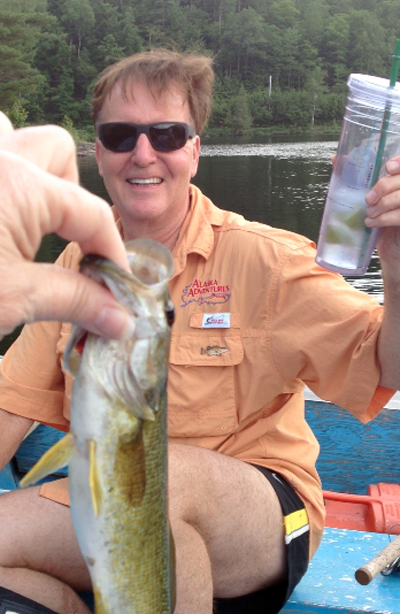 Thank you, Paul! You DA MAN! oxo