bake sale success
Bake Sale
Yesterday's Les Dames d'Escoffier International bake sale at the Phoenix Public Market was a grand success! Yeah, we made $744.00!!!! Man, we can bake! But I must say, a whole lot of credit goes to Gwen, my sales partner, that girl can sell! I would even buy a beet from her, and I HATE beets!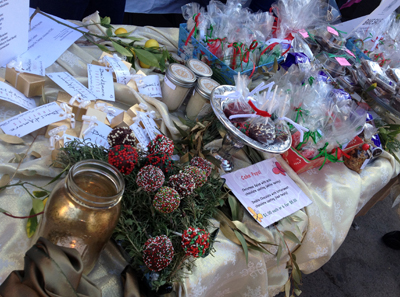 I took pictures of the tables right after I set up my cake pops and by the time I got down to the end where I had set them up, there were only 5 left for sale! I was making a few sales down at the other end for a moment or two… but wow!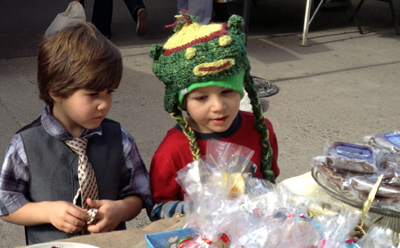 These two little cuties were my favorite customers. Aren't they adorable?!  Unfortunately, by the time they arrived, all my cake pops were gone. Yep, the cake pops sold out within minutes after I arrived with them. I'm talking maybe 15 or 20 minutes, and all 40+ were gone!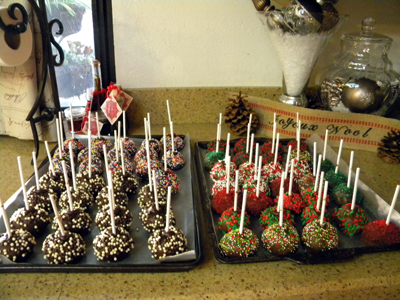 Here they are before I packaged them.  Plus I made a little Christmas tree display, which turned out to be a mistake… people kept asking to buy them, but since I hadn't pre-packaged them… no sale!
That's the thing about cake pops, they are the "in thing".  I made a couple dozen more to take to last night's family Christmas party. As my cousin, Ty, said while he was eating one, "This is a very efficient cake delivery system."  I could not have said it better!