Pantry Stories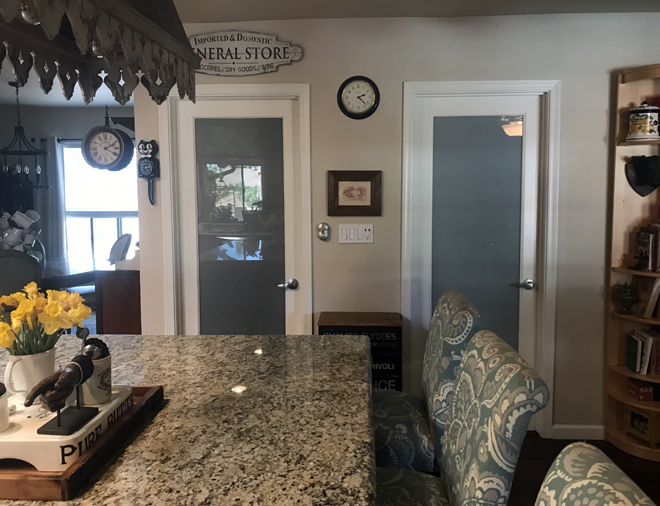 In this photo, there are two doors. The door on the right opens into my laundry room and the door on the left opens into my pantry. I prefer to keep both of these doors closed. I don't want to look at my washer and dryer and I most certainly don't want to look into my pantry.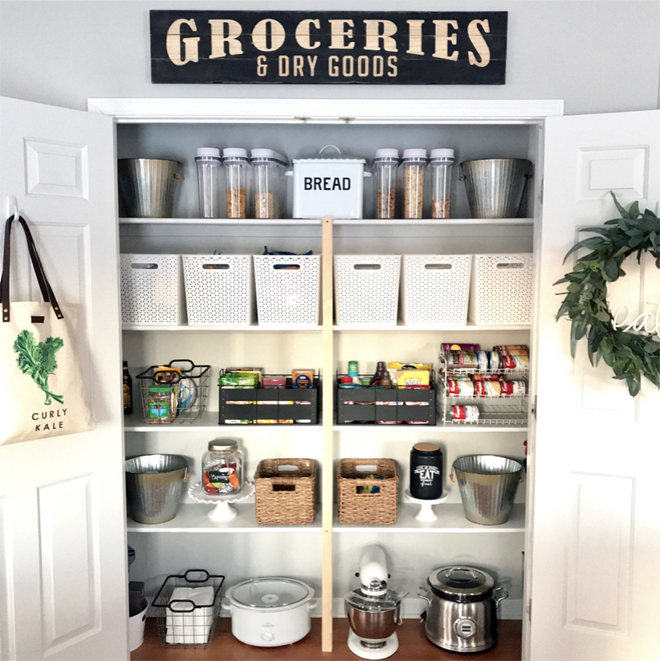 If my pantry looked like this inside, I'd consider leaving the door open every now and then.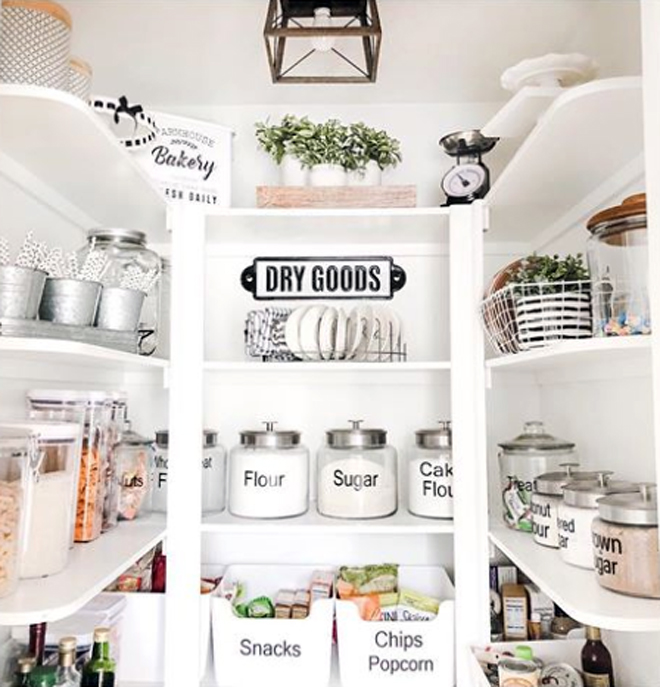 If it looked like this, I'd never close the door! This is what we call #pantrygoals! My guess is that the people who own these lovely pantries don't cook quite as much as I do. Ya think?!?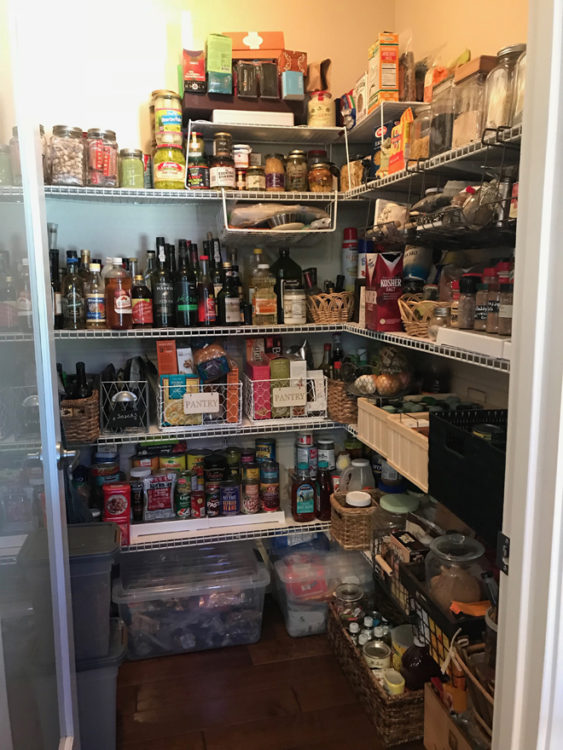 Unfortunately, up until the afternoon of February 23, 2019, my pantry looked like this.
I know, it's A LOT! But I cook A LOT! The thing is, it was organized and I knew where most everything was and could get my hands on things rather quickly and efficiently. For instance, that plastic tub on the floor in the center of the photo held the dry fruits that I use for Harmony Boards.
And a Harmony Board is what I was making on that Saturday afternoon of February 23, when the unthinkable happened.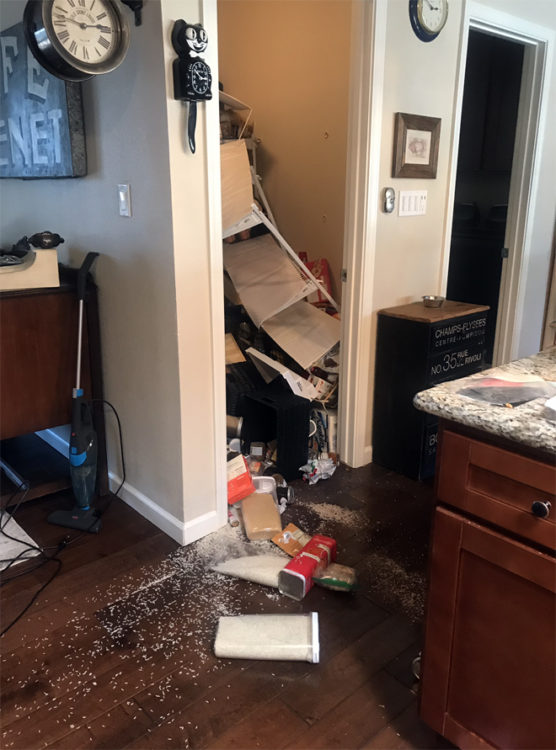 I was working on the island when I heard a horrendous crash, I looked up and saw this. My first thought and fear were that one of my cats had caused the collapse and was trapped under it all. But no, they were both safe and sound in another room. The shelving gave way on its own.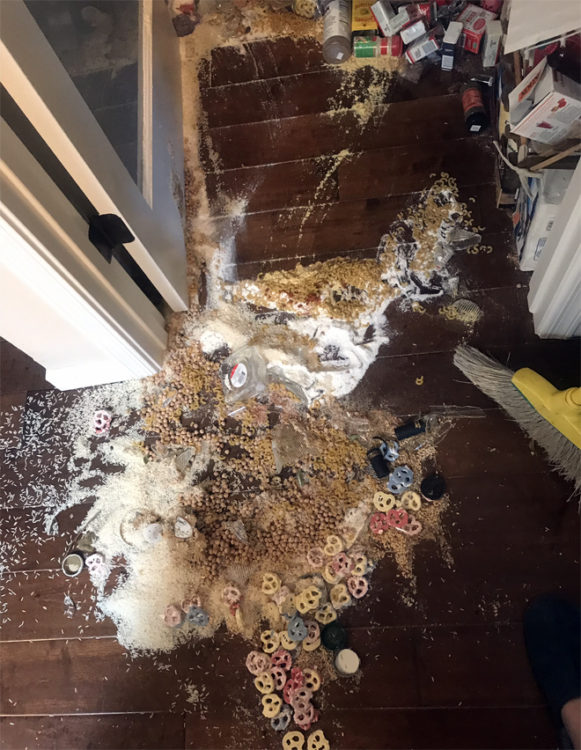 There was dry stuff mixed with the wet stuff. Broken glass and cracked plastic containers mixed into it all. Goop, bits, clumps, and shards in every direction, all the way into the dining room and the opposite way into the breakfast room. Heck, I was finding grains of rice, garbanzo beans, and couscous for days afterward.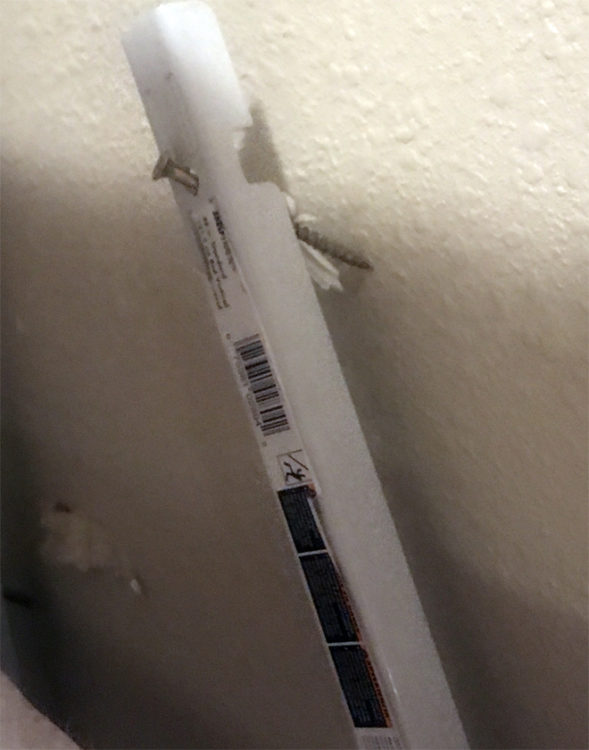 Obviously, there is no denying that I overloaded those shelves. But they should not have pulled out of the wall. The reason they did was that not one of the screws was put into a stud. All were put into the drywall with cheap plastic anchors! Unbelievable, who does that? Pantry shelves, overloaded or not, should be able to bear the weight of heavy cans, bottles, containers, and jars.
I cleaned it up enough to shut the door, then I finished the three Harmony Boards I was working on and delivered them. Upon returning home, I loaded all the food into plastic bins and put them outside on the back patio. Then I sent a text, with photos, to the amazing Cody Howard of Chisel Built and asked for his help. He, of course, responded immediately and said he'd be over on Monday morning. Which was a godsend because I was driving to Austin, TX at 3:00 AM on Tuesday morning. This needed to be fixed and pronto.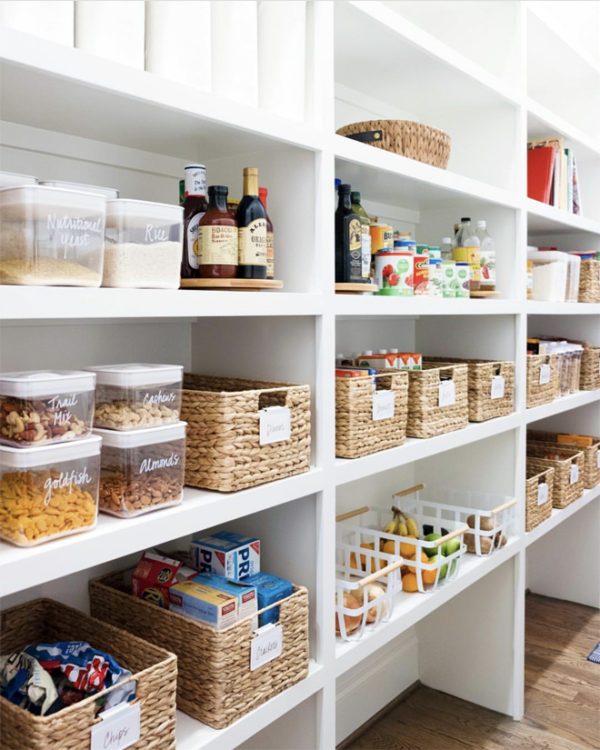 I would love to tell you that this is my new pantry, but we all know that is a pipe dream and not even remotely possible. While I would have loved to have new wooden shelves built, it didn't make sense for the small space I have and could not be done for the amount of money I was willing to invest in this unexpected project.
Cody removed the shelving that was there, patched and painted the holes, purchased industrial shelving, assembled and installed it, then strapped it to the walls, through the studs this time!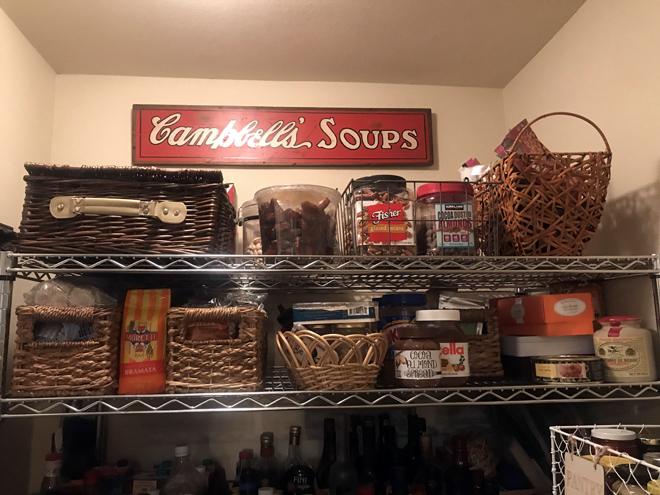 These two photos show the new shelves for Harmony Boards. In the photo above, the top shelf holds the specialty nuts, chocolates, and other dry items used on the boards. And in the photo below, the bottom shelf holds two baskets where the dry fruits are now stored in.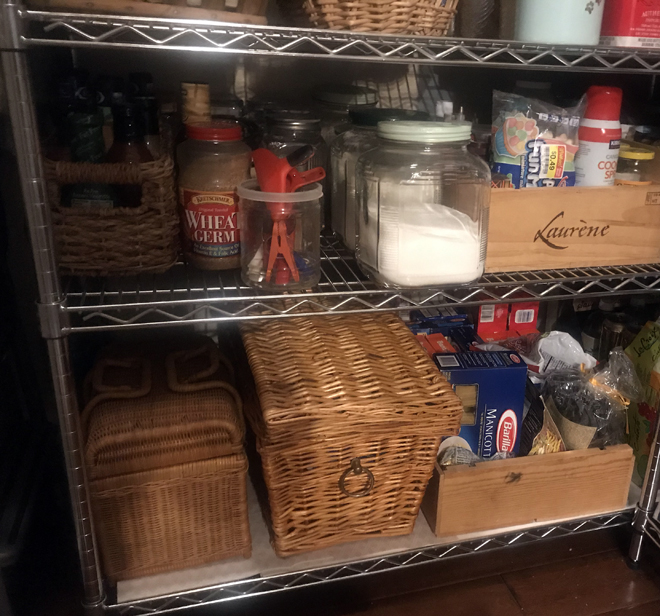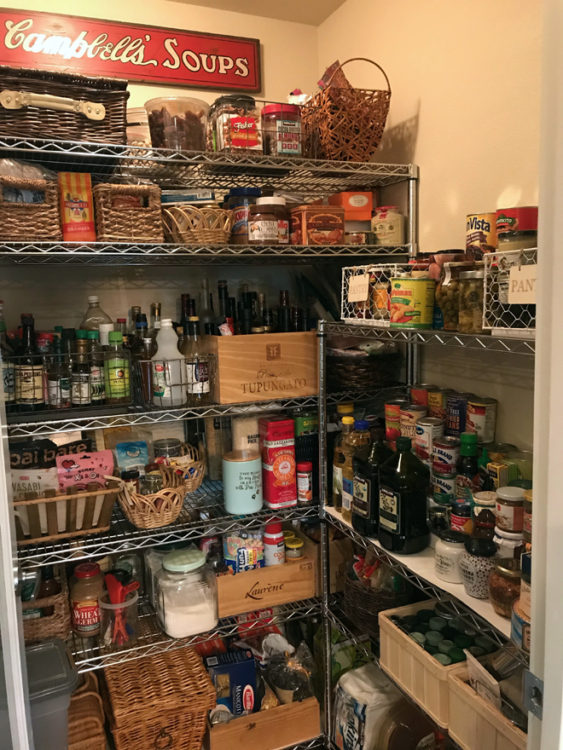 This is my pantry now. I still don't want to keep the door open. But I am able to rest assured that there won't be another crash! Thank you Cody for always being there for me!