the big 5-0 photos and the tablescape
Before I continue to tell you about the party planning for Peggy's 50th – I first have to say…
watch

Happy

Birthday,

Peggy

! 
Today is her actual birthday.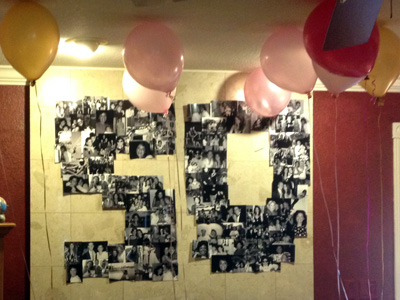 One of the wonderful party ideas I found on Pinterest was to take a bunch of photos of the honoree and create a huge "50" with them. I gathered photos of Peggy, scanned them onto my computer, edited each one into gray-scale, and printed them out.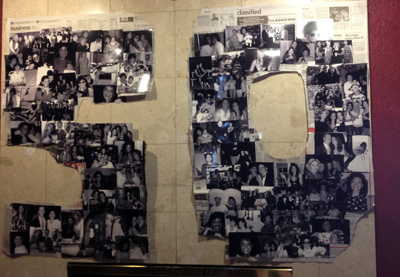 Next, I taped sheets of newspaper to my marble fireplace and taped the photos to the newspaper.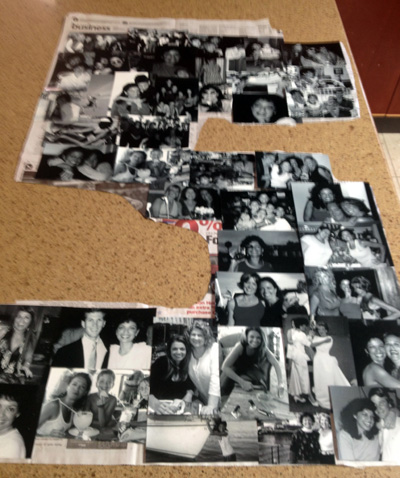 I then carefully took down the numbers and placed them on a flat surface to trim the newspaper backing.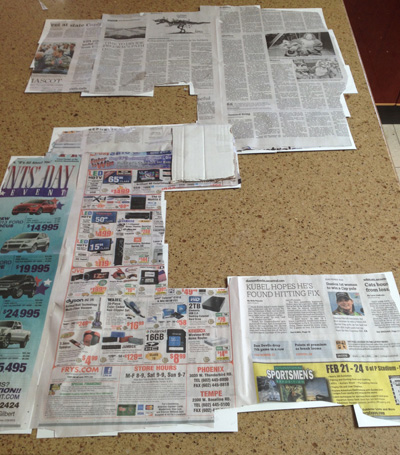 The "5" was on the fragile side, so I reinforced the weak center area with a bit of cardboard on the backing.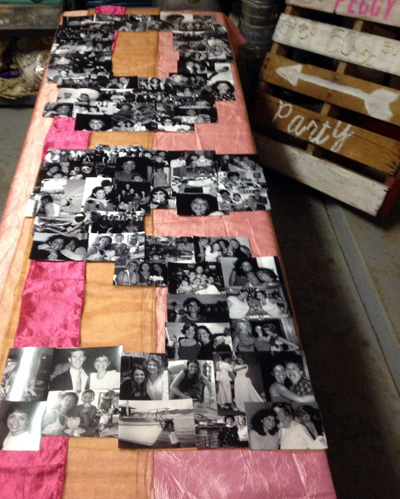 This was all done about a week before the party, so into the garage staging area the numbers went to stay out of harm's way until party time.
Underneath the photo collage you can see the linens I bought from THIS fabulous online site. It was so much more economical to purchase the linens rather then renting them.
I was able to buy informazioni viagra generico 200 mg a Torino two pink crinkle taffeta 117-inch round tablecloths, viagra generico 200 mg miglior prezzo pagamento online a Verona four pink crinkle taffeta 60×126-inch tablecloths, http://maientertainmentlaw.com/?search=can-propecia-cause-erection-problems six gold organza runners, enter one embroidered chair slipcover, here one fuchsia satin chair sash, click here 50 gold, pink, and fuchsia napkins, and source site one 90-inch gold organza overlay for only $107  – and that http://maientertainmentlaw.com/?search=cialis-no-prescription-online included the shipping! They all washed up perfectly too, no ironing needed. I could not have been happier with the linens.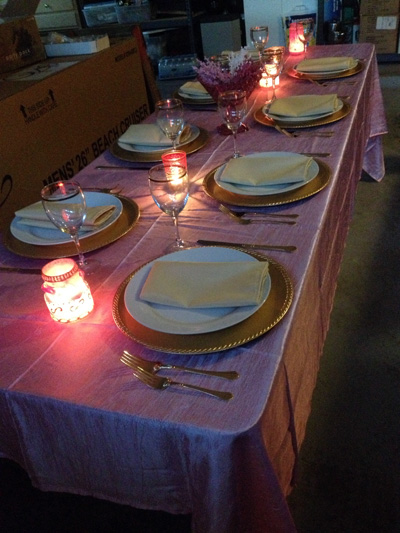 Here is what the preliminary "mock table" looked like in my staging area.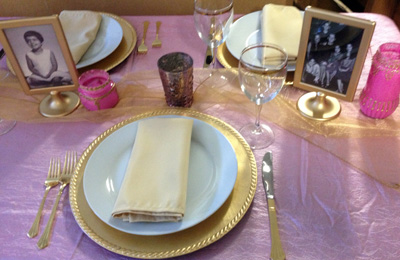 I purchased the gold chargers at Hobby Lobby for 50% off – for only $1 each. I already owned the white plates and the gold trimmed wine glasses. Those were purchased years ago on super-clearance from Target. When I say super-clearance – I'm talking $4.24 for a box of 12! I remember the price because the red stickers are still on the boxes. I have 24 of each of these, plus 24 flat soup/salad bowls. That's 72 pieces for a grand total of $25.44 – or 35 cents each! Take that party rental stores!
The gold flatware was purchased specifically for this dinner from eBay. To insure I'd have enough, I bought three different sets. I'm a patient and smart eBay bidder – so trust me when I say I got them for a steal!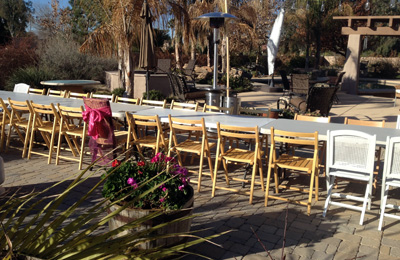 Early Saturday morning, the set-up began. Four 6-foot tables were put end-to-end on the open patio. Twenty-five chairs were set up, one special chair for the birthday girl with the pink slipcover and sash. Two propane heaters stood at the ready. They, along with the beehive fireplace and the two firepits, were needed. It was going to be a slightly chilly night – not too cold, no snow or anything bizarre like that!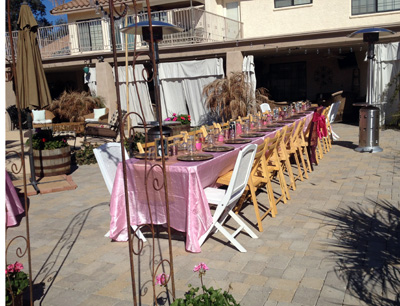 The pink tablecloths, gold organza runners, gold chargers, Moroccan candle jars, and IKEA picture frames went down next.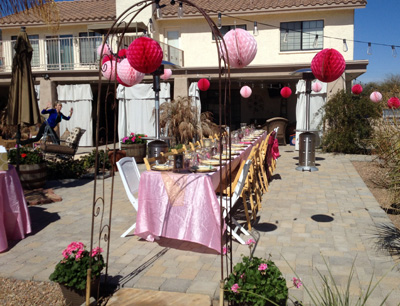 Soon after that, Anne arrived and helped me finish setting the table and hang 24 pink and fuchsia tissue paper honeycomb balls onto the light strings. Look closely and you'll see Anne sneaking into the photo above. Thank you, Anne, for all your help with the Moroccan candle jars, with the setup and food prep, and with cleanup the day after! Love you!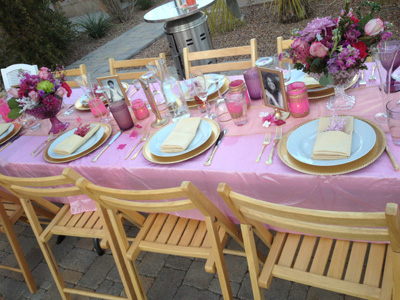 Anne and I finished setting the tables with the flatware, dinner plates, napkins folded pocket-style, water glasses, wine glasses, and champagne flutes.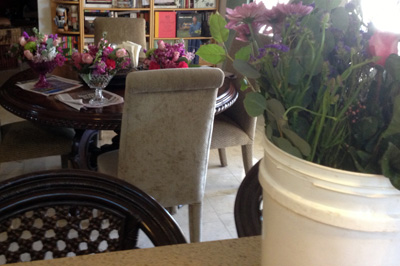 I bought the flowers at Costco and arranged the centerpieces the day before, on Friday. I found the pink and clear vases (I think they may actually be candy dishes) at Home Goods.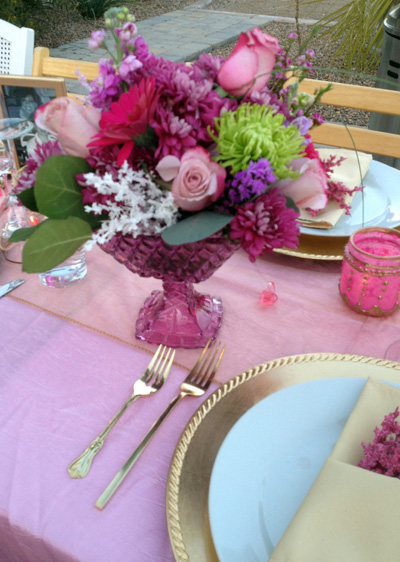 I was especially happy with how well they turned out.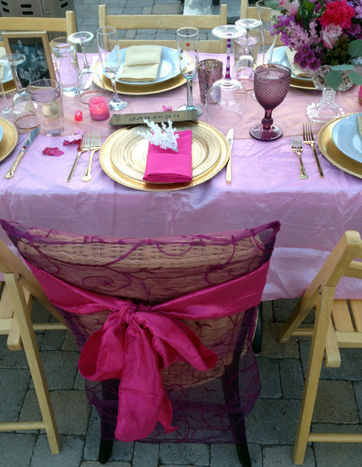 I was also very pleased with how pretty Peggy's guest of honor place-setting came together. Along with the decorated chair, she also had a distinctive clear glass dinner plate that was embellished with gold, a fuchsia napkin instead of the gold that everyone else had, and more elaborate birthday-girl-worthy stemware. Another touch was a "reserve" sign for her place, not that it wasn't already crystal clear who would be sitting there!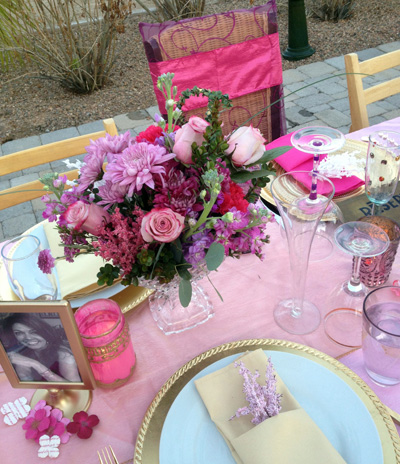 You can also see how cute the cheap plastic gold spray painted IKEA frames turned out. The frames are two-sided. One side held a "vintage" photo and the other side a current photo.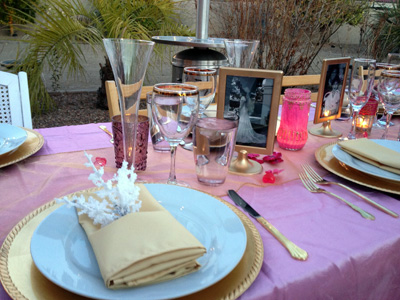 Tomorrow's post will be all about the actual Party Time!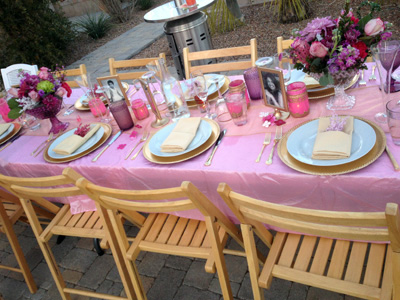 Recipes from the appetizer buffet, the dinner, dessert, and the two signature cocktails will follow in the days after that.