little touches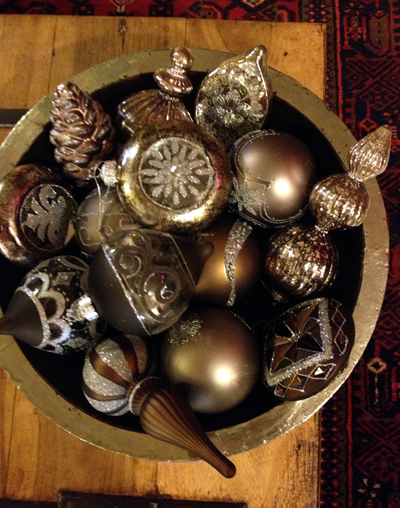 Due to my fractured pelvis, Christmas decorating has been severely scaled back this year. In fact, if it weren't for the help of my very patient (I can be kinda bossy, I've been told on more than one occasion) and ultra kind BFF, Peggy, there may not have been much more than a tree. Peggy decorated at least six different areas of the house for me in those first couple of days after my return home from the hospital.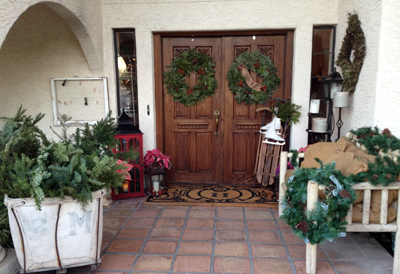 Another day, I had my dad take me to Home Depot to buy a couple of fresh evergreen garlands and a huge boxful of free fresh-cut greens (cast-off trimmings from trees they had sold), and a couple of handfuls of little tree truck rounds that had also been discarded.
I used the fresh greens throughout the house and put the rest in the canvas cart on the front porch.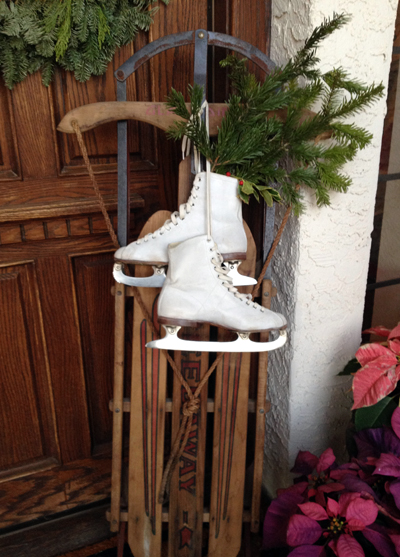 A couple of other new additions to the porch are this vintage sled and ice skates, not that we've ever had or will ever have enough snow or ice to sled or skate here in the desert, but they do look darn cute and festive.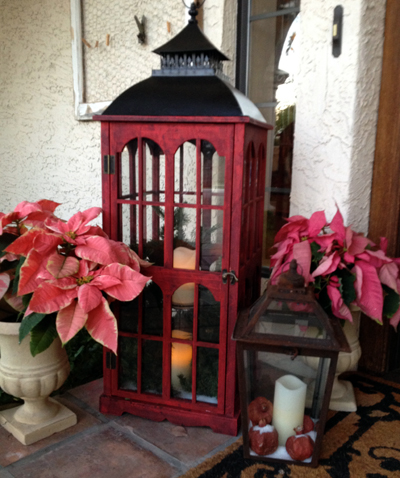 Plus, this huge red lantern I found for a steal, back in November, at Home Goods.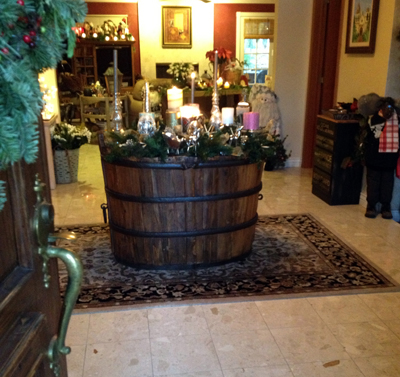 Come on in. The first thing you'll see is the decked-out Chinese wine barrel that sits in the center of the entry. To create something similar in your home, you just need to find some used whiskey barrels and then you can create a number of different decorations in your home. Barrels can make lovely decorations, especially when they're designed correctly.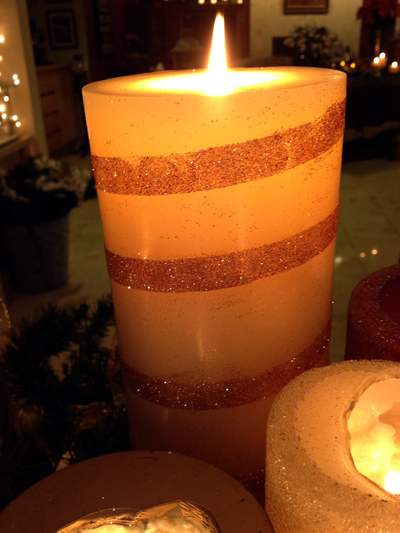 Atop it is a cute and easy idea I stole from Pinterest. So easy – just use double-sided tape on a candle, then sprinkle glitter on the tape. Turns a plain-Jane candle into a Christmas candle in a matter of minutes. After the holiday, just peel off the tape.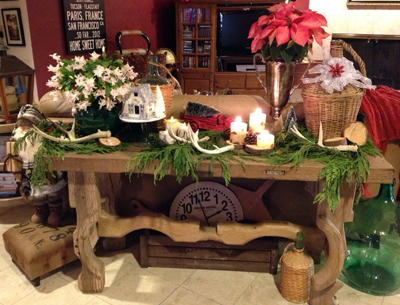 If you venture in a little further, you'll run into the sofa table. One of the garlands graces it, along with a few more new little touches.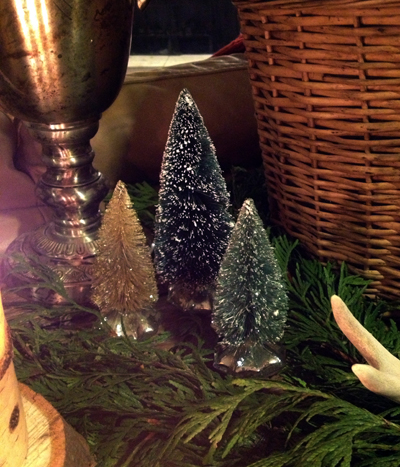 I'm head over heels with bottle brush trees. I bleached several, dyed their various colors, and then added a little glitter. For these three, I went a step further and took off the ugly white plastic bases and attached silver door knobs as their tree stands.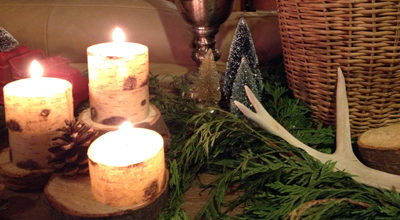 Here is one of the many ways I used those cut rounds from the tree bottoms… as bases for candles, adding a pine cone or two, here and there, as well.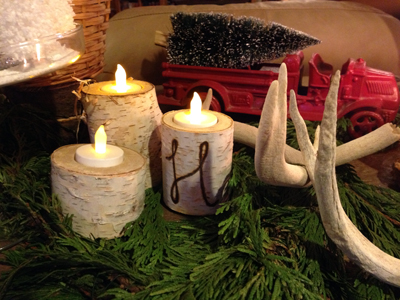 Another bottle brush tree. For this one, I replaced the white plastic base with a little piece of wood for a natural trunk and then laid it up down a very heavy cast-iron red firetruck that Dave played with when he was a little boy.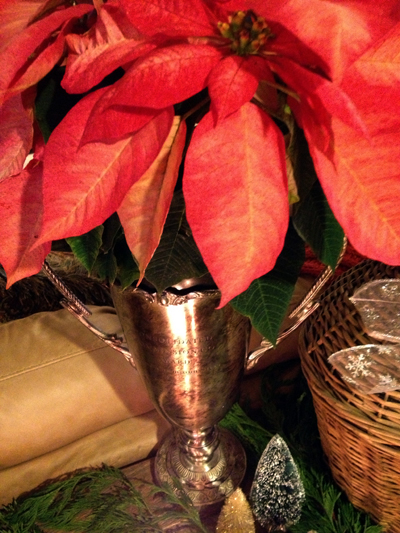 My love affair with trophies continues…this one holds a lush bright pink poinsettia.
Hope you've enjoyed this house tour with some of my new little touches. It may have to hold you over for a while. I haven't cooked in 12 days and don't know when I'll be able to get back in the kitchen.
I hope you'll hang in there with me. I have an appointment with the doctor on Friday and I'm hoping for good news.