not 1, not 2, not 3, but…
Four winners!
Many thanks to all of you who left comments these last few days for my Free Cooking Classes giveaway.
Before I announce the winners and show you the videos of the drawing, I have a few things to say.
So… today is my birthday. I pretty much love my birthday! I love everything about it, but the thing I love most is that it's in October and it's at the end of October.
What makes that so special is in late October is when it finally cools down in the Arizona desert and life becomes enjoyable and the outside becomes bearable again. October is the best and the end of October is the very very best!
That is until this year.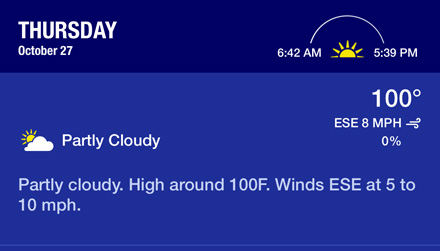 All I can say is what the hell is this!?!!! This is the worst! How is it even possible for this to be possible? One HUNDRED degrees on October 27th is not right! Not right at all. I am mad and this is ruining my birthday!
Alright. I'm done. I just had to get that off my chest. I'd love to say I feel better now that I've said it, but I don't. I'll try not to complain about it for the rest of the day.
Now, on to the enjoyable task at hand… giving away fun stuff!
Yesterday, after the entry time ended, I wrote the eligible names down on slips of paper and took them over to my neighbor, Karin's, house. She and I are finishing the last-minute details on our neighborhood Fall Festival, which is this Sunday. I had Karin help me videotape the drawing. I held my iPhone, while Karin folded up all the slips of paper, put them in a pot, and drew out the winners. I used the time-lapse feature on my phone for the first time.
I did… OK with it. Not great, but sufficient.  Here, you can judge for yourself:
Winner #1 for the cooking class on Tuesday, November 8th is…
Emily J!!!
Winner #2 for the same class is…
Cecilia!
For the next drawing, I first had Karin take the winners, Emily and Cecilia's, names out of the drawing, and then I proceeded to film it upside down. Sorry, as I said, I'm new at this time-lapse thing!
Winners #3 and #4 for the cooking class on Tuesday, November 15th are:
Marianne F and Lisa J!! 
Congratulations to the four of you. I can't wait to have you join my classes.
Thanks again to everyone who played along. I appreciate you!
Save
Save
Save
Save
Save
Save