gratitude
THIS is what I said in a post back in March, "I am amazed and in awe of people and their talent."  Do you recall that?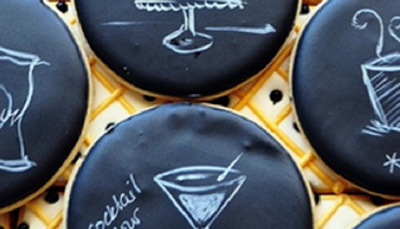 Well, you may not recall that very post, but someone did.
And now, I am in awe of them!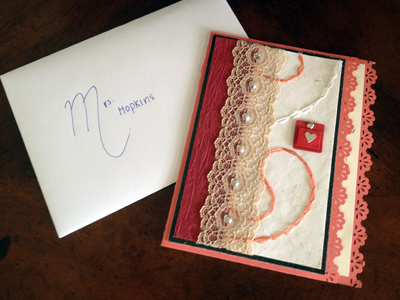 I am in awe of my student, Elizabeth, and her mother, Shelley, who is a loyal follower and regular commenter on this site!
In awe of their kindness and thoughtfulness. No, not just kind and thoughtful… their extreme and awesome thoughtfulness!
Elizabeth hand-crafted the beautiful card you see above. She wrote the sweetest message to me inside.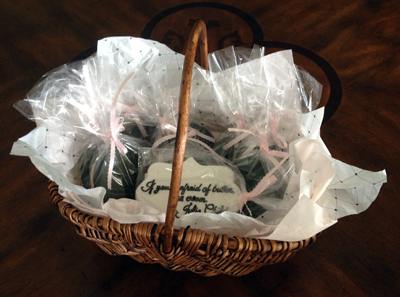 The card was tucked into this lovely basket.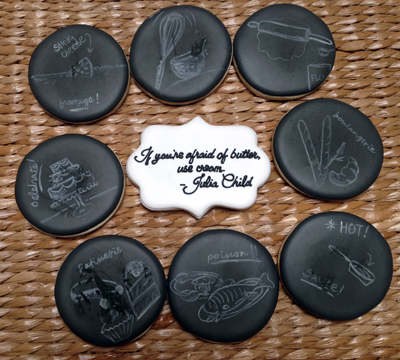 A basket full of these gorgeous chalkboard-effect cookies.
The cookies that I blogged about loving … way back in March!!!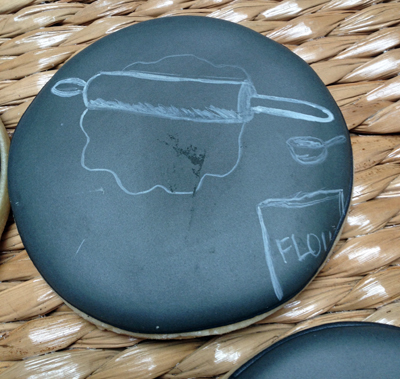 Aren't they fabulous!?!
In March, I say, "If someone created these cookies for me, I know that I would never eat a one! No, I would put them on a pedestal. I would shellac them and place them in little individual shadow boxes to admire every day! Call me crazy, but honestly, I would!!"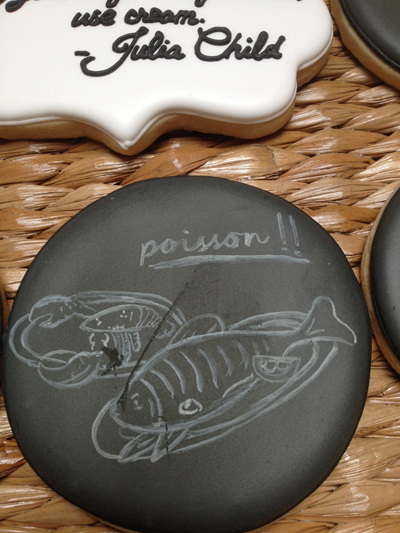 I was so overwhelmed when Elizabeth handed me the basket, I didn't know what to do.
What I should have done was take a picture of Elizabeth and Shelley with the basket, so I could show you the mother-daughter dynamic duo! Dang it!
Funny thing was that Elizabeth asked me if I was going to eat the cookies. I said that I didn't know if I could, that they are too wonderful, and that I think I'm going to have to shellac them and save them forever.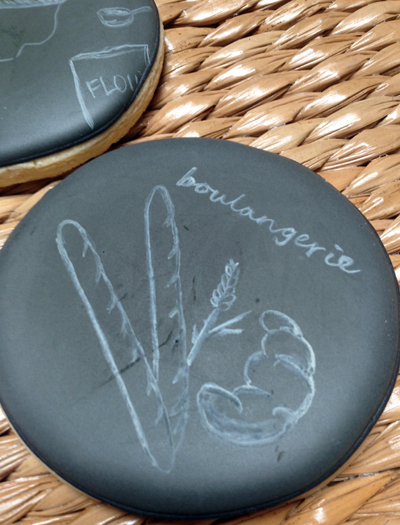 I completely forgot that I had said that very thing when I first wrote about them.
It is meant to be. I'm going to have to figure out how to do that and then run out and buy some shadow boxes!
I thought Shelley had ordered the cookies from the baker in Missouri.
Nope, turns out that Shelley works with a woman named Casey Jones. Casey owns Casey's Confections and is obviously a very talented baker!
Yep, these edible works of art were made right here in Arizona!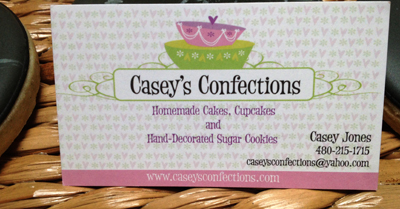 Here is Casey's Confections card. Unfortunately, I am having problems with my linking abilities on the blog. For some reason, which I need to figure out, I can only link to posts from my site.
Until I can fix my issue, please copy/paste the address into your browser and go visit Casey's website…  www.caseysconfections.com
Once again, Shelley and Elizabeth… Thank You!
I am blown away! Not only by the fabulous cookies, but by your awesome thoughtfulness!  xoxo