For some strange reason – while making 13 different recipes in two days (eight appetizers,  four recipes for the sit-down dinner, and one recipe for the dessert table) I didn't manage to take even one cooking photo. Imagine, too busy to stop and take pictures of the process!
Oh well, I did manage to get pretty decent photos of the food on the table itself, at least for the appetizers, which is what I present to you today. Some of these are new recipes which I'll provide here and others are recipes I've previously posted. For those, click on the link to take you the original post.
Here we go…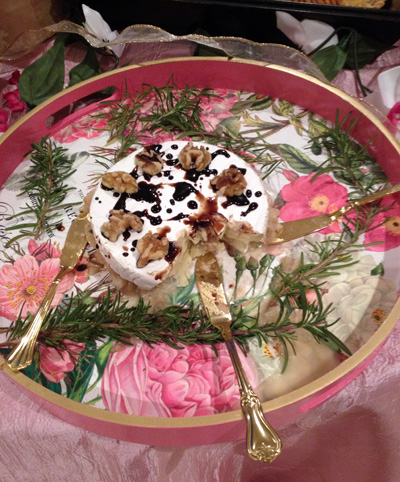 Brie with Pears and Brandy
12 to 16-ounce wheel Brie cheese, cold
1 tablespoon unsalted butter
2 large Bosc or Red Anjou pears, peeled and cut into 1/4-inch dice
2 tablespoons brandy
1 teaspoon chopped fresh rosemary, plus rosemary sprigs for garnish
2 tablespoons balsamic vinegar
1 tablespoon honey
8 walnut halves

Slice cheese wheel in half crosswise; set aside.
In a medium skillet over medium heat, melt butter. Add diced pears, and cook until tender, about 3 minutes. Stir in brandy, and cook 1 minute more. Add rosemary, and stir to combine. Remove from heat, and spread pear mixture over the bottom half of the cheese wheel, reserving 2 tablespoons of mixture for garnish. Transfer cheese to a serving plate.
Return skillet to stove, and heat balsamic vinegar and honey until simmering. Simmer mixture until slightly thickened, about 3 minutes. Set aside to cool, about 5 minutes.
Pour half the glaze over the bottom half of the cheese with the pear mixture; top with the remaining half of the cheese wheel and top with the 2 tablespoons of reserved pears. Drizzle with remaining glaze, and garnish with walnut halves and rosemary. Serve immediately.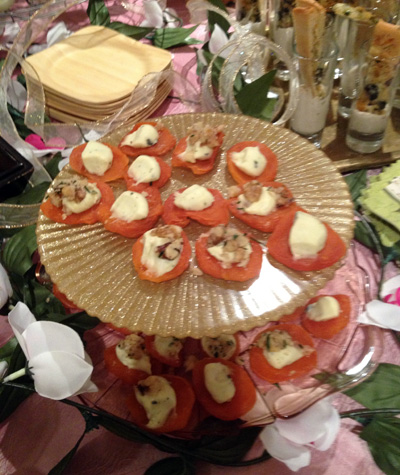 Blue Cheese-Apricot Bites
1 tablespoon plus 1 teaspoon butter
1/4 cup finely chopped walnuts
1 tablespoon plus 1 teaspoon sugar
1 teaspoon minced fresh rosemary
1 cup crumbled Roquefort, room temperature
2 ounces cream cheese, room temperature
32 dried apricots
Snipped fresh rosemary
In a small skillet, melt butter over medium heat. Add walnuts and sugar; cook and stir for 2 to 3 minutes or until walnuts are lightly toasted. Stir in rosemary; cook and stir for 30 seconds more. Transfer nuts to a foil-lined baking sheet; cool.
Meanwhile, in a small bowl, combine Roquefort cheese and cream cheese. Beat with an electric mixer on medium speed until smooth.
Spoon about 3/4 teaspoon of the cheese mixture on top of each dried apricot. Sprinkle with nuts. If desired, garnish with additional fresh rosemary.
Makes 32
February 28, 2013 3 Comments