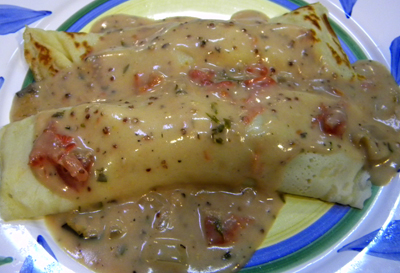 I have an excellent excuse for not posting yesterday and delivering with the promised seafood crepe recipe. I was on a "special, highly covert, high-security assignment" revolving around THIS, for the Food section of our newspaper, The Arizona Republic.
OK, it wasn't exactly "all that"! But I was developing recipes for the cover story of the Food section for an upcoming issue. So, I was busy! And the story/recipes really do revolve around THAT.
As bizarre as it certainly sounds, I will fill you in on the details after the story runs in the newspaper, it's quite amusing, (Let's just say that THAT had never ever crossed the threshold of my home before this task was handed to me – and all of my friends and family were in a state of shock to see it sitting on our kitchen counter!) so stay tuned.
Now the promised, exceedingly sought-after, and highly anticipated "special occasion" crepe recipe…
January 4, 2011 2 Comments