desperate measures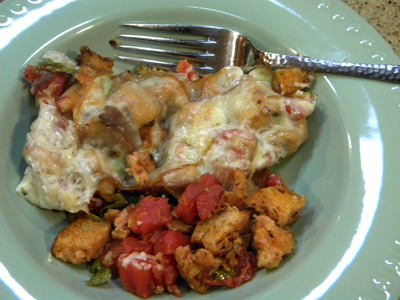 Sometimes getting dinner on the table is the hardest part of the day; yes, for me too. Late yesterday afternoon a friend on Facebook posted this:
"ugghh! that dreaded time, dinner! I never know what to make and on top of it so tired from all those 1st graders."
Not only is this friend obviously a first grade teacher, she is a wife and the mother of two young daughters. Before she started those wonderful phases of her life, she was my assistant at Les Petites Gourmettes one summer. I sent her two links to a couple of my "easy-breezy" recipes as a "comment" – while at the same time, I was actually having the same issue yesterday evening – "What am I going to do for dinner?" I had been deep-cleaning my house from the time I got up in the morning, right up until I realized that I really needed to stop and make dinner. I was exhausted, tired, and HOT. While the east coast has been gearing up for Hurricane Irene; in Phoenix, we've been under an "excessive heat advisory" all week. It was suppose to end tonight at 8:00 PM, but I just learned that it has been extended through Sunday  Monday- oh joy. (late entry – it was 117 degrees today – it is official – hottest August EVER, on record for Phoenix).

If it had only been me who needed to eat, I would have just had some Saltine BP&J's, but that didn't seem like the sort of dinner that would make my husband real happy. David usually arrives home around 7:00. It was 6:40, I had to figure this out, now! It was way too late to get something out of the freezer. I looked in the fridge – nothing.  Well, there was something… this.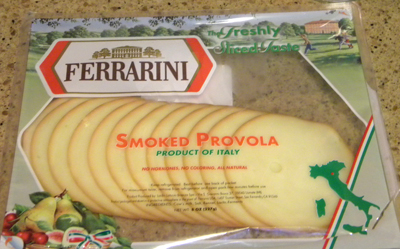 Saltines and Smoked Provolone, maybe? No, that wasn't even a step up from the PB&J's. I went onto foodnetwork.com and found a Rachael Ray recipe. I need to tell you that I am not a fan of RR, I'm not sure I have ever mentioned her name here before. But I was desperate and I had "basically" what was called for in her recipe, so I caved in and made it.  Now, if you are a RR fan, I am sorry, I'm not here to put her down.  She serves a purpose, the whole 30 Minute Meal concept is important for busy lives. But I just don't think she's "all that."  And the recipe I made, was certainly not "all that" either. She calls it Bread Gnocchi with Tomato and Basil. Click the link to get the recipe.
I'd rename it, Kid's Pizza in a Bowl. It could certainly be jazzed up and improved to make it more "adult-taste" friendly. But since I didn't have anything in my fridge, I made it pretty much as RR had it. And, it was done and on the table in 11 minutes flat.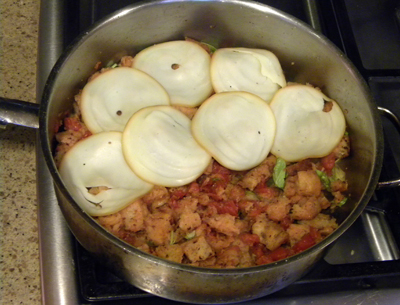 The only changes; I used a can of diced tomatoes in place of the tomato sauce and fresh Roma. Plus I layered the sliced provolone on top instead of trying to shred it and topped that with some shredded Parmesan. If I still had young kids, I might tweek this and try it again. But let's just say that the way it stands, I would have been much happier with the Saltine PB&J's.