civic duty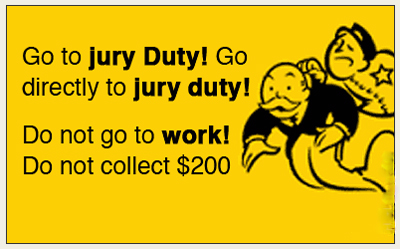 This is my heads up to you, my faithful followers. My streak of 70 consecutive days of blog posts may about to be coming to an end. Bet you didn't even know I had a streak going, but look back at the calendars over there on the right, and you'll see that I did, I mean I do. In fact, I've only missed 3 days out of the past 101 days of blog posts. There is a valid reason that the streak is about to be broken…
I'm not just Linda Hopkins; small business owner, wife, mother, cooking teacher, sister, daughter, and friend anymore; now you may also call me Juror #7. That is what I will be known as for the next 10 days.
I received my jury summons in the mail a few weeks ago. Along with another 44 good upstanding Phoenicians, I went to the courthouse yesterday morning at 8:30 AM. Well, the majority of us were good and upstanding. The stuff some people will say and the belligerent way they act to squirm their way out of jury duty is seriously appalling!
According to Wikipedia, the source of all intelligent web knowledge:

Jury duty is service as a juror in a legal proceeding. When a person is called for jury duty in the United States, that service is usually not optional: one must attend or face strict penalties. Employers are not allowed to fire an employee simply for being called to jury duty. When attended, potential jurors may be asked to serve as a juror in a trial, or they may be dismissed.
Good to know that my employer is not allowed to fire me, not that I would fire myself, but still, it makes me feel safe and secure. A big bonus; I am now on the State of Arizona payroll. I am so looking forward to that paycheck. Seven actual trial days (the weekend and the upcoming Monday holiday are subtracted from the previously mentioned 10 days ) – multiply that by $12 a day – plus mileage.  The anticipation of that paycheck is already burning a whole in my pocket!
We have 9 jurors, with one of us (to be determined by the draw of the hat immediately before deliberation) acting as an alternate. Initially, the judge mentioned that 8 of us would be chosen from the pool of 45.  Crazy as it sounds, I honestly believe the judge may have decided to add the alternate because of me. For obvious reasons, I can't go into that now, but I'll share the reason I say that with you after September 8th, when it is all over and I'm allowed to talk about it. 
In the meantime, I'm just grateful this isn't a grand jury, or a sequestered jury, or that the courthouse isn't so far from my home that I'd have to take a freeway during rush-hour.  I hate to drive on freeways during rush hour!  If I had to do it more than once in a blue moon, believe me, I'd be the one on trial.  I'd be the defendant in a road rage case… I don't do well in traffic with slow and incompetent drivers!  So see, it's not all that bad, there are worst things than jury duty, like being on the other side of the jury box!  And that is why jury duty is our civic duty, some day it may be me, or you, who needs that all important group of our peers.