a busy week "off"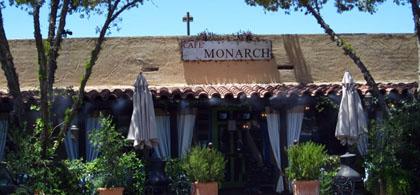 I had not intended to take a week off from blogging. I had plenty of things going on, lots of stuff to blog about. Honestly, I had too much going on and as a result I was too exhausted to sit down and write about it!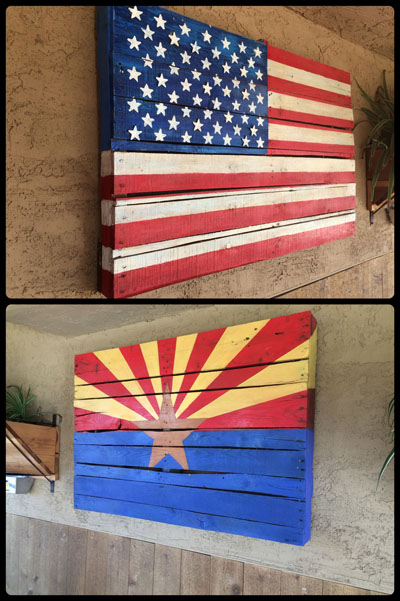 There will be recipes this week – Posole, Moscow Mules, Perfect Steamed Artichokes, and more. Then on Friday, I'll be off to San Francisco to "Say Yes to the Dress" with Marissa, along with her maid-of-honor and a couple of her bridesmaids. We will be dress shopping, eating out, and having girl-time all weekend long!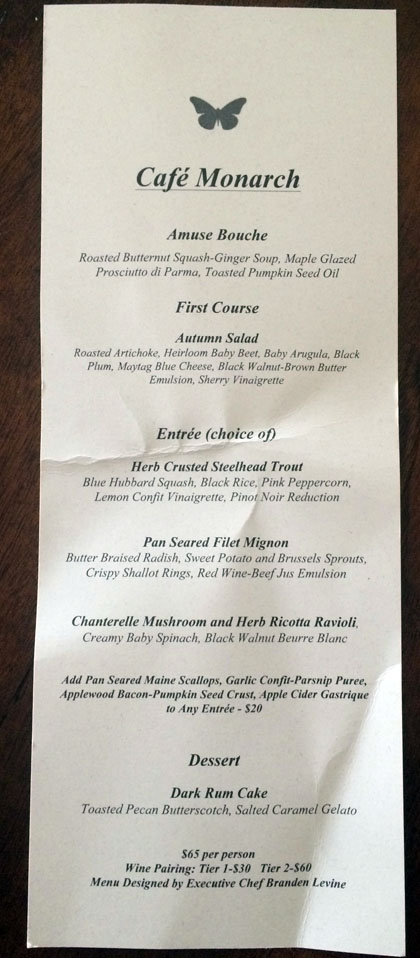 But for today, I shall share images and notes from my busy exhausting week.
On Friday night, Dave took me to Café Monarch for an early birthday dinner. The Café has a prix fixe menu that changes weekly. The only thing you choose is your entrée. I had the trout and Dave had the filet. The ambiance, service and food were all pure perfection. I highly recommend!
After dinner, we drove to Sky Harbor to pick up Marissa. Having my girl home, made it the perfect ending to a perfect evening.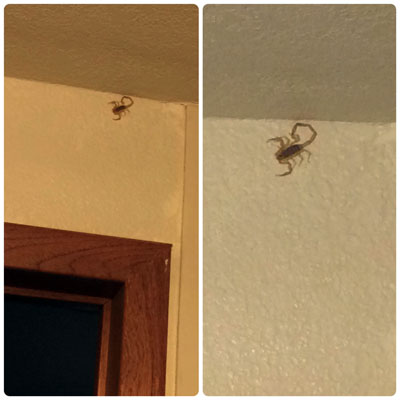 Saturday morning brought a shock in the bathroom. While in the shower, I looked up. There above the bathroom door – a scorpion! I got out, dried off and yelled for Marissa. It was beyond hilarious as we tried to decide how to kill it without risking it falling on us. There is a video, but it contains too much swearing and screaming to share. Rest assured, the thing is dead and we were not stung!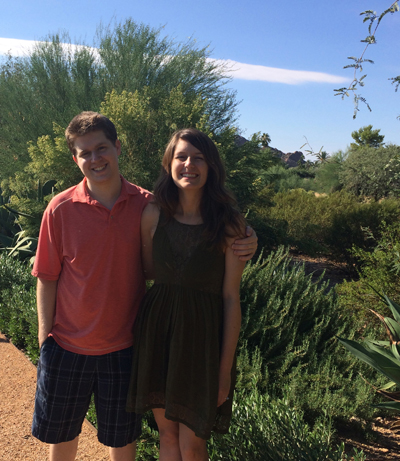 Later that morning, Marissa, Connor and I went to El Chorro to meet with a wedding planner and to show Connor the wedding venue.
That evening, Connor went to work while Marissa, Dave and I went to Steve and Tram's annual Okbirthdayfest party. Steve's birthday is October 9th, hence the "Okbirthdayfest" instead of the usual Oktoberfest.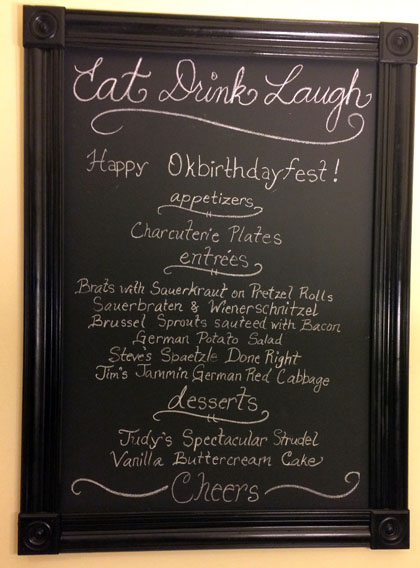 But, as you can see, Birthday Boy-Chef Steve cooks up a traditional Oktoberfest menu. How about that gorgeous job Tram did on the chalkboard menu!?! Love me a chalkboard menu!
Chef Steve with his prized heat lamp-board of outstanding tender and delicious Sauerbraten!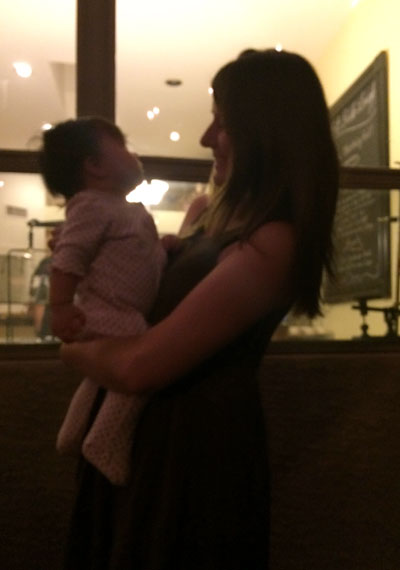 Plus a very happy Marissa – holding sweet Zoey!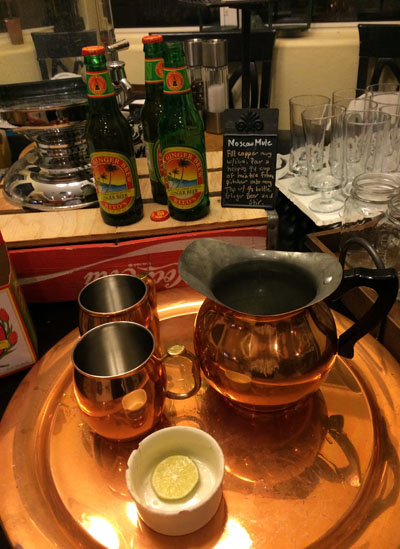 Guests were asked to bring their favorite cocktail to share. I brought Moscow Mules. Recipe later this week.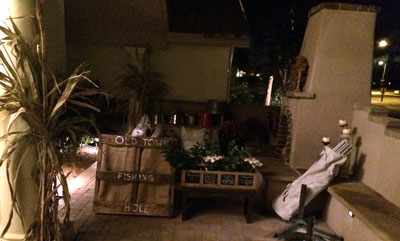 Sunday was our neighborhood Fall Fling. It was a blast! I spent the entire preceding week hunting and gathering items for the party.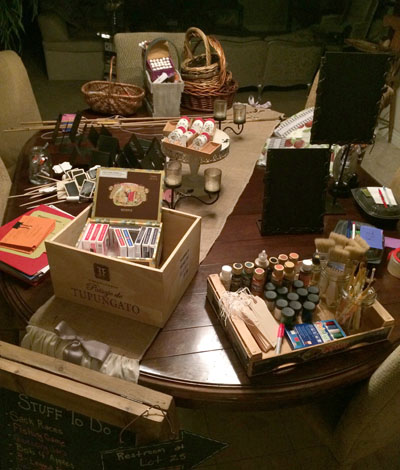 All patios and nearly every flat surface was covered with party fixings. This is the part of event planning I love.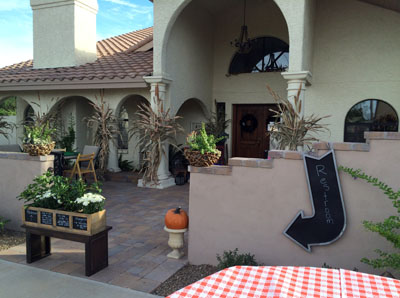 I love the party part too. Over 100 neighbors had a great time.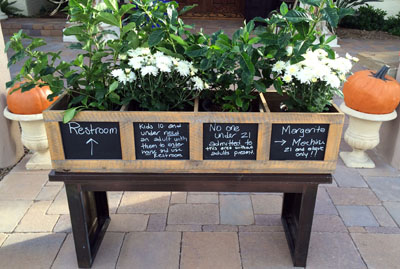 Even the set up was fun.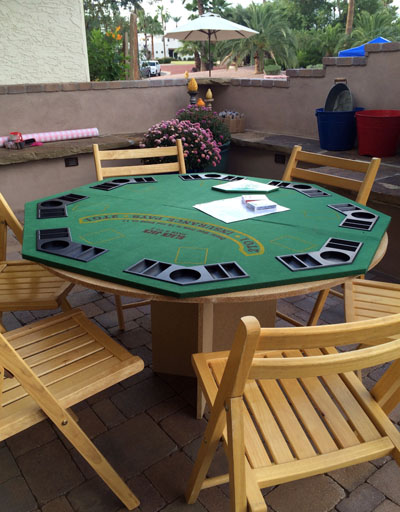 We had plenty of things to do for young and old alike.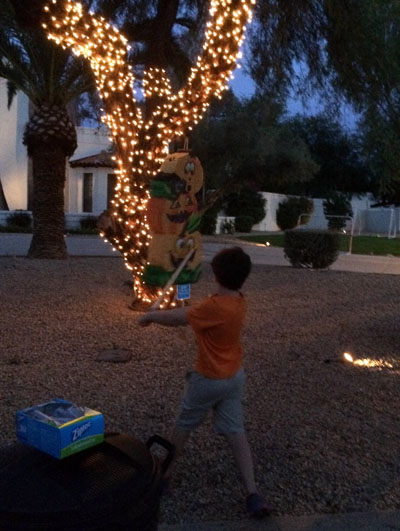 As usual, I didn't take nearly enough pictures. Darkness fell quickly on a cloudy night. The cleanup consisted of getting everything off the street and onto my driveway and patio.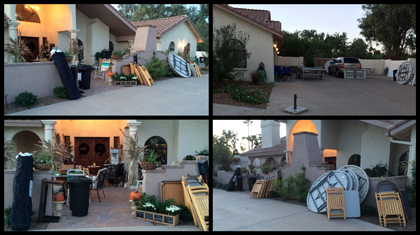 This is what greeted me on Monday, my birthday, morning. Thankfully, my kids and my fantastic neighbors also woke up early and helped clean it all up.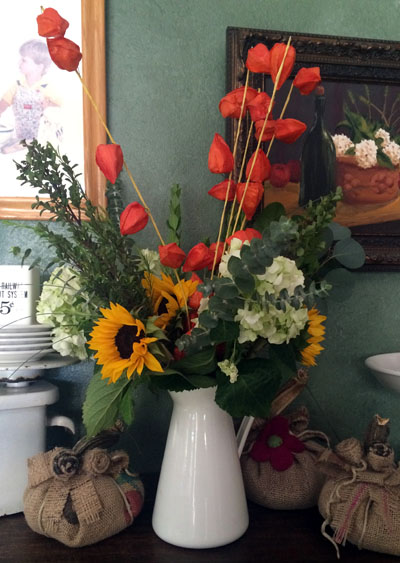 An added bonus – my beautiful friend and neighbor, Karin, brought me birthday flowers! How sweet and thoughtful!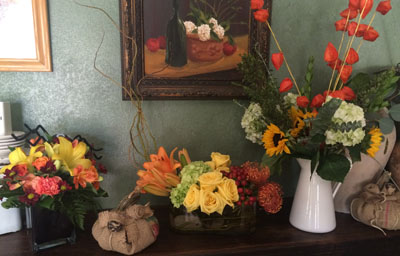 Before the day was through, I had flowers from not only Karin, but also from Dave and from my beloved friend, Lori, all the way from Tokyo! xoxo
Connor took the day off work, which was a gift in itself. After cleanup, he and Marissa took me to The Biltmore Spa where the three of us had hot-stone massage pedicures! The perfect thing for weary legs and feet! We had a delicious early dinner at Pizzeria Bianco Town & Country.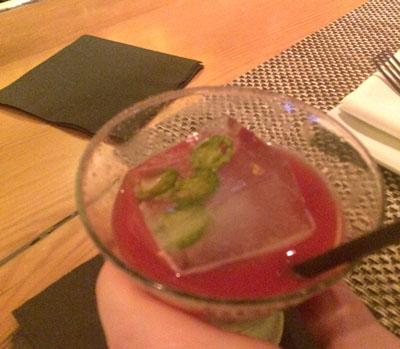 To end my "mom and kids" birthday, after we dropped Marissa off at the airport, Connor and I stopped by the Salty Sow and tried a bunch of different cocktails and had quality mother and son time.
Tuesday brought a birthday lunch with my dad, an HOA committee meeting and work that night.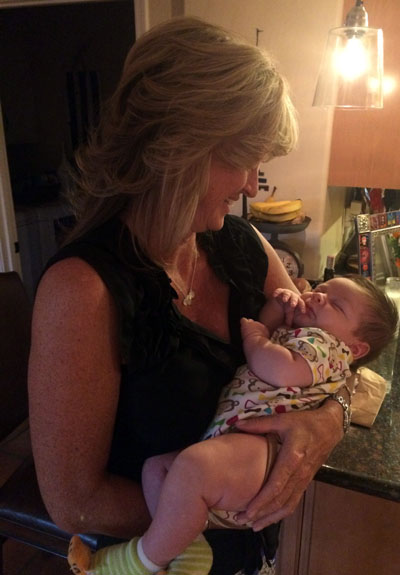 Wednesday I spent most of the day trying to put away all the party stuff. As of today, it's still not all put away! Maybe by the end of this week.
Peggy and Anne took me out for birthday dinner at Rusconi's. We met at Peggy's house, where grandson Cruz was visiting and Anne fell in love.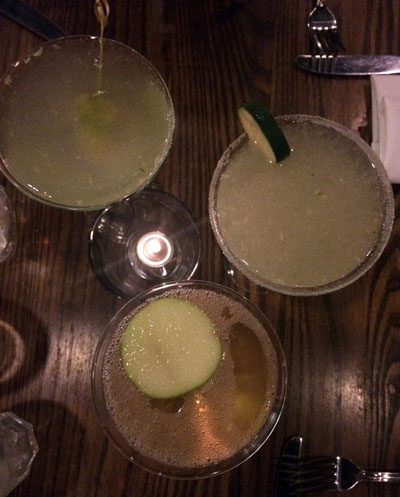 If you haven't discovered Rusconi's American Kitchen yet – get over there and thank me later!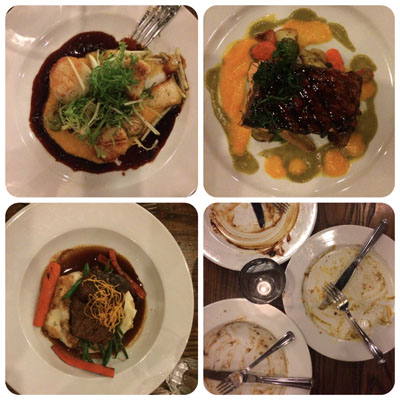 As you can see, we loved every bite and wished it was in good taste and manners to lick the plates.
What day are we up to? Thursday? Yes, Thursday was a packed day! I had an early morning meeting, then met with the Holiday Lights guys to get them started on hanging our Christmas lights – the purpose of which is to avoid THIS!
Then I went to birthday lunch with Barb at Culinary Dropout at The Yard. Again, if you haven't been to The Yard, try it – such a cool concept!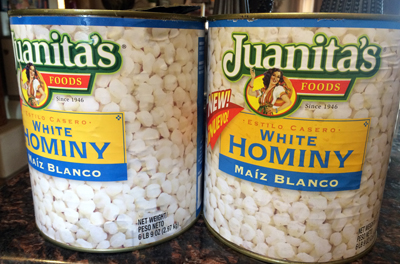 After lunch I headed over to Peggy's to help her cook for her Día de Muertos (Day of the Dead) party she was hosting on Halloween night. Peggy's posole recipe is also coming later this week.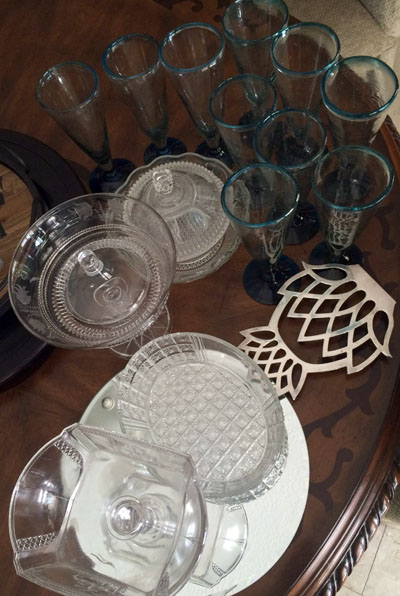 To finish off Thursday, Kim came over for happy hour, bearing gifts from her current house purging; a set of ten turquoise Mexican glasses and a half dozen pressed glass candy dishes and compotes. What a treat!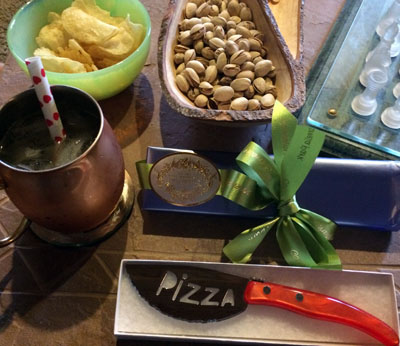 Moscow mules for Happy Hour – always a good choice!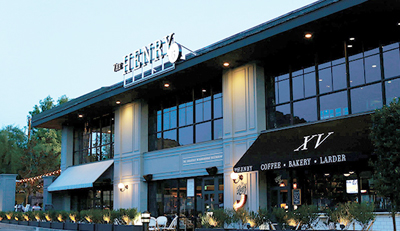 And finally it was Friday and Halloween! But before the spooky night… the final birthday lunch. This one was with Ronnie and Amy at The Henry. Thank you to all of my dear friends and family for making my birthday week such a special one!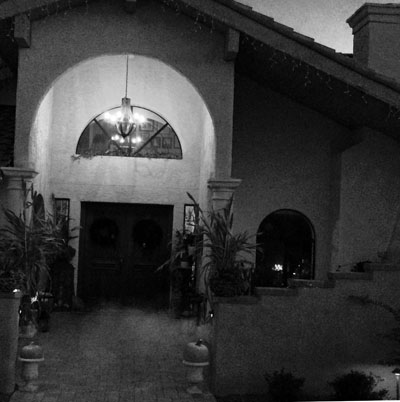 I think I'm tired all over again! Here's to a great and more relaxed week!