zucchini & tomatoes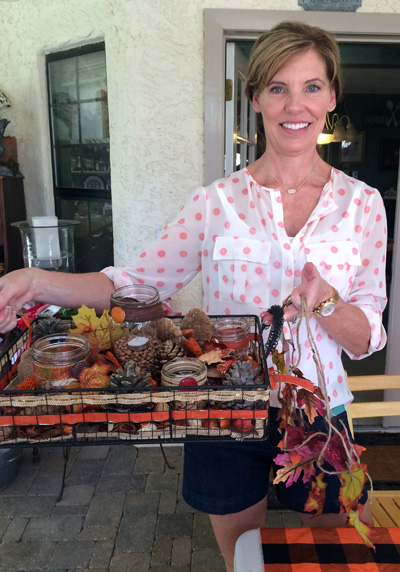 This is Rainy and the crafts she made at the Craft Party. Cheryl and Angie provided the Fall Wire Tray (with all the trimmings) as their craft and Sloane brought the Thankful Glitter Leaf Garland that Rainy chose to make.
Below is the second egg dish I served at the Craft Party. A quick note about it – leftovers are only good the day after. By the third day, the tomatoes have given off too much of their liquid and it gets soggy. If you don't have a crowd of 10 to 12 to serve, feel free to cut the recipe in half and assemble in an 8-inch square baking dish, bake for the same amount of time.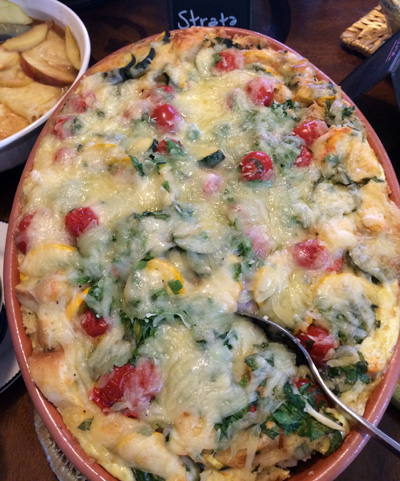 Z & T Strata
3 tablespoons unsalted butter
4 cups cherry or grape tomatoes
1 green zucchini, ends trimmed then sliced in half diagonally, then thinly slice
1 yellow zucchini, ends trimmed then sliced in half diagonally, then thinly slice
Salt and freshly ground black pepper
8 cups dry French bread cubes
3 cups shredded Swiss cheese (12 ounces)
8 eggs
3 cups milk
1/4 cup roughly chopped fresh Italian parsley
1/4 cup julienned fresh basil
2 tablespoons snipped fresh chives
1 teaspoon garlic salt
1/2 teaspoon freshly ground black pepper
In a large skillet, melt butter over low heat. Use a brush and take some of the butter and grease a 3-quart baking dish; set the baking dish aside.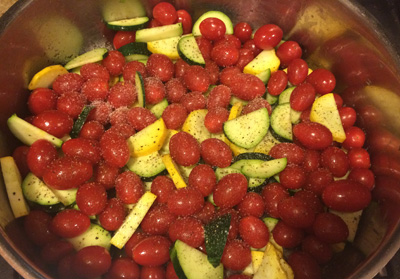 Add tomatoes and zucchini to the skillet, and season with salt and pepper. Cook for about 6 minutes, stirring occasionally, until tomatoes begin to lose their firmness but do not allow them to pot; remove from heat.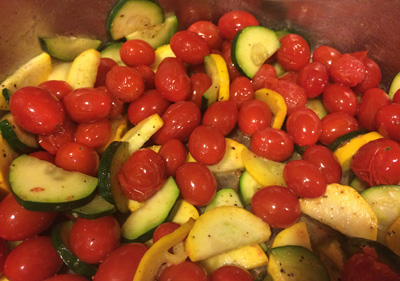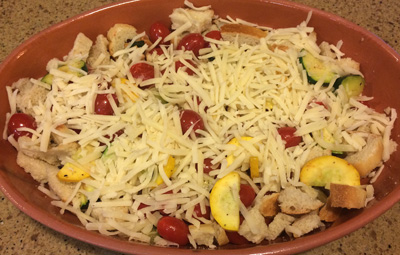 Place half of the bread cubes in the prepared baking dish. Top with half of the zucchini-tomato mixture and then sprinkle with half of the cheese. Repeat layers with remaining bread cubes, zucchini-tomato mixture, and cheese.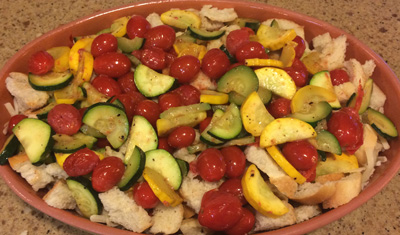 In a large bowl, whisk together eggs, milk, parsley, basil, chives, garlic salt, and pepper. Carefully pour the egg mixture evenly over the bread mixture in the dish. Using the back of a spatula, gently press down, pushing the dry ingredients into the egg mixture. Cover with plastic wrap and chill overnight. Remove from refrigerator and place on the counter, 30 minutes before baking.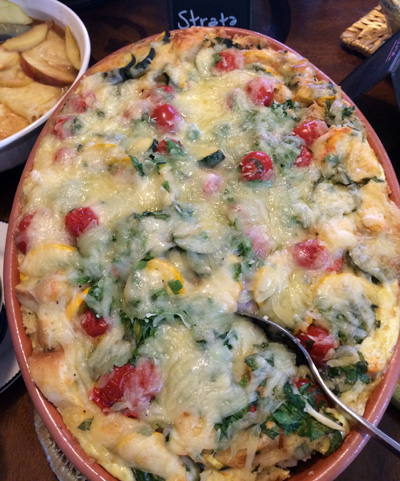 Preheat oven to 350 degrees and bake the strata, uncovered, for 1 hour or until puffed and golden. Let stand for 10 minutes to set up before serving.
Serves 10 to 12