zipping along with flat iron steak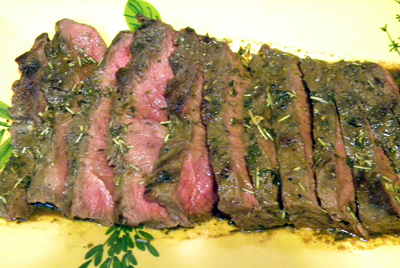 I'm still on a bit of a high after the Arizona Cardinals won the NFC West title yesterday. While researching area foods for the post for yesterday's game in Detroit, I not only found the Chop Salad, but also this tasty and famous steak sauce – a Detroit favorite. It brings out the best in beef and adds a spicy punch of flavor.
The Flat Iron Steak, also known as the top blade steak, has been a popular restaurant menu item for the past few years and is increasingly becoming available in grocery stores. It was developed at the University of Florida. The researchers wanted to find a way to use a waste cut of beef from the shoulder of the cow. Though a flavorful and relatively tender cut of meat, the top blade roast has a serious flaw in its center; an impossibly tough piece of connective tissue running through the middle.
The researchers developed a method for cutting and presenting the steak, an wound up with an amazing cut of beef, a nearly perfect steak for the grill. The Flat Iron, named because it looks like an old fashioned metal flat iron, is uniform in thickness and rectangular in shape. The only variation to the original roast is the cut into the middle of the steak where the connective tissues have been removed.
The Flat Iron is similar in flavor and texture to Skirt and Flank steaks and is best grilled over medium-high heat. For this particular recipe, we are using a grill pan so that we can gather drippings from the meat. Enjoy!

Flat Iron Steak with Zipp Sauce
1/4 cup (1/2 stick) unsalted butter
1 teaspoon dried rosemary, crushed
1/4 teaspoon dried thyme, crushed
1/4 teaspoon garlic powder
1 teaspoon dried parsley
1 teaspoon salt
1 tablespoon Dijon mustard
1/2 teaspoon freshly ground black pepper
1  1/2 tablespoons Worcestershire sauce
1/4 teaspoon ground cumin
1/8 teaspoon cayenne pepper
1  1/2 to 2 pounds flat iron steak
Salt and freshly ground pepper, to taste
Olive oil
Melt butter in a small saucepan over medium-low heat.
Stir in the rosemary, thyme, garlic powder, parsley flakes and salt. Add the mustard, black pepper, Worcestershire sauce, cumin, and cayenne pepper. Warm gently for about a minute. May be made 2 hours before grilling steak.
Generously season both sides of steak with salt and pepper.  Heat a grill pan on high, when very hot, reduce heat to medium-high and brush grill pan lightly with olive oil. Sear steak on each side for 5 to 6 minutes, or to desired degree of doneness.  Remove to a plate and tent with foil for 5 minutes.  Meanwhile, gently reheat sauce in pan. After the 5 minutes resting time, remove meat to a cutting board.
Add all the juices from the plate that the steaks rested on, and any drippings in grill pan, to the zipp sauce and heat through.
Slice the steak diagonally across the grain into thin strips.  Place on a heated serving plate and spoon zipp sauce over meat.  Place remaining sauce in a bowl to pass.
Serves 6