wine and asparagus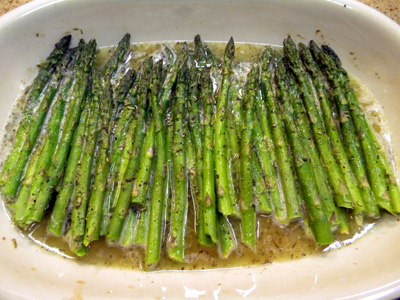 After all the cooking last week and trying to get through all those leftovers, we're overdue for something quick and fresh.
Herbes de Provence or Provençal herbs is a mixture of dried herbs from Provence invented in the 1970s. The mixture typically contains thyme, savory, fennel, basil, and lavender flowers. Thyme is the dominant flavor.  The asparagus can be easily substituted with blanched sugar snap peas, green beans, broccoli, or cauliflower.

Asparagus in White Wine Butter Sauce
1 1/2 pounds asparagus
1 tablespoon herbs de Provence
1/4 cup (1/2 stick) unsalted butter
1/2 cup white wine
Salt and freshly ground black pepper
Preheat the oven to 400 degrees. Wash the asparagus, snap off and discard the bottom ends.
Lay the asparagus spears in a shallow baking dish and sprinkle with herbs de Provence.
Place the butter and wine in an ovenproof bowl or glass measuring cup and microwave on high until butter is melted, about 1 1/2 minutes. Pour over the asparagus. Sprinkle lightly with salt and pepper.
Bake for 15 minutes.
Serves 6